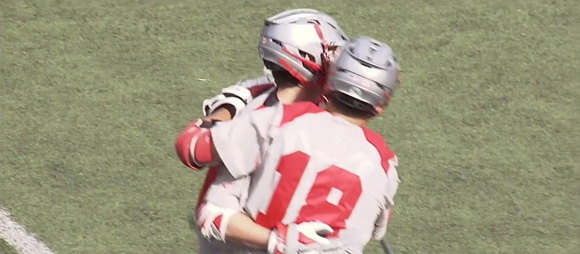 Football remains atop the perch signifying America's most popular sport. Over the past two decades, the country has displayed an insatiable thirst for the hard-hitting, rough-and-tumble game. Whether it's spectating, fantasy football, recruiting or the NFL Draft, people can't get enough. Anything that involves the sport is consumed at an enormous rate.
The NBA has enjoyed a resurgence in recent years, baseball remains popular, despite the 1994 strike, and NASCAR has carved out a large market. In America, hockey is lagging behind after multiple work stoppages, though some cities cling to the sport no matter what. Columbus became consumed with the Blue Jackets' late-season playoff push. But alas, the sport faded once the curtain was drawn on the season.
There's another sport, however, that's gaining steam in the country, particularly in Central Ohio. Along with wrestling, it's considered one of the oldest sports in the world, but few west of the Appalachian Mountains took up any interest in the game during the past century. The sport: lacrosse.
"The growth has been impressive," Ohio State head coach Nick Myers said. "You look back, I've been here 10 years. The number of programs in Central Ohio, Cincinnati and Cleveland has really exploded. Our camps have really taken off, just the amount of young men that want to get involved in the game. There are a lot of people in this area that it's really impacted.
"It's a game that's grown across the United States and Canada, but certainly here in the Midwest. It's exciting. To host an NCAA Tournament game has been a goal of ours since we arrived. Not only to make the NCAA Tournament, but to bring it to Columbus. That was a groundbreaking moment for this program and certainly Ohio lacrosse."
The moment Myers is referring to was the Buckeyes' 16-6 victory over Towson in the NCAA quarterfinals in Ohio Stadium last Sunday. It was the second NCAA Tournament win in program history, and now Ohio State, champions of the ECAC, sits on the cusp of the national semifinals, foreign territory for the Buckeyes.
As the game has grown, more good players have been spread around the country to weaken the grip that Syracuse, Johns Hopkins, Princeton and Virginia have had since it became an NCAA sport. Last season, Loyola (Maryland) completed a Cinderella story that ended with a national championship.
It's like football and hockey had a baby.
"What you're seeing is those top 3-5 aren't dominating like they were five or six years ago," Myers said. "Once you get in that 10-30 range, it's a coin toss. That's really what's been impressive. Teams that are ranked in the RPI from 15-40 can beat a top 10 program on any given day. I think there is a great deal of parity in our game, and it's led to some exciting lacrosse." 
More than 50,000 people a year are taking up lacrosse and joining organized teams. The number of active participants in the United State is nearing 1 million with more than half of those under the age of 15. That means a college boom is approaching.
Fast-paced sports have become popular in today's society of instant everything. As attention spans have shortened, the need to do more activities in a smaller timeframe has increased. Lacrosse is a beneficiary of that culture. 
"It's up and down, it's got speed, it's got tempo, it's got scoring, it's got physical play," Myers said. "I think the more and more it gets TV exposure, which you're seeing that explode, the more eyeballs it gets. That's a good thing for our game."
In recent seasons, Michigan, Detroit, Jacksonville and Marquette have added varsity lacrosse teams at the Division I level. The sport is already flourishing in Division III, where 189 schools field teams.
"The more we dug into it, the more we believed that this is just a sport of the future," Michigan athletic director Dave Brandon said. "Lacrosse's trend lines in every way we could measure were impressive and made us believe that this is a place where we could grow and be a part of something that would over time be very big."
Ohio State athletic director Gene Smith recently reiterated to Eleven Warriors what was first reported last year – that the Big Ten is pursuing the formation of a lacrosse conference.
"There is a discussion," he said. "There's talk about bringing in an affiliate member. The bylaw says you have to have six. Because of the nature of that sport and its growth and Maryland's success, we've discussed identifying an affiliate member and possibly creating a Big Ten Lacrosse Conference."
Some rumors have centered on lacrosse powerhouse Johns Hopkins as being that member. The university doubles as one of the foremost institutions of higher learning in the world, fitting the Big Ten's model, which puts academics on par with athletics.
The Ohio High School Athletic Association does not currently sanction the sport. Instead, it falls under the umbrella of the Ohio High School Lacrosse Association. There are 101 Ohio high schools with lacrosse teams – 52 in Division I and 49 in Division II – and an additional 27 schools with club teams.
The Ohio Machine, a Major League Lacrosse franchise based in Delaware, draws several thousand fans to its home games at Ohio Wesleyan, further growing the game in Central Ohio and beyond.
Not only are more youths playing the sport, they are beginning at much earlier ages. When Ohio State senior Kevin Mack began playing in sixth grade, he was well ahead of the curve. But if the Worthington Kilbourne graduate started his playing career in sixth grade today, he'd be playing catchup.
"I didn't even know about lacrosse until I was in fifth grade and I watched my older brother play," Mack said. "Nowadays I have neighbors that are starting in kindergarten, and that's a normal thing now. It's kind of like T-Ball, baseball and soccer, those games you play at a young age. Lacrosse is starting to become one of those sports and kids are starting to play it. The sport is booming and it's fun to watch."
Joe Meurer, a junior from Towson, Md., the heart of lacrosse country, started playing the sport when he was six-years-old, about the time young boys in Ohio start strapping on shoulder pads and buckling chinstraps. He said the beginners are starting even earlier now, with parents hoping to get a leg up on other families. The end result, or goal, is to develop a superstar who earns a college scholarship. For some, it can be too much, too soon. But it can also aid the future of the sport.
"I think it will become a game of bigger and stronger athletes, but the skillset will also improve because kids are starting at such a young age."
"I think it will become a game of bigger and stronger athletes, but the skillset will also improve because kids are starting at such a young age," Meurer said. 
Ten of Ohio State's 43 players hail from the Buckeye State, with a majority residing from traditional lacrosse strongholds such as Maryland, New York, New Jersey, Virginia and Canada. Myers is from Maine, known more for hockey than lacrosse. But it gives him perspective on what's happening in Ohio and it's opening up new recruiting pipelines.
"We've always prided ourselves on finding guys from areas like Baltimore, Long Island and Upstate New York, but also saying, 'Listen, if you can play, you can play,'" he said. "We're not stubborn to settle on the third-best player in Baltimore versus going out and finding a kid like Darius (Bowling) from Atlanta or Logan (Schuss) from Vancouver or Jesse (King) from Victoria.
"We pride ourselves on getting out to different areas. Four of our nine seniors are from the great state of Ohio. Twenty percent of our roster is from Ohio. Like all sports at Ohio State, it's a priority to get all the best players from Ohio. We've tried to do that. We want to keep those guys here."
Since Myers arrived in Columbus a decade ago, the goal has been evolving Buckeye lacrosse into a destination for top-flight players. That includes those in Ohio. Myers wants kids growing up wearing Ohio State clothes, not Syracuse or Hopkins. Both prestigious programs currently have Ohioans on their roster.
"Kids understand the football and basketball tradition we have at Ohio State, but we want young men to grow up in the state that love the game of lacrosse and say Ohio State is my dream," he said.
"But one of things that makes our roster special is the different pieces. The Baltimore guys bring a different flare than the Long Island guys, Upstate guys, Ohio guys and Canadian guys. That blend is important for our culture and the chemistry out on the lacrosse field."
When Meurer enrolled at Ohio State, he had one eye pointed on the future. He wanted the Buckeye lacrosse program to ripen into one of the premier teams year in and year out. They might not be there yet, but headway has certainly been made.
On-field results have yielded positive returns in recruiting, a cycle that could signal the beginning of a long running string of success. 
"It's great not only for the alumni of the program but the future of the Ohio State lacrosse program," Meurer said. "It was definitely one of my goals to walk out of here knowing that we had accomplished setting up this program as one of the top tiers."
Another victory would help solidify the Buckeyes' place among the elite.