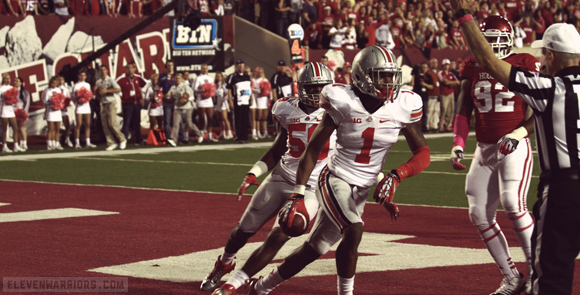 College football loyalists got an introduction to recruiting season in the 1990s. But the seriousness of the business wasn't realized until the past decade, when recruiting became more popular than college basketball in the month of February.
National Signing Day is viewed as a holiday in several parts of the nation. With John Cooper, Jim Tressel and now Urban Meyer at the helm of Ohio State's juggernaut football program, the Buckeyes often find themselves near the top of national recruiting rankings. Getting blue-chippers to enroll at your school doesn't guarantee national championships, but it's the clearest path to success.
Recruiting, like the NFL Draft, is a hit-and-miss industry. There are legendary cases of busts and No. 1 prospects that turned into hall of famers. The guesswork is all part of the thrill, similar to the unknown lurking past the first hill on a rollercoaster.
No coach knows for sure what he's getting on the first Wednesday in February. The indicator light doesn't flash for the first time until three years later, when a final grade is stamped on a recruiting class. For Ohio State, that time is fast approaching for the 2010 class, the last pre-TatGate group Tressel brought to Columbus.
If ever a class can be deemed feast or famine, it is 2010.
"Sometimes you end up with more and sometimes you end up with less," Tressel said. "They're an unselfish bunch. They have versatility, maturity and passion to be a part of this."
Ranked 25th, uncharacteristically low by Ohio State standards, the collection of 19 players, including eight four-stars, has yet to fully make their mark on the Buckeyes. There was an undefeated season in 2012, but that was not totally the doing of the Class of 2010.
The 2010 Class

| Name | Pos | Status |
| --- | --- | --- |
| Darryl Baldwin | DE | Switched to OL; Backup |
| Drew Basil | K | Starter |
| Corey Brown | ATH | Led '12 team in catches |
| Christian Bryant | DB | Starter |
| David Durham | DE | Transferred to Pitt |
| Taylor Graham | QB | Transferred to Hawaii |
| Adam Griffin | RB | Backup DB |
| Chad Hagan | LB | Medical hardship waiver |
| Johnathan Hankins | DT | New York Giants (2nd) |
| Carlos Hyde | RB | Starter |
| James Louis | WR | Transferred to FIU |
| Scott McVey | LB | Medical hardship waiver |
| J.T. Moore | DE | Trying to crack DL rotation |
| Andrew Norwell | OL | Starter |
| Verlon Reed | ATH | Transferred to Findlay |
| Bradley Roby | DB | Starter |
| Rod Smith | RB | Backup |
| Jamel Turner | DE | Never enrolled |
| Tyrone Williams | WR | Dismissed from team |
Four of those players will have one last opportunity this fall to become national champions – Drew Basil, Christian Bryant, Corey "Philly" Brown and Andrew Norwell. Bradley Roby can almost certainly be added to that list, but he's not a senior. Only 10 of the 19 recruits remain at Ohio State. That doesn't mean the assembly of talent has been a disappointment.
If the Buckeyes won their first national title in more than a decade this season, it will come as a result of several 2010 prospects playing a significant role. The top two running backs – Carlos Hyde and Rod Smith – were members of the class, as was Brown, one of Braxton Miller's main offensive targets, and Norwell, one of Miller's protectors along the offensive line. Then you have the defenders, Bryant and Roby.
Forgotten these years later is the one who got away – Seantrel Henderson. The mammoth offensive lineman from Minnesota chose USC on signing day then transferred to Miami after the Trojans were hit with NCAA sanctions. Henderson's career has been underwhelming, marred by injuries, possibly NCAA violations and ineffectiveness. 
Another strikeout was defensive tackle Sharrif Floyd, who committed to Meyer and the Florida Gators. Floyd enjoyed a standout career in Gainesville that included All-American honors his junior season. He turned pro after the season and was recently a first-round draft pick of the Minnesota Vikings.
Coming off a Rose Bowl victory, the 2010 class surprisingly didn't experience a bump, this off the heels of highly touted groups that were brought in in 2008 and 2009. What 2010 did give Ohio State was two unheralded late commitments that turned out to be difference makers: Johnathan Hankins and Roby.
Hankins was the first post-Rose Bowl pledge the Buckeyes received, and Roby's commitment came a week later. Hankins was a raw defensive lineman with tremendous potential coming out of high school. He wanted to attend Michigan State with high school teammate and best friend William Gholston. But Hankins, a three-star recruit, was never offered by the Spartans.
Ohio State and Hankins would get the last laugh. Now, the man known as "Big Hank" is a New York Giant, after being selected in the second round of the NFL Draft. During his career as a Buckeye, Hankins had 138 tackles, 16 tackles for loss and five sacks. He appeared in 38 games and started 25.
Roby committed to Vanderbilt as a wide receiver the summer before his senior season. That didn't stop him from visiting other schools, though. And once he toured Ohio State's campus, even in January, he de-committed from the Commodores and chose the Buckeyes instead. A position change came along with Roby's commitment.
On signing day, former Ohio State defensive backs coach (now Kent State head coach) Paul Haynes raved about Roby's ball skills and called him "a very intelligent kid." That statement has proven to be prophetic. A redshirt junior, Roby is a surefire first-round draft pick. He's distinguished himself as one of the best shutdown cornerbacks in all of college football and a frontrunner for the Jim Thorpe Award.
Not bad for an uncelebrated three-star recruit.
It hasn't been all peaches for the 2010 recruiting class, though. Jamel Turner is the most striking example. After enrolling at Fork Union to shore up academic issues, Turner was shot in Youngstown and never enrolled at Ohio State. The once promising recruit has got his life back on track, however, and is a member of the Akron Zips.
Quarterback Taylor Graham (Hawaii) and wide receiver James Louis (Florida International) are the most prominent names that are elsewhere. Also gone is athlete Verlon Reed, a local Columbus kid who had high hopes when he got his big break from Ohio State.
"We don't know what he's going to be, but we know he's going to be something," Haynes said on signing day. That could still be the case, though it will be with the Division II Findlay Oilers.
But even with nearly half the class spread from sea to shining sea, the Buckeyes have prevailed and are placed in a holding pattern for further success.