There are only 268 short days until one of my favorite days of the year. A day that is full of presents and surprise announcements and news - both good and bad - that shapes the future for those you love.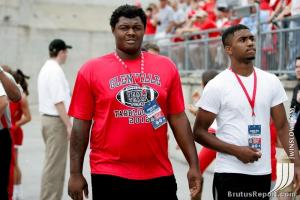 Of course, I am talking about national signing day. Next year, on February 5th, there will be somewhere between 17-25 current high school juniors (or maybe junior college football student-athletes) that take the next steps in their football careers by putting pen to ink with the intention of becoming the next wave of Buckeye greats. Eight of those players have presumably already made a verbal commitment to Ohio State to join their class, and those seven have gotten the Buckeyes off to a great start for 2014.
As I've gotten older, I've realized (most unfortunately) that time seems to go faster and faster with every passing year. So much can change from one day to the next, let alone week-to-week or month-to-month.  It is with a grain of salt then that I present to you, our faithful and dear 11W readers, my thoughts on how Ohio State's offensive 2014 class will finish up. 
These are prognostications based on the best available information that I currently have, and are most certainly likely to evolve as the days go by. Other guesses - and make no mistake, even the best recruiting analyst is guessing - are most certainly going to come down the line.
Without further adieu, here's what I see come February, position-by-position, starting with the offense. You'll notice that at each position I've listed multiple players, with the player I feel is most likely to join the class listed first, and it filling in subsequently based on if the Buckeyes "miss." Current commitments are listed in red, and the players in green represent the players I feel Ohio State has the best chance of landing. Other players, in black font are the "next" group. You'll notice that I've taken the liberty of moving a few players - like commitments Parris Campbell and Sam Hubbard - into the position that I feel they end up playing at Ohio State. That, of course could change based on what the staff sees, other signees, etc.
Take a look after the jump.
Offense
First, a look at how things are lining up. Highlighted in yellow are commits, bold but not highlighted are strong leans.
2014 Recruiting Class - Offense

| QUARTERBACK | RUNNING BACK | WIDE RECEIVER | TIGHT END | OFFENSIVE LINE |
| --- | --- | --- | --- | --- |
| Zack Darlington | Myles Autry | Parris Campbell | Sam Hubbard | Marcelys Jones |
| Kyle Allen | Derrell Scott | Lonnie Johnson | Garrett Dickerson | Kyle Trout |
| Brandon Harris | Jonathan Hilliman | Saeed Blacknall | Tyler Luatua | Jamarco Jones |
| DeShaun Watson | Corey Avery | Curtis Samuel |   | Chad Mavety |
| Jerrod Heard |   | Mark Andrews |   | Alex Bookser |
|   |   | Austin Roberts |   | Demetrius Knox |
|   |   | Derek Kief |   | Jermaine Eluemunor |
|   |   | Demarre Kitt |   |   |
Quarterback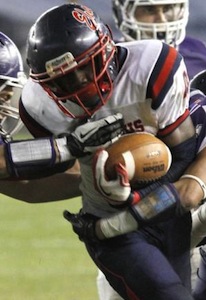 At quarterback, the Buckeyes will hope to land a pledge from Kyle Allen or Brandon Harris before the end of June, but I don't think Harris will leave the south and while the Buckeye offer reopened Allen's eyes and stoked his interest in Ohio State, I don't see him in Columbus. If he does make a return trip to see Ohio State this summer, all bets are off. 
"Umm...Jeremy? I see Deshaun Watson on your list. Have you had a bit too much to drink today?"
Watson, and Jerrod Heard will be on this list of mine until February 5th, 2014. They are two players that the Buckeyes would take no matter what and as someone told me a few days ago.
"It's a long shot, but so was Dontre Wilson."
Running Back
Currently, I do not see the Buckeyes adding a running back to this class, although if a player like Myles Autry or Derrell Scott wanted in, then that changes. The Buckeyes will only take a tailback if he's an all-purpose, game-changing running back. They have great depth at the position and the 2015 class is loaded with high-level talents that already hold Buckeye offers.
Hilliman has an offer from Alabama, and Ohio State is working hard to make in-roads in New Jersey and is an excellent three down back, but is he worth a spot and a shot at players like Jacques Patrick, Mike Weber, Eli Brown or Jordan Scarlett in 2015? Is Corey Avery, with his low center-of-gravity and excellent first step? I don't think so. 
Wide Receiver
Parris Campbell is young, one of the youngest players in the country for the 2014 class and his game is big, he's going to be the type of player who will grow and get bigger and stronger. Already at 6-foot-1, 180-pounds, Campbell's frame is custom built for wide receiver so that's where I see him ending up. Who will join him?
The Buckeyes added their first PURE wide receiver in the 2014 class just two hours ago, when Gary (Ind.) wide receiver Lonnie Johnson finally committed to the Buckeyes after months of speculation. With Johnson in the fold, the Buckeyes will likely take two more wide receivers from a pretty talented group of possibilities.
Ohio State has seen their name at or near the top of the list for Demarre Kitt for months, but when the Georgia product makes his decision in early June, I fully expect him to choose to stay closer home, picking the Tigers of Clemson. Austin Roberts had decided to make a commitment in early May, but as new offers have rolled him, he and his family have rolled back that date to an as of now undecided time. Mark Andrews was very impressed by Ohio State, but the same can be said for any of his visits and Arizona is a long way from Ohio; without Allen in the class for the Buckeyes, I don't see Andrews, either. 
It was recently noted that Saeed Blacknall had the Buckeyes, who he's not visited, near the top of his list with LSU, where he has. Another New Jersey native, Blacknall will visit the Buckeyes this summer and it's hard to imagine that he will get anything but the absolute full-court press from the Buckeye staff. 
Derek Kief has seemingly been on "commitment watch" since he received his offer from Ohio State, but something has kept him from making his choice up to this point. With today's addition, I feel that Kief is likely the guy left on the outside looking in, and I think he'll end up at Kentucky, possibly in June.
The third and final addition as I see it is New York's Curtis Samuel, a recent invite to Nike's prestigious "The Opening" football camp in Oregon. While he currently plays tailback at Erasmus High School in Brooklyn, Samuel will fill a similar role to the one Dontre Wilson will play this year for Ohio State, splitting time between the backfield and the slot and possibly lining up one the outside or returning kicks. If Samuel decides elsewhere, I think that Indianapolis wideout Terry McLaurin is a name Buckeye fans could end up hearing much more about.
Tight End
I know that most people see Sam Hubbard's profiles across the internet and see DE or maybe even OLB, but as I look at his skill-set I can't help but see the type of tight end that Urban Meyer looks for. He's big, he's fast and very athletic, and on top of that it's more than likely he adds 25 pounds to his 6-foot-6 frame before he reaches Columbus. If he can do that and keep his speed, he'll be a nightmare matchup as a flex tight end. 
If a prospect like La Mirada (Calif.) high school's Tyler Luatua, who seems to have a scholarship offer from every school in the country, wants "in" then he's "in" and Hubbard could find himself back on the other side of the ball. Garrett Dickerson, another New Jersey prospect has listed the Buckeyes as a favorite recently as well, but whether or not he's got the type of speed the Buckeyes are looking for at the position is up for debate.
Offensive Line
In all honesty, this is without a doubt the single most important "piece" of the Ohio State 2014 recruiting efforts. The Buckeyes 2013 class was one of the best in the school's history, but it only produced two offensive lineman. This year's class needs to see five, and maybe even six.
Marcelys Jones was the first commitment in the 2014 class, unusual for a Glenville product, and his off-season has proved the Buckeyes wise. He's been tearing up the camp circuit and has been active Buckeye recruiter. Lancaster's Kyle Trout has taken charge of the class and is leading the recruiting efforts from within, but the Buckeyes will need more than just these two for the 2014 haul to be a success.
There are a number of key players along the line for the Buckeyes, and it appears they are in good shape to land a number of them. Chicago's Jamarco Jones makes his decision at the end of June, and most accounts have him still leaning towards Ohio State, just ahead of Michigan and Notre Dame. Chad Mavety is an aggressive JUCO from Nassau Community College in Garden City (N.Y) and the Buckeyes have stayed in his ear for a while now, talking "almost every day" according to Mavety. A chance at early playing time in Columbus, along a line that will lose four seniors before he enrolls, might be enough to push him the Buckeyes way. Mavety would be a big "win" with offers from Alabama, Florida State and Oklahoma as well as many others.
Alex Bookser is the final player that I currently have joining the Buckeyes offense for 2014, but ultimately that could depend on Demetrius Knox. Knox, the former Texas commitment is high on Ohio State and vice versa, but he plans on waiting until January to make a decision. Ohio State, UCLA and Florida State are working hard to get Knox on board, and I think the Buckeyes might need some assurances before January in order for him to have a spot.