The Big Ten's deteriorating reputation in football has been a tragic comedy in three acts.
First, there's the Southeastern Conference, which is 17-8 in BCS bowls and owns the past seven crystal balls. That kind of ruthless domination requires a counterbalance, and since no one seems to notice or care that the ACC is 3-13 (with landmark wins over Northern Illinois, Cincinnati and a pre-ACC Virginia Tech) or that the Big XII is 9-11 in those games, the Big Ten (13-14) gets to be the big slacker. Act I: Perception.
Second, despite the BTN money train and nationally-competitive athletics spending overall there seems to be very little appetite among the majority of B1G programs to join the arms race in football, which results in no fewer than seven programs who are consistently punching up in games against other major conference teams.
Michigan and Ohio State are the only two programs consistently recruiting with significantly higher aspirations than simply achieving bowl eligibility. Unfortunately Penn State had to replace its naked emperor with crippling sanctions, otherwise that could be a three-team league. Act II: Reality.
If Wisconsin is the B1G's national protagonist this conference must be pretty awful.
And third is Wisconsin, which emerged 20 seasons ago from the Big Ten's basement under Barry Alvarez and has overstayed its welcome recently with the aid of both a blighted conference blinded by easy television money as well as deliberately weak and fortunate scheduling.
The Badgers, the defending B1G champions, are pursuing their fourth consecutive Rose Bowl trip. In any other period this would easily be the mark of a dynasty. In this era, it reinforces just how far the Big Ten has fallen.
Act III: Historical context. If Wisconsin is what now constitutes the B1G's national protagonist, this conference must be pretty awful.
Behold the programs that have graced Pasadena three straight Januarys over the past half-century: Southern California under John McKay, Larry Smith and Pete Carroll; Washington under Don James, Michigan under Bo Schembechler, and Ohio State under Woody Hayes.
Think of how those teams are revered and consider that Wisconsin under Bret Bielema is also on that list. Which one of these is not like the other?
Bielema left Wisconsin 1-5 against Ohio State, 2-3 against Penn State, 3-4 against Michigan State and 2-5 in bowl games. He went 3-2 against Michigan with three shots at Rich Rodriguez and none at Brady Hoke, whose Wolverines haven't seen the Badgers since 2010.
This is the program that has represented the Big Ten - and lost - in three consecutive Rose Bowls. Fart. Noise.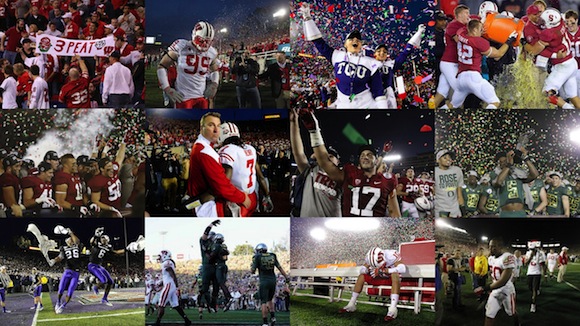 Unless Nick Saban's success at LSU and Alabama following a half-decade of futility in the Big Ten isn't an anomaly, Bielema should struggle at Arkansas, though the non-conference dessert scheduling he enjoyed in Madison will follow him south.
The timing has been serendipitous for Wisconsin's "rise": During Bielema's tenure, Michigan sustained both Lloyd Carr's apathy and the failed Rodriguez experiment. Ohio State's scandal ruined a shot at two of those three aforementioned Rose Bowl trips, and with the Buckeyes ineligible last season Penn State would have gone to Indianapolis instead were it not for its own sanctions.
Kirk Ferentz also lost command of maddening witchcraft. And Michigan State, which has never been allowed to have nice things, still carried a winning record against Bielema's Badgers. That setback epidemic hasn't kept these programs from beating Wisconsin during its Rose Bowl runs - they all have. It's just prevented them from reaching Pasadena themselves. 
Protected rivalries force all of those teams (except Iowa) to play each other regularly, while the Badgers skate through each schedule with fewer landmines. When they don't skate, they usually lose, but since programs like Minnesota, Illinois, Purdue and Indiana seem disinterested in being legitimately competitive, Wisconsin has taken advantage.
And in all seriousness: Good for Wisconsin. But bad for the Big Ten. That's Act III in a nutshell.
If you would like a granular glimpse into the paper-thin façade of Wisconsin's three-year Rose Bowl run, look no further than FBS career touchdown record-holder Montee Ball.
Ball finished his college career with an absurd 83 touchdowns to his credit. He racked up 15 of those scores in Wisconsin's traditional non-conference slate against paycheck opponents like Northern Iowa, UTEP, UNLV, Austin Peay, South Dakota and Hawaii. He got another 11 against Indiana (!) and four in one game against that famous Greg Robinson 3-3-5 defense.
That isn't to say that Ball wasn't an exceptional college back (he was) or that Wisconsin isn't a decent program (it is) but one player scoring 30 goddamn touchdowns exclusively against willfully-scheduled cupcakes and historically record-setting bad defenses is a similar grade inflation and curve to the one that propelled the Badgers under Bielema.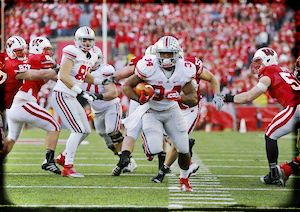 The coaches change, but the formula remains the same: This August the Badgers open with Massachussetts, arguably the nation's worst FBS team. The following Saturday they actually downgrade and host Tennessee Tech, one of the weakest programs in FCS' Ohio Valley Conference.
Michigan, Michigan State and Nebraska might pose a challenge to Wisconsin - if they played them. They're all off the schedule.
So Bielema's replacement Gary Andersen is already the front-runner for B1G Coach of the Year, which will probably go to winner of the Wisconsin/Northwestern game on October 12. Look for James White to be showered with Ball comparisons no sooner than mid-September.
The Badgers are positioned to be exactly what they have been for the better part of the past decade: A bridesmaid-caliber program that finagles its way to the altar. They have done nothing improper to get there. Their methods and successes are a larger indictment of how poor the rest of the conference has been.
Somehow, it's going to get easier: Once Rutgers and Maryland join in 2014 there will be no Buckeyes, Wolverines, Nittany Lions or Spartans on Wisconsin schedule (no, seriously) while Western Illinois, Bowling Green and South Florida all "invade" Madison. 
It's all aligned for a fourth act which would look a lot like the third one, since the only six-loss Rose Bowl program in history won't be threatened by Ohio State and Michigan furiously returning to their myopic 1970s grudge match. 
The Badgers will not only be nesting comfortably over in the significantly weaker West Division, they will continue to opportunistically lurk near the top of the standings just as they have since this tragic comedy began.
As a tone-deaf Bielema once quipped upon being asked about the scandal in Columbus and the tragedy in State College: It's a good day to be a Badger. He's never been more right.