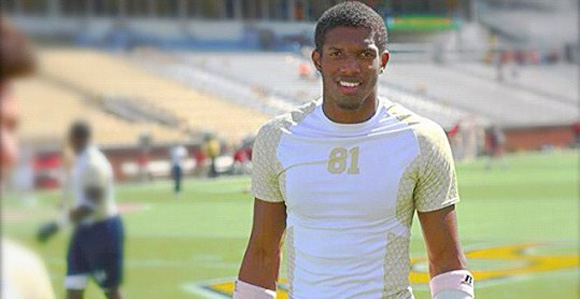 Former Georgia Tech receiver Jeff Greene will walk on to the Ohio State Football team, Eleven Warriors has learned.
Greene, a 6-foot-4, 210-pound wide receiver, played two years for Georgia Tech, seeing action in 12 games as a true freshman before emerging as the Yellow Jackets' top receiver during the 2012 season. He caught 18 passes for 284 yards (15.8 per reception) and two touchdowns for Paul Johnson's flexbone option attack, which prioritizes the running game.
In December, Greene and Georgia Tech parted ways. At the time, his high school coach, Chad Phillips of Starr's Mill, mentioned the Tech coaches had grown frustrated with Greene's effort and attitude and that he was "trying to help him get re-directed and get off the mat, find a place for him to go and proceed."
At Ohio State, he'll have that fresh start. Greene was in Columbus this week and met with the staff yesterday where he finalized plans to join the Buckeyes.
As a transfer, he must sit out the 2013 season and with NCAA scholarship limits still looming, he must also pay his own way, but he will be eligible to compete for a scholarship in 2014. He will then have two seasons of eligibility as a Buckeye.