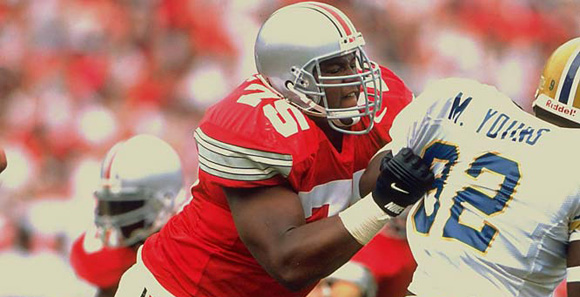 Orlando Pace, the best tackle many of us have ever seen line up for Ohio State – or anyone for that matter – is finally on his way to the College Football Hall of Fame.
Pace, a two-sport star for the Blue Streaks of Sandusky High School was a Parade magazine All-American as an offensive tackle, while also making the USA Today All-American team as a defensive lineman. A priority for John Cooper, Pace signed with the Buckeyes in 1994 and became the second true freshman to ever start the opener for a Buckeye team.
"Orlando Pace is not only the best offensive lineman I have ever coached, but he is the best I have ever seen," John Cooper, Ohio State coach from 1988-2000 and a 2008 inductee into the College Football Hall of Fame, said. "Every game was a highlight reel for him. We ran a lot of counter sweeps and a lot of screens, and on many of those plays Orlando had to be out in front of the ball carrier. And we had some pretty good ball carriers.
"I don't know how you could play the position any better than he did. He was just a fantastic football player. He was the best."
As a Buckeye, he dominated. He was a two-time consensus first-team All-American, capturing the Outland Trophy in 1996 and the Lombardi Award in 1995 and 1996, becoming the first two-time winner of that award. In 1996, Pace earned Ohio State's team MVP award along with the Chicago Tribune's Silver Football as the Big Ten's most valuable player.
Pace finished fourth in voting for the Heisman trophy as a senior in 1996 and helped encourage the growth of the phrase "pancake block," earning the nickname "Pancake Man" for his style of dismantling opposing players.
Pace did not allow a sack during his final two seasons at Ohio State.
In 1997, Pace was selected first overall in the NFL Draft by the St. Louis Rams, where he starred for 12 seasons, capturing NFL All-Pro honors five times, earning seven trips to the Pro Bowl and helped lead the Rams to a win in Super Bowl XXXIV.
Sports Illustrated selected Pace as a starting offensive tackle on their "NCAA Football All-Century Team" in 1999 and he was later named to the NFL's 2000s All-Decade Team.
Two years ago, Pace was honored by the Buckeyes with an induction into Ohio State's Sports Hall of Fame. This summer, he'll take his place in the College Football Hall of Fame and we can only assume his next stop will be Canton.
Congratulations, Big O.