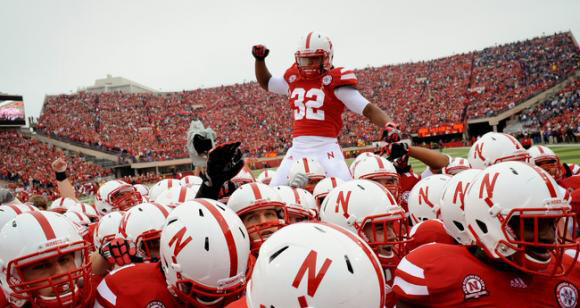 Schedules are never expected to be easy when you play in a major conference. There are years when a league might be down, but anticipating stress-free Saturdays from September through November is not advised. If that's the mindset, a letdown is inevitable.
When the Big Ten announced it would be going to a nine-game schedule in 2016, there were mixed reviews. What was immediately evident was the fact that Ohio State was placed in the tougher of the two divisions. Doing the age-old eye test and examining historical data of the past 20 years reveals the likes of Michigan, Michigan State, Penn State, Rutgers and Maryland have had a wider range of success than Wisconsin, Nebraska, Iowa, Minnesota and Northwestern.
"I think Penn State, Michigan, Ohio State and Nebraska were the four that were looked at as No. 1 seeds," said Big Ten commissioner Jim Delany. "Three of the four are in the East, and also Iowa and Wisconsin were viewed as the line right below that. With Nebraska and the emergence of Northwestern as a 10-win team, we felt there was enough competitive balance."
But college football programs are not immune to ups and downs. Penn State, more than likely, will suffer some uncharacteristic years in the coming decade due to crippling NCAA sanctions, while Minnesota and Purdue could put together a string of success that hasn't been seen in more than a decade. Still, it appears the Buckeyes' strength of schedule could be receiving another boost.
And it's not because of the program's policy of scheduling tough out-of-conference games. Instead, it's the Big Ten's own doing. The cross-divisional format will be imbalanced, matching up top-tier teams from the East against the West, according to Delany.
The conference is referring to it as parity-based scheduling. It's good for TV networks, which crave big matchups and that results in outsized ratings. In turn, it gives the Big Ten a piece of the spotlight and negotiating power for its next TV contract.
"In the first 18 years, you're going to see a lot of competition between teams at the top of either division," Delany told ESPN.com. "We call that a bit of parity-based scheduling, so you'll see Wisconsin, Nebraska and Iowa playing a lot of competition against Penn State, Ohio State and Michigan. But it will rotate. Early on, we feel this gives the fans what they want."
There is evidence that fans shun bad games, and with the College Football Playoff on the horizon, a tougher schedule is welcomed. It's believed that strength of schedule will be an ingredient when the four teams are selected, similar to the NCAA Tournament. Ohio State already has Virginia Tech, Oklahoma, Texas, Oregon, North Carolina, TCU and Boston College on future schedules dating to 2023.
Athletic director Gene Smith told Eleven Warriors he does not see a scenario where parity-based scheduling keeps a four-year player from participating against every Big Ten university. 
"We anticipate we will not have a situation where a class of players will miss playing a conference member during their four year cycle," he said. "It is possible they may play someone only once. We have to look at this over a period of years. I anticipate we will play everyone in the West Division over an 8-10-year cycle. There will be years we will miss Nebraska, Wisconsin, etc."
But with every positive there is a negative – or two. Logic says that a more difficult schedule lessens the likelihood of a run to the national championship. It will be far easier to overcome one loss, though, under the new system.
Fairness is another factor in the Big Ten's scheduling philosophy. If the Ohio States and Wisconsins of the conference beat each other up, a lower-tier team could get hot and ride that wave of momentum to a conference title, and possibly even further.
But the objective of pitting the best teams against each other and create the most fan-friendly matchups should be accomplished. The Big Ten is in somewhat unchartered territory with their recent announcement – getting everything (or almost everything) right.
Rivalries were preserved, the divisions were aligned correctly and named appropriately, ridding the conference of its horrendous Leaders and Legends era.
"Last time it was competitive balance, principle one, preservation of rivalries, two, and geography three," Delany said. "This time, rivalries maintained it's position at two, and we flipped geography and competitive balance (as priorities).
"The default position throughout was how do we maintain good geography, how do we do this in a way that builds the conference, binds it together, respects the historical rivalries, and then third was competitive balance with the belief that while that's a very rationale approach we used the first time, going forward there's a lot of parity, and we're willing to take that risk."
Ohio State hopes it doesn't result in dashed hopes. 
Conference wins since 2009:
Ohio State 25
Wisconsin 22
Penn State 22
Michigan State 21
Iowa 16
Michigan 16
Northwestern 16
Purdue 13
Nebraska 12 (two seasons)
Minnesota 9
Illinois 8
Indiana 4