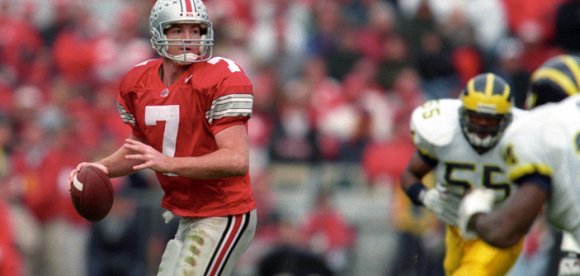 On the way to seven national titles, 34 B1G championships, and the sixth-most wins in college football history (837), Ohio State fans have seen literally dozens of truly special single-season offensive performances turned in by Buckeye greats.
Reflecting on some of those special performances during a hops-fueled debate a few weeks back, myself and a couple buddies were trying to determine exactly which Buckeye of the modern era (loosely defined as 1970 to today) indeed had the most dominant offensive season.
As you're no doubt aware from your own friendly debates, comparing players across different eras, and even worse, trying to compare a quarterback's single-season greatness to a running back's domination to a receiver's majestic season is an exercise in futility.
Over the last two weeks I took a look at the most dominant single-season performances turned in by Buckeye running backs and receivers and while arguments can still be made, I feel pretty comfortable with my selections. At running back, I had Eddie's 1995 Heisman Trophy campaign at the top, edging Keith Byars' often underappreciated 1984 season. At wide receiver, the battle was just as difficult to evaluate though I finally landed on David Boston's 1998 season, again just by a nose, over Terry Glenn's spectacular 1995 performance. 
Today, I examine the quarterbacks and after a week of trips down memory lane, numerous passes at game recaps, general research, and long walks in the park with the OSU record book, selecting the most dominant single season by a Buckeye signal-caller proved the most difficult of the three position groups. 
No fewer than five quarterbacks (in order by year) made my initial list for evaluation: Terrelle Pryor ('10), Troy Smith ('06), Craig Krenzel ('02), Joe Germaine ('98) and Bobby Hoying ('95). 
I did dig into older guys like Cornelius Greene ('74) but he just didn't produce enough for me to think he should truly be in "most dominant" discussion even knowing the style of football, especially at Ohio State, was much different back then. Art Schlichter's 1981 season was interesting to evaluate as he did put up some serious stats in a pro-style offense, but the team fared no better than virtually every other Earle Bruce-coached squad, finishing with a predictable 9-3 record, which forced me to think about how much weight should be placed on the quarterback's win-loss record. 
While it is a team game, there's no question quarterback play often goes a long way toward determining a game's winner and loser. At the same time, it can be argued signal-callers get far too much of the credit for wins and too much blame for losses. In the end, I put great emphasis on stats, even more emphasis on stats in big games, and looked at wins and losses as a tiebreaker of sorts. 
Needing to trim the group down to two finalists, the first victim was Krenzel's 2002 season. I know, I know, blasphemy to some of you but that's how it shook out. While Krenzel made his fair share of clutch plays, when you talk about most dominant – as long as you don't fall in the "QB gets too much credit/blame" trap – his stats simply don't add up and quite frankly, I think it's fair to wonder how that same roster, sans Krenzel, would've fared with a Troy Smith or Terrelle Pryor, or even Joe Germaine or Bobby Hoying under center.
In no way am I trying to knock the guy that was under center for the one and only national championship of my lifetime, but I'm also not going to blindly give him too much credit, especially when the stated goal here is to determine the most dominant single-season performance.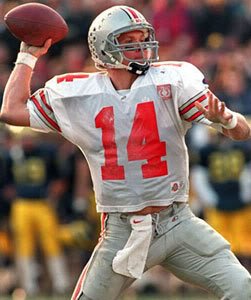 In what might surprise some of you younger pups, Hoying put up some Nintendo numbers during a 1995 season that saw the offense rack up a school-record 6,222 yards of total offense. In fact, Hoying still holds the single-season school records for yards of total offense (3,290) and passing efficiency (163.4), and he ranks second in passing yards (3,269) and touchdown passes (29). Despite his outstanding numbers, he finishes no higher than third on my list thanks to back-to-back losses to end the season including a two-interception performance in a 31-23 loss to Michigan and a one-touchdown, one-interception effort in the Citrus Bowl loss to Tennessee. 
Now, it really starts to get controversial. What do you do with Pryor's 2010 season? Despite not being able to find these stats in the OSU record book, Pryor posted what would've been a school record of 271.2 yards of total offense per game and a 65% completion percentage in addition to 31 touchdowns responsible for, a mark that would've tied him with Troy and Hoying for the most all-time. He did throw 11 picks on the year and had his worst performance in Ohio State's lone loss, on the road to Wisconsin, but otherwise, the kid was sensational. 
It probably should be pointed out Pryor put up those numbers against a pretty weak schedule as Ohio State played only one Top 10 team (win over #8 Arkansas) while going 2-1 in games against 12th-ranked Miami (W), 21st-ranked Iowa (W), and 18th-ranked Wisconsin (L). 
Overall, there's no question Pryor's 2010 season is a top-three performance in Ohio State history but I can't overlook the fact he was ruled ineligible, regardless of anyone's opinion on his transgressions, and therefore his stats don't exist in school history. 
With Pryor erased from the picture, that leaves just two seasons standing. Joe Germaine's aerial assault in 1998 and Troy Smith's Heisman Trophy performance of 2006. 
Coming off a 2005 season in which he accounted for 27 total touchdowns (16 pass, 11 rush), good for third-most in school history, and 2,893 yards of total offense (also third-most all-time), big things were expected of both Smith and the 2006 Buckeyes. 
Smith started the season on fire, torching Northern Illinois with an 18/25 passing performance (72%) good for 272 yards and three scores including a 58-yard strike to Ted Ginn Jr. Having spent the offseason working on keeping his eyes downfield and scrambling with the intent of buying time to locate receivers instead of tucking and running, Troy carried it just one time in the 35-12 win in the season opener. Putting winning above all else, Troy spent the offseason working to become a slightly more traditional quarterback to not only reduce the chances of injury but also to take full advantage of having both Antonio Pittman and Beanie Wells in the backfield. 
In week two, Ohio State traveled to Austin with revenge on their minds and Troy easily outdueled Colt McCoy as the Buckeyes knocked off the defending national champions. Smith connected on 65% of his throws (17/26) and hooked up with Anthony Gonzalez and Ginn Jr. for touchdown strikes in a methodical 24-7 win.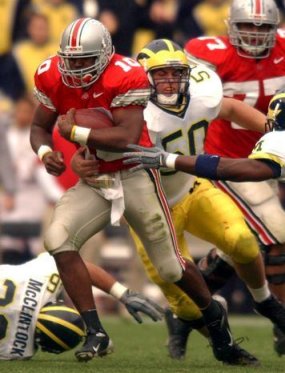 The Buckeyes cruised past Cincinnati the following Saturday, 37-7, behind another 70% completion day (21/30) and two touchdown passes from Smith, setting up a date with against the 24th-ranked Penn State Nittany Lions. Ohio State led just 7-3 early in the 4th quarter with Smith in the midst of playing what would be his second-worst game statistically of the regular season but facing a 2nd and 9 from the Penn State 38-yard line, he unleashed what would become a signature play in Heisman campaign. 
Out of the shotgun, Smith was forced to immediately scramble right after Pittman couldn't seal the end rusher. Having already drifted about 10 yards behind the line of scrimmage and still feeling pressure, Smith then spun back to his left, now standing at his own 47-yard line and unleashed a laser, hitting Brian Robiskie in stride on what had become the slowest developing post-pattern in the history of modern football. 
The play gave OSU a 14-3 lead, deflating Penn State in the process, and the Bullets added two pick-sixes pushing the final margin to 28-6 and entrenching Smith as a legit Heisman hopeful. 
The following week, at #13 Iowa, Smith put even more space between himself and the rest of the Heisman field as he tossed four touchdown passes and completed 64% of his passes in the 38-17 laugher. With Bowling Green serving as a strangely placed out-of-conference matchup the following Saturday, Troy used it as a warm-up for Michigan State, connecting on a ridiculous 17 of 20 passes (85%) including a 57-yard strike to Ginn Jr. to cap the scoring in a 35-7 beatdown. 
Facing a string of unranked B1G squads in Sparty, Indiana and Minnesota, Smith totaled seven touchdown passes and added his first rushing touchdown of the season. Ohio State outscored the three opponents by a combined 126-10 as Troy hit on 67% of his throws with those eight total touchdowns. 
Out of nowhere, Smith stumbled the following Saturday at Illinois. Ohio State managed to build a 17-0 halftime lead but needed an onside kick recovery to escape with a 17-10 win. Smith connected on four of five throws on Ohio State's opening touchdown march but hit on just 9/18 the rest of the way to finish with a 13/23 passing day that included a 4th quarter interception and saw him held without a touchdown pass for the one and only time during the regular season. 
Motivated by the lackluster performance, Smith caught fire to finish the regular season. He burned Northwestern with four touchdown passes, on just 12 completions, in a 54-10 rout, hitting three different Buckeyes for scores including a 34-yarder to Ginn Jr. just before the halftime gun. Troy sat out the final quarter with the game out of hound and Michigan set to invade Columbus the following weekend.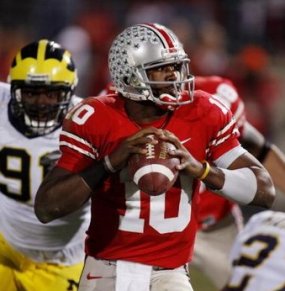 On Senior Day in the 'Shoe with Michigan in the house for The Game of the Century, #1 Ohio State and #2 Michigan played one of the all-time great college football games. Again destroying the Wolverines, Smith blew up for 316 yards through the air on 29/41 passing with four touchdowns against one interception. 
Smith hit Roy Hall on a one-yard out route to open the scoring, hit Ginn Jr. on a 39-yard post off a perfectly executed trick play / quick count, found Gonzo for an eight-yard score to cap an 80-yard drive and for a final act, Troy hit Robiskie on a comeback route for a 13-yard score, capping an 83-yard drive that put OSU in front for good, 42-31, with just over five minutes to play. 
The win locked up the Heisman and earned Ohio State a spot in the BCS title game but as eye-popping as Smith's performance was against Michigan, his outing versus Florida in the BCS championship was just as amazing but not in the way everyone outside of Gainesville expected. 
Smith looked like he had enjoyed the awards/banquet circuit a little too much and his teammates were of little help. The offensive line was completely overwhelmed and Troy's sluggish movement and decision-making combined to produce Buckeye Armageddon in a 41-14 Gator rout. Smith completed just four of 14 passes, for a meager 35 yards and with the line leaking like a sieve, he was sacked five times and lost a fumble just before the half that Florida turned into a touchdown and a commanding 34-14 lead at the break. 
Despite the dismal finish, Troy still set single-season OSU records by completing 65% of his throws and passing for 30 touchdowns. He also posted the fifth-most prolific season of total offense (2,746 yards) and the third-best passing efficiency (161.9). Most impressive of all, he won the Stiff Arm by the second-largest margin in the history of the Heisman. 
Even though Smith captured the sport's most prestigious individual honor and put up some amazing stats while owning Michigan, I still give the nod to the most dominating season by an OSU quarterback to none other than Joe Germaine and his special 1998 season. Let's check out their stats, head-to-head:
GERMAINE '98 VS. SMITH '06: TWO LEGENDARY QUARTERBACK PERFORMANCES

| PLAYER | TOT  PASS YDS | PASS YDS/G | COMP% | TD | INT | TOT OFF | TOT OFF/G | PASS EFF | %TEAM OFF |
| --- | --- | --- | --- | --- | --- | --- | --- | --- | --- |
| JOE '98 | 3,330 | 277.5 | 60% | 25 | 7 | 3,247 | 270.6 | 150.5 | 54% |
| TROY '06 | 2,542 | 195.5 | 65% | 30 | 6 | 2,746 | 211.2 | 161.9 | 55% |
| JOE NET | 788 | 82 | (5%) | (5) | (1) | 501 | 59.4 | (11.4) | (1%) |
Finally free from Stan Jackson and John Cooper's decision to employ a two quarterback system, Joe Germaine was finally handed the keys to Ohio State's high-octane offense in 1998 and he responded with the most dominant single-season performance by a quarterback in OSU history. 
A pure passer who wasn't afraid to stand in the pocket and deliver strikes under pressure, Germaine set 11 school records as he led the Buckeyes to an 11-1 record and a #2 ranking in the final national polls. Sure, the well-chronicled loss to unranked Sparty killed what should've been a championship season, but Germaine did his part leading Ohio State to five wins over teams ranked 11th or better. 
One such game occurred in the season opener with the Buckeyes traveling down to Morgantown to face 11th ranked West Virginia in a primetime affair. In one of the more hostile environments in the country, Germaine quieted the crowd with a 14-yard touchdown strike to Dee Miller giving the Buckeyes a 17-3 lead and later he would hook up with David Boston on a couch-igniting 39-yard laser for six sending 'Neers fans streaming for the exits. Germaine connected on 18 of 32 throws for 301 yards and the two scores, helping both Boston and Miller eclipse 100 yards receiving. 
Germaine would feast on Toledo the following Saturday, racking up three touchdown passes in the first half. Leading 42-0 at the break, Germaine wouldn't see the field in the 2nd half, setting for a 13/21, 150 yard performance. 
Ohio State would face another ranked team, 11th ranked Missouri, the next week and while Germaine was held without a touchdown pass and lost a fumble leading to a Tiger score, he did hit on 19/25 passes for 211 yards, helping the Buckeyes erase a 14-13 halftime deficit, leading the Buckeyes on scoring drives of 70, 75 and 70 yards to open the 2nd half in a 35-14 win. 
With a bye week to prepare for 7th-ranked Penn State, Germaine was far from perfect going 16/30 through the air with a 20-yard touchdown on a rain soaked Saturday. Germaine also tossed his first interception in 97 attempts but with the Bullets clicking, Ohio State prevailed 28-9. 
Facing a badly overmatched Illinois the following week, Germaine blew up for 253 yards and three touchdowns – in the 1st half – and despite sitting out the 4th quarter in a 41-0 win, Joe still completed 17 of 28 passes for 307 yards.
Germaine would continue his offensive explosion over the next three weeks as Ohio State feasted on cupcakes Minnesota, Northwestern and Indiana. The Buckeyes outscored the three teams by a combined 119-32 with Germaine on an incredible run. Against the Gophers, Joe completed 27 passes for 339 yards and a pair of touchdowns. The next week, Germaine needed only 19 completions to rack up 342 yards and three touchdowns and finally, in a 38-7 demolition of the Hoosiers, Germaine completed 31 of 45 passes for 351 yards and three touchdowns. The three game tally for Germaine: a ridiculous 1,032 passing yards with eight touchdowns. For the sake of meaningless comparisons, the 2011 Buckeyes passed for 1,651 yards and 13 touchdowns in 12 games.  
Of course, Ohio State would host unranked Michigan State the following week and though Germaine threw for 239 yards including a 41-yard touchdown strike to John Lumpkin, and drove Ohio State to inside the five-yard line in the final seconds, he couldn't get OSU in the end zone in a crushing 28-24 loss. Germaine had a costly fumble and also threw a pick but in his worst performance of the season, unlike Troy against Florida, Germaine still gave Ohio State a chance to win. 
Fired up following the upset against Sparty, Germaine led the Buckeyes to a 45-14 blowout of Iowa. Germaine completed 18/30 passes for 319 yards and three touchdowns setting up a showdown with 11th-ranked Michigan in Columbus. 
Capping a remarkable regular season, Germaine lit up the Tom Brady and the Wolverines for for 330 yards and three touchdowns in a 31-16 romp. Germaine found Miller for a 16-yard score and Boston for two touchdowns, one a 30-yarder and another on a 43-yard bomb midway through the 3rd quarter.
Though the loss to Sparty crushed the team's national title hopes, Germaine still paced the Buckeyes in a 24-14 victory over #8 Texas A&M in the Sugar Bowl with 222 yards passing and a touchdown, giving Ohio State an 11-1 record and a #2 national ranking in the final polls. 
Germaine's astonishing season saw him set the OSU standard for passing yards (3,330), passing yards per game (277.5), total offense per game (270.6) and his seven 300-yard passing games are five more than his next closest peer (Smith, 2). In fact, Germaine's '98 season saw him tally four of the top 10 passing games in school history. 
His exploits weren't good enough to win a Heisman but the B1G MVP and Offensive Player of the Year did set the standard for the most dominant single season for an OSU quarterback by virtue of his statistical brilliance and clutch performances that helped his team win both the The Game and a BCS bowl game in the same season.