Keeping the best players in the state of Ohio to play their college football for the Buckeyes is one of the most important, if not the most important jobs of the Ohio State coaching staff.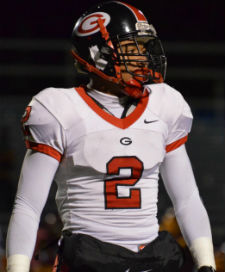 Last year the staff was able to land 10 players from the Buckeye state: Jalin Marshall, Cam Burrows, Evan Lisle, Gareon Conley, Jayme Thompson, Billy Price, Donovan Munger, Christopher Worley, Darron Lee, and Tracy Sprinkle.
You could argue the staff is doing even better in the 2014 class. They've already locked up five players from the state of Ohio, including Kyle Berger, Parris Campbell, Kyle Trout, and Sam Hubbard. 
The best sign is they are in very good position with their remaining in-state targets and have lost very few players to rival schools. In fact they've really only missed out on one in-state player, Michael Ferns, who has been committed to Michigan for a couple of months.
Today we are going to take a look at the remaining players the Buckeyes are targeting in the 2014 class from the state of Ohio. Keep reading to learn more about the elite Ohio talents the Buckeyes are still pushing to land.
ATH Marshon Lattimore, Cleveland Glenville
Lattimore is considered by many to be the top junior in the state of Ohio. While he is very, very quiet about his recruitment and hasn't really shown his hand, many believe the Buckeyes are in pretty good shape to eventually earn his verbal commitment.
He's made multiple treks to Columbus and hasn't taken many visits to other schools. Factor in the Glenville connection and I think things look pretty good for the Bucks as they currently stand, but Alabama and others could emerge as a threat down the road.
Prediction: Ohio State
LB Dante Booker, Akron St Vincent-St Mary
It's been known the Buckeyes have had a pretty sizable lead for Booker for quite some time, but another team could be emerging into the thick of the race to land him.
Until recently, Booker had almost exclusively taken visits to Ohio State; however, he has taken a few trips to South Bend to check out Notre Dame recently. I'm not too worried right now and I think he eventually joins his teammate Parris Campbell as a Buckeye commit, but don't count Notre Dame out.
Prediction: Ohio State
WR Derek Kief, Cincinnati La Salle
The Buckeyes are still looking to add playmakers in this class and Kief, considered by many to be the top pure receiver in the state of Ohio, is one of the staff's top priorities.
The 6-foot-5, 200-pound wideout is comfortable with the recruiting process, as he has his own website to tout his statistics and accolades.
He visited Ohio State twice in April, once on campus and again in Cincinnati to watch the spring game. Alabama and Kentucky are two schools to watch here.
Prediction: Ohio State
S Erick Smith, Cleveland Glenville
In addition to Glenville products Marcelys Jones, who already committed, and Marshon Lattimore, the top junior in Ohio, the Buckeyes would love to have Glenville safety Erick Smith in this class. Smith may be taking things the slowest of all Buckeye targets and is extremely quiet about his recruitment.
I think it will be a while before Smith commits, but I think the Bucks are in pretty good shape right now. Michigan has also offered and is a school to watch out for in this recruitment.
Prediction: Ohio State
QB DeShone Kizer, Toledo Central Catholic
Unlike the other prospects we have discussed, Kizer does not yet have an offer from the Buckeyes. In fact, Ohio State has only offered one quarterback thus far, Deshaun Watson, who is firmly committed to Clemson.
I would expect the next offer to go out to Drew Barker or Brandon Harris. If they strike out on either or both of those guys, I think there's a pretty good chance Kizer would get an offer. 
Prediction: Tennessee 
Others to watch
Ohio State is also keeping a close eye on several other players from the state, including Lima Central Catholic safety Darius West, Westerville Central offensive tackle Nick Richardson, Cincinnati Winton Woods defensive tackle Daniel Cage, Shaker Heights defensive end Joe Henderson, Massillon guard Nathaniel Devers, and Springfield linebacker Davonte James.
West is a four-star talent, thought to be among the dozen or so best safeties in the country. He currently does not have an Ohio State offer, but does hold offers from other heavies, including Penn State, West Virginia, Missouri, and Louisville.
Richardson is another four-star prospect and he visited Ohio State for the Michigan game in November. His current offers include the likes of Michigan State, West Virginia and Vanderbilt, but he's still waiting on the coveted Ohio State offer.
Cage's size – 6-foot-3 and 275-pounds – is intriguing to many staffs, reflected in the increased attention he's receiving on the trail. While he does not presently have an Ohio State offer, the Florida Gators moved in to extend one in early March.
Henderson, Devers and James are all high on Ohio State and starting to garner attention. Solid camp work this summer could lead to an uptick in consideration from traditional powers.