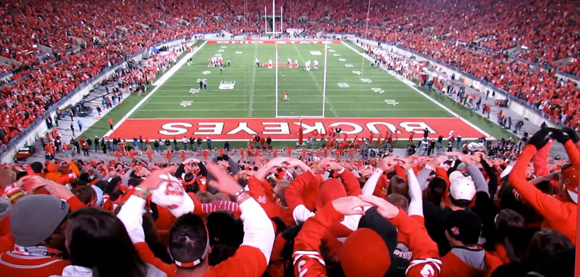 Ohio State head coach Urban Meyer pressed for more night games. The message was well-received from university brass and TV networks with the Buckeyes scheduled to play three night games this season, including two at home for the first time. 
Ohio State will host Wisconsin under the lights in Ohio Stadium on Sept. 28 and Penn State on Oct. 26. The lone night game away from Columbus will take place Oct. 5 at Northwestern. The Wisconsin game is a big one as it will take place after Eat Too, Brutus IV, Eleven Warriors' annual charity tailgate.
In a conversation with Eleven Warriors last week, Ohio State athletic director Gene Smith made his intentions clear that he wants the Buckeyes to play more night games at home than on the road. 
"My concern now is we're always playing two on the road and one at home, which means our guys get home at 3 in the morning twice a year," Smith said. "That's not just a competitive disadvantage but also a student-athlete welfare issue. So we need to have two at home and one on the road as opposed to suffering the other side of that.
"That was my impetus, Urban's was recruiting. I agree with that. Our effort is to have a couple night games at home and one on the road, unless we change our television contract. We might look at November night games. But right now I'm very comfortable with having two at home and one on the road."
The atmosphere at the Shoe under the lights is legendary, stemming back to the first night game in Ohio Stadium, a 10-7 win over Pitt in 1985. The Buckeyes have played a total of 12 night games in Ohio Stadium, winning nine. Five of the top 10 largest crowds, including the top two (Nebraska, 2012, which also featured the greatest TBDBITL show of all time; USC, 2008), were on hand for night games.