It has been a week since we last talked Buckeye recruiting and while not much has changed since then, a couple of things that have changed over the last week and one of them is quite big, possibly bringing some more clarity to the quarterback recruiting situation.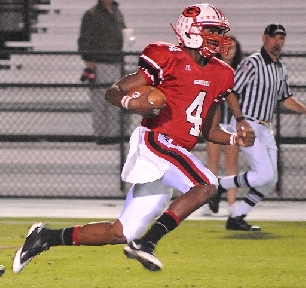 Urban Meyer and his staff have been hitting the road hard during this contact and evaluation period, all aimed at trying to improve relationships with the players they're recruiting to Ohio State, and developing new ones as the radar blips to highlight new possible recruits.
Another big-time Ohio State target who had committed to another school a couple of months ago earlier may be back on the market for the Buckeyes after he decommitted earlier this week.
Finally to round things out, one of the Buckeyes' top targets on the offensive side of the ball has set a date for his decision.
We'll touch on all of that and more in this week's edition of the Ohio State Football Recruiting Notebook. Buckle up for safety, boys and girls; it could get bumpy.
Some big news broke yesterday regarding Ohio State's top quarterback target, Deshaun Watson. Watson, who is currently committed to Clemson, had previously said he would take visits to other schools including Ohio State.
Plans of a visit to Ohio State ended when Watson decided to solidify his commitment to the Tigers and not take visits to other schools.
#Clemson QB commit Deshaun Watson says he's finished with visiting other colleges: bit.ly/11FZExF

— Michael Carvell (@RecruitingAJC) April 25, 2013
This means two things for the Buckeyes.
The Buckeyes now need to find a new quarterback to make a push to land. Two names come to mind: Hebron (KY) Conner QB Drew Barker and Bossier City (LA) Parkway QB Brandon Harris. 
Barker has been on the Buckeyes' radar for quite a while, but they haven't had a lot of contact recently. That's expected to change soon as Jeremy reported Barker has already spoken to Ohio State coaches and is expected to speak with Urban Meyer over the weekend.
'14 QB Drew Barker (@d_barker7) spoke w/#Buckeyes tonight. Was told Urban Meyer will be calling him this weekend, Herman visits next week.

— Jeremy Birmingham (@Birm11W) April 26, 2013
Harris is a relatively new name on the Ohio State recruiting radar. He hasn't been in touch with the OSU staff very long, but there is definitely a lot of interest. He is known for his top-notch arm strength.
The second effect of the Watson news is the impact it will have on Tyrone (GA) Sandy Creek wide receiver Demarre Kitt, who is one of the Buckeyes' top targets on the offensive side of the ball.
Kitt and Watson are very close friends. I don't think it's a coincidence Kitt set a June 10 decision date on the same day his good friend Watson announced he was 100% solid to Clemson. I think Clemson has taken the lead in this race and will eventually earn his commitment.
Lastly, Fort Worth (TX) All Saints Episcopal School offensive lineman Demetrius Knox, who committed to Texas a few months ago, is back on the market after decommitting from Mack Brown and the Longhorns a few days ago.
I think the Buckeyes will be firmly in the race to get Knox's verbal commitment and think they have a pretty solid chance to do so as things currently stand.
The Demetrius Knox decommitment from #Texas is most certainly a situation #Buckeye fans should keep an eye on. "Meechy" grew up near Dayton.

— Jeremy Birmingham (@Birm11W) April 22, 2013