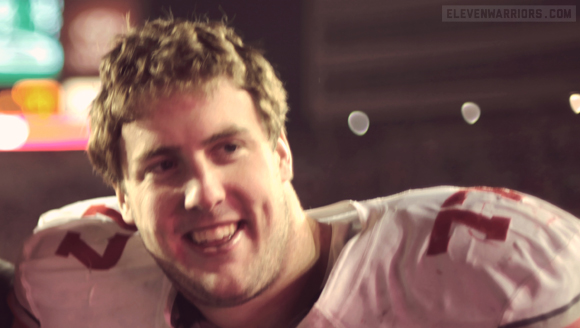 Reid Fragel had an unconventional four seasons in Columbus, entering as a tight end and leaving as an All-Big Ten right tackle. He based the decision on his NFL future, and after being selected by Cincinnati with the 34th pick of the 7th and final round of the draft (240th overall), it appears Fragel made the right decision.
After playing 39 games at tight end during his freshman, sophomore and junior seasons, Fragel said sayonara to 14 receptions, 185 yards and a touchdown for the less glamorous position of right tackle.
He gained more than 20 pounds of muscle, playing at just over 300 pounds. Fragel started all 12 games at right tackle for the 12-0 Buckeyes and helped keep quarterback Braxton Miller upright.
Fragel, represented by Dave Lockett, was invited to the NFL Combine, where he posted respectable numbers and became an intriguing target for many general managers. He is still raw at the position, but possesses tremendous upside. Now it's the task of the Bengals and OL coach Paul Alexander to develop Fragel into a high caliber edge-blocker.
Cincinnati coach Marvin Lewis likes what he's getting in Fragel, saying "Reid Fragel, the tackle from Ohio State is really a big, athletic player who made the transition from a couple positions offensively. He just kept growing and really was impressive strength-wise what he did at the combine. He's got great hips, can roll his hips — just an impressive, young prospect who's still on the come, and we really feel like he's a great addition to the football team up front."