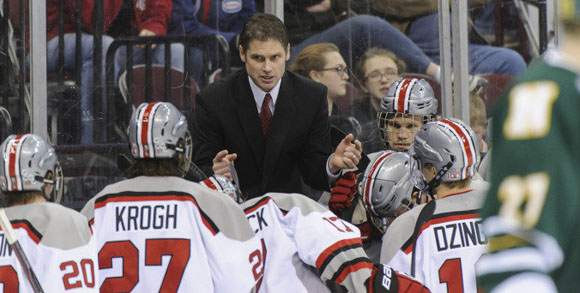 Ohio State named Steve Rohlik the ninth head coach in men's ice hockey history Wednesday. Rohlik (pronounced rah-lick) arrived in Columbus with former head coach Mark Osiecki three years ago and served under Osiecki as the associate head coach.
"We are pleased Steve has accepted our head coaching position," Ohio State athletic director Gene Smith said in a school release. "He has made positive impressions within the athletics department, in the hockey community and with the men's hockey student-athletes. He has a well thought-out plan for how to lead our hockey program into the future that is in line with the expectations we have for each of our head coaches."
Rohlik, a graduate of Wisconsin, has previous stints with the Badgers, Nebraska-Omaha and Minnesota Duluth on his résumé. While a UMD, his squad advanced to two NCAA tournaments, including a Frozen Four appearance in 2004, and won the 2009 WCHA playoff title. During his career, he has recruited and/or coached two Hobey Baker Award (think hockey's Heisman) winners, 12 All-Americans and 18 players wo have gone on to play in the NHL.
"I am honored and humbled by this opportunity to become the next coach at Ohio State," Rohlik said. "I want to thank Gene Smith, Chris Schneider and the administration for giving me this chance. I look forward to leading this program into the Big Ten."
---