There are not many spots left in the Ohio State 2014 recruiting class. Some experts say there may only be 10 spots left; others are a bit more optimistic and think the Buckeyes could stretch it from the current seven commitments to upwards of 20. There are a number of names that are well known still on the board that have been talked about ad nauseam like Raekwon McMillan, Dante Booker, Demarre Kitt, Jabrill Peppers, and any number of quarterbacks.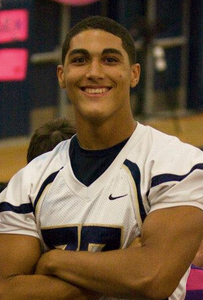 There are lots of opportunities for the next group of young men with the talent and the desire to join Urban Meyer's "Chase" for the next Buckeye crystal ball.
One player who does not yet have the chance to say "yes please" to the Buckeyes, but would be more than happy to receive that call is Phoenix (Ariz.) Desert Vista defensive end Jalen Jelks, a 6-foot-7, 250 pound lineman who has recently picked up major scholarship offers from some of the nation's elite football programs.
Arizona, Arizona State, Boise State, Oregon, Oregon State, Tennessee, Washington and Wisconsin have all offered the junior, who was born in Sidney (Oh.) but raised in Arizona since he was four years old, despite the fact that he's only played two years of competitive football.
"I played freshman football, but got injured and couldn't play," Jelks said. "I was able to start on JV when I got back and was moved to varsity."
When you're 6-foot-7, it's easy to get attention, but Jelks admits that he was not really ready for this sudden surge in recruiting interest. He is aware, however, of the best way to handle it.
"It was all very overwhelming at first," Jelks said of the attention, some of which got started on the forums of Eleven Warriors.
"Over time you just have to try and get used to it and make sure you make the right decisions."
For Jelks, some of those "right decisions" start in the classroom, and that's a situation that he's working hard to repair after stumbling out of the blocks as a freshman.
"My grades are fine," he said. "I'm doing some stuff to make up from freshman year, but that will all be done really soon."
Being an Ohio native, despite never really living in Ohio, Jelks doesn't deny that he – and his family – are Buckeye fans. He gets back to the Buckeye State as often as he can to see family, but that doesn't mean the Buckeyes would automatically jump to the front of the line if they ended up coming through with a scholarship offer. There's a number of things that matter to Jalen and his family, and his mother, Devan, will be sure that the priorities remain in order.
"My main concern is academics," his mother, who works for a local university said. "After that, is a coach that cares about my son. It's not just about how well he plays (football)."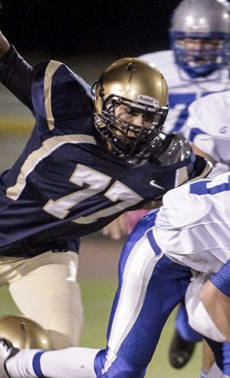 So far, Jelks and his parents have been able to make a few visits together, and that will be the start of what should be a busy summer. They've visited Arizona, Arizona State and UCLA so far, and intend to make stops at Tennessee, Washington and Oregon this summer. Jelks says he has no favorites at the time and that it's too early to think about making a decision.
"I like every team that's recruiting me a lot," he said. "I have bonded with each school in different ways. I need to take some visits and see what the schools are all about."
Of course, if the childhood favorite Buckeyes upped their interest, Jelks concedes that he would have to find room for them as well.
"I was born a Buckeye fan, and they are definitely in the running. I've always been a fan," he continued. "I watched them play Texas a few years ago in the Fiesta Bowl. I would like to get up there and see them, for sure."
He was, however, just recently in Cincinnati for the Rivals.com/Under Armour camp and was happy with his performance.
"Overall, I felt faster than a lot of the kids there, and bigger than a lot of them, too," Jelks said of his camp experience. "I think the best part of my game (right now) is my reach and my ability to get off (of blocks). I know that I can use improvement in every area of my game, though, always."
With one current defensive line commitment (Dylan Thompson, although Sam Hubbard could potentially play DE and maybe Marcelys Jones gets moved to defensive tackle), the Buckeyes are actively searching for another rush DE with offers out to dozens of them.
Is the time coming for Jalen Jelks?