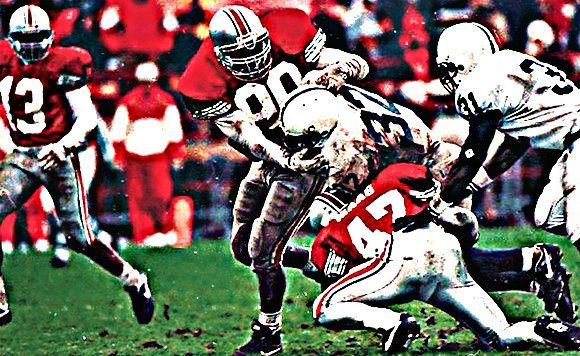 Hey, remember when Ohio State went 12-0 last season?
Aside from being predictably exhilarating, that perfect outcome represented a fairly reasonable prediction. The Buckeyes were returning a whole bunch of seasoned players and had Urban Meyer, a manageable schedule and no title pressure all on their side.
Running the table wasn't a given – it never is and never will be – but it also wasn't terribly far-fetched to think of 12-0 as a strong possibility heading into last summer, even coming off of the forgettable 6-7 disaster that preceded it.  
Perfect record fantasies are generally ground into a fine hash and smoked in pipes, but if you've only recently been released into the wild from the comfortable sanctuary of college or your parents' home, this is all your young life as a Buckeye fan has ever processed: Realistic title dreams.
That's what you expect now. Every offseason, every year – even heading into that forgettable 6-7 disaster. "Tempered" expectations for the Buckeyes begin with double-digit wins regardless of the schedule or circumstances. You're not certifiably crazy to at least anticipate perfection anymore.
For you young Buckeyes who know of no other world: This padded room of ours turns 20 in 2013. It's still a baby, just like you.
In 1993 Ohio State entered what would be the watershed season of the John Cooper era. It was the Year 15 anno domini for post-Hayesian Buckeye football, and it would turn out to be Year One in the reawakening of what had been once a signature American sports team.
Ohio State's first powerhouse-caliber campaign since Woody established two new inescapable truths: The Buckeyes were back to national relevance after spending the 1980s decidedly on the periphery, and Cooper chiseled his epitaph to include an albatross wearing a winged helmet.
But this isn't about Coop's exasperating inability to beat Michigan. This is recognizing the importance of what his 1993 team still means in 2013.
To understand how vital that season is to the prevailing mentality around Ohio State's expectations, we must revisit the state of the program in 1988 when Cooper was hired: Ohio State football was a rapidly fading star. Woody had been out of coaching for 15 years, dead for six and yet was still presiding over the program which couldn't get through a season without losing at least three games.
His teams had been accustomed to, at worst, flirting with perfection. Earle Bruce – despite being the winningest coach in the Big Ten during his tenure – lowered that ceiling, albeit while regularly winning second-tier bowl games and beating Michigan.
Cooper's early teams lowered it further. Each of his first five years registered a full month's worth of the regular season into the bad column. To make matters more desperate, there were no bowl victories. There were no Michigan victories either.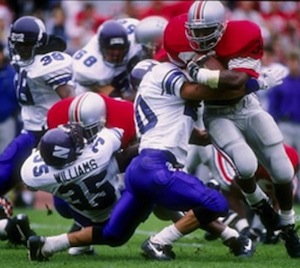 The final Big Ten standings in each of those first five seasons prior to 1993 had Ohio State closer to Indiana than to a Big Ten title. Granted, IU football was still several years away from being cratered by its athletic department, but such circumstances were unheard of when Hayes was in charge.
Ohio State winning the Big Ten was a fading memory, and it wasn't getting any easier: Not only was the Big Two of Woody and Bo halved with Ohio State's decline, the Little Eight had grown up significantly.

Michigan was still rather beastly, finishing one of its finest runs going back to the days of Fielding Yost in accumulating an undefeated season, multiple Pasadena trips and zero losses to the Buckeyes. Making that era even more unpalatable, even Michigan's basketball team won a national title.
Back then Iowa was still formidable under Hayden Fry, Illinois ranged from thorny to annoying depending on the Saturday, Michigan State was just in its formative embryotic SpartyNO state having recently beaten Southern Cal in the Rose Bowl, Wisconsin had begun its own resurgence with Barry Alvarez and independent powerhouse Penn State just happened to be entering the conference that season.
Odds were stacked against the Buckeyes breaking away from its usual four-loss mediocrity. Recent national champion Washington, Penn State, Michigan State, Wisconsin and defending Rose Bowl champ Michigan were the most obvious land mines on the 1993 schedule. Trips to Pittsburgh and Illinois looked dicey, and even Indiana was – yes – loaded.
Another forgettable season seemed likely. The sole ten-win campaign for the Buckeyes from 1979 until then had been a 10-3 effort in 1986 (remember when Jim Tressel's 2008 team went 10-3 and lost to Texas in the Fiesta Bowl? Remember how that season felt...disappointing?)
This was still the pre-gimmicky jersey era before Nike, Adidas and Under Armor made Saturdays a gaudy marketing spectacle, and the university had what was then considered to be a bold plan to quietly celebrate the 1968 team's 25th anniversary: Home jerseys that season would carry the black, block collegiate numbers unique to the '68 uniform over the piping on the shoulders.
The last guys to wear sleeves like that were named Kern, Tatum, Sensibaugh, Stillwagon, Otis and Zelina. Legends wore those jerseys. The '93 Buckeyes would take the field reminding everyone of just how dominant Ohio State football was...25 years ago.
That silent celebration transformed each of the games played in Ohio Stadium into reenactments of the national title team that had humiliated Michigan and shut down OJ Simpson's Trojans in the Rose Bowl to complete – in painstaking detail that is still revered to this day – what a perfect Buckeye football season looks like.
Those anniversary-celebrating Buckeyes of 1993, widely believed to be heading toward an inevitable 14th-consecutive season with at least three losses, instead went 10-1-1. Their 16-game unbeaten streak ended grotesquely in Ann Arbor, but the ceiling which had been lowered twice post-Hayes was finally obliterated.
Since then, Ohio State has piled up 14 seasons of double-digit wins. The Buckeyes win the Big Ten regularly, and we expect them to – when they're eligible, anyway. Those annually lofty expectations, this fun padded room and all of this optimism essentially began 20 years ago with that team.
It was the turning point, both for Cooper and for Ohio State, in 1993. That season transformed our expectations into what they are still today: A perfect fantasy.