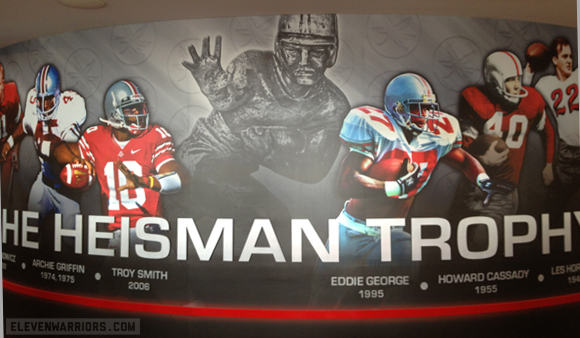 Following an upbeat spring after an undefeated season, Ohio State's assistant coaches met with the media Wednesday to discuss what went right and what went wrong during the 15 practices.
When you're expected to be in the top five, not many would expect shortcomings. As the Buckeyes' coaches indicated, however, there are plenty of areas where they can improve.
For now, though, it's all up to the players. Fall camp doesn't commence until August. From now until then, any on-field progress is left up to the players. Groups of leaders will organize workouts, an offseason tradition. Offensive coordinator Tom Herman said it's a big part of what led to an undefeated season in 2012.
"The senior leadership was off the charts," he said. "It was unlike anything I've seen."
To accomplish the goals Ohio State has set, the same qualities will be desirable in the summer of 2013.
Tom Herman
Herman is very pleased with the direction of the wide receivers. He said there is still room for improvement, but he's no longer "frightened" to call pass plays.
During the offseason, Herman said he scoured the country looking for quarterback drills to use this spring. He said Braxton's footwork is the No. 1 priority.
One drill Herman instituted helps keep Braxton's left shoulder from flying open, something that plagued him last season.
On a scale of 1 to 10, Herman said Braxton has progressed from a 1 to a 4 to a 6. He could be a 12 if all goes right, according to Herman.
Herman said Braxton's demeanor at QB is something he hasn't dealt with. He explained that he usually has an alpha male at that position.
There is some naturalness to being a leader, Herman said. But he elaborated and said it can be taught. That's part of his job.
Herman explained how shy Braxton is, saying the QB would prefer no media or no fans. He just likes keeping to himself.
Herman said it's very important for leaders to organize offseason workouts. If the team only did what the NCAA allowed, Herman said the team would not be very good.
As of now, those leaders are Braxton, Jack Mewhort and Corey Linsley. Herman would like to see some wide receivers step up into those roles, especially Philly Brown.
An area where Braxton has improved – and it was obvious on Saturday – is pocket awareness. Now, he stands in there and can still deliver a solid throw. In the past, plays broke down and he ran.
Herman said the George Whitfield angle has been overplayed by the media, but he loves that Braxton took the initiative to get better at a time when coaches weren't able to contact him.
Kerry Coombs
With spring football over, the next few weeks are huge for recruiting. Coombs said he'll start in Cincinnati and move nationally.
Coombs said it's important to hit your base first and then spread out. He wants to concentrate on a few national guys at cornerback and the top Ohioans.
Gareon Conley is someone who isn't on campus yet that Coombs is very excited about. He said Conley is "really fast," adding emphasis on fast. Conley is very athletic and can play on either side of the ball. Coombs said he hopes he can keep him at cornerback.
During the summer and fall camp, Coombs said he wants the corners to improve their footwork and man-to-man skills.
"We're capable of getting better in all areas," Coombs said.
Coombs said Bradley Roby could play now. He was held out of spring game as precaution (shoulder).
Ed Warinner
Warinner said he would have liked to see Taylor Decker or Chase Farris take control at right tackle this spring. That being said, he revealed he is not worried about the position at all.
Decker and Farris are at the same level the offensive line was at last spring, according to Warinner. He said he isn't kept awake at night about a right tackle not being named starter.
On offense, Warinner said the O-line becoming fundamentally sound and the receivers improving were the biggest strides taken during spring.
Tim Hinton said the biggest thing Ohio State's tight ends possess is a completeness. They can catch and block, he explained, adding that their explosive plays are huge.
Mike Vrabel
Vrabel was pleased with Michael Bennett's spring. Vrabel was happy Bennett got through with no injuries and was consistently good at clogging the middle.
Everett Withers
Withers said the Big Ten is geared toward playing more nickel. He's all for it because he believes Ohio State has the athletes in the secondary. He wants more speed on the field.
According to Withers, there are three keys to Curtis Grant's game – knowledge, ability and leadership. None of them were present last season. Now all of them are.
Last year, Withers said the defensive coaches and players got too enamored with beating the offense. In turn, the entire unit suffered because players weren't developed.
This season a lot of backups got better because the coaches understood how to cultivate the talent.
Luke Fickell
Fickell said the thing he was most excited about this spring was the youth along the defensive line and Curtis Grant's two steps forward.
Guys like Cam Williams, Josh Perry, David Perkins, etc. showed tremendous growth and improvement during the spring, according to Fickell.
Fickell believes the defense and team can be better in 2013 than they were in 2012.
Zach Smith
Smith said Chris Fields improved by leaps and bounds. Last season, Fields was someone the staff could not count on. Now, he's a starter.