In times of tragedy — whether on a national level or a private, personal one — sports often act as part of our recovery process, a way of group hugging people we've never met as we try to return to some sense of normalcy.
Yesterday, sports and tragedy met at the Boston Marathon, a bombing that was frightening, infuriating and above all else, heartbreaking. As quickly as our faith in humanity evaporated after yet another senseless act of violence, we were just as quickly reminded — thanks to the heroic actions of first responders and ordinary citizens, along with former NFL players ready and willing to help however possible — that mankind isn't hopeless, even in our darkest moments.
Except for the Bruins postponing their game scheduled for Monday and the Celtics canceling theirs, the sports world didn't take a hiatus, which was reassuring in its own way because sports make sense to us.
Or at least they do on a macro level. I mean, I don't know how Phillies center fielder Ben Revere made this catch, but even as a Reds fan, I've got to give him props for that, especially considering the glove he used. Well said, and played, sir. 
And because there's not really a smooth transition to make from that to Ohio State football1, I'm just going to acknowledge the awkwardness and jump into topics that may seem trivial at this point, but can also offer us a bit of solace.
FIRST OFFENSE. After the spring game, Urban Meyer spoke for all Buckeye fans when he said, "I would be disappointed if we're not the best offense in the Big Ten."
Considering Ohio State boasted the conference's top scoring offense a season ago, returns almost every starter, and the B1G isn't exactly known for its offensive prowess2, "disappointed" probably isn't a strong enough word to describe how the fanbase and Urban himself would feel if they failed to live up to expectations.
BTN's Tom Dienhart and Brent Yarina decided to debate that subject matter and surprisingly, neither was very bullish on Ohio State having the B1G's best offense. Dienhart gave the edge to Nebraska because of Ohio State needing reliable, non-Braxton playmakers:
But the skill-position talent gives me cause for some concern. How will Jordan Hall look playing a "Percy Harvin" role in the slot? Are there enough receivers for an offense that figures to use some four- and five-wideout looks on occasion?

...And the running backs look more like bruisers than game-breakers with veterans like Carlos Hyde, Bri'onte Dunn and Rod Smith all over 220 pounds.
Whenever Hall has been able to practice, by all accounts, he's looked great, so I'm only worried about his health, not his ability on the field. And while I know Urban remarked last week that wide receiver was still an area of concern, they acquitted themselves well during the spring game. Plus, reinforcements of the playmaking variety will be arriving in Columbus in June.
And maybe Hyde doesn't break off many long runs, but he has a quarterback who can and besides, there's no reason to undervalue a workhorse like El Guapo. He certainly came in handy during the fourth quarter of the Michigan game.
Yarina also went with Nebraska, "which is balanced and loaded at the skill positions", while also noting that Northwestern and Michigan are contenders for the offensive crown, although I would think Indiana would be more of a challenger than the Wolverines. 
Sure, the passing game will obviously need to improve from last year, but is anyone worried that it won't? I'm more concerned that there won't be enough touches for all the incredibly talented players lining up for the Buckeyes, which is a pretty good problem to have.
I'm not saying that Ohio State will perform like a flawless offensive unit in every game; in fact, there will probably be times where they struggle. I just think that after the leap they made between '11 and '12 and with all the experience coming back, this team is going to put up a lot of points and they're going to look good doing it.
But hey, maybe they'll get to prove it on the field against Nebraska in December. 
FRANK'S PLACE. I share something in common with Michigan fans in that I don't pay much attention to their spring game, particularly when it takes place the same time as Ohio State's. And well, I'm going to watch Mad Men, not Celebrity Apprentice, y'know?
But one tweet did catch my attention on Saturday:
The word "genuflect" wasn't used, but it's sort of implied, right? No word on whether Lewan treated Clark like an Ohio State player and gave up a sack and fumble3, though the Glenville grad has apparently been playing well against Lewan this offseason.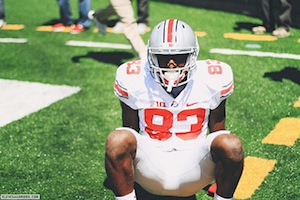 ROSS CAN. While some underclassmen are still trying to decide whether to enter the NBA Draft, the college basketball folks over at ESPN are speculating about who the biggest stars will be next season. 
Ken Pomeroy read his tea leaves  — which I kinda think he might actually be able to do — and predicted both first-team and second-team All-Americans for 2013-14. Although it's an Insider article, most of you probably only care about one name on that list: LaQuinton Ross, who he's projecting on the second team if, that is, Q becomes a more efficient scorer. 
In case you're curious, a couple notable names on the first team include Louisville's Chane Behanan — last seen rebounding the hell out of Michigan — and Andrew Wiggins, the nation's No. 1 recruit who apparently still hasn't announced which school he'll be attending. 
Although Ross is the only B1G player on either team, Myron Medcalf and Eamonn Brennan think Indiana's Yogi Ferrell is in for a breakout year next season. He didn't look the part in the NCAA Tournament, but the Hoosiers are losing their top four scorers and he'll be asked to do a lot more, so it's certainly not out of the question. 
Another B1G guy that they both liked was Purdue's seven-footer A.J. Hammons. He was one of the top freshmen in the conference, averaging over 10 points and 6 rebounds per game this past season.
THE SEARCHERS. After the surprise firing of Mark Osiecki yesterday, Ohio State is in the market for a new hockey coach, and one name that has been mentioned is George Gwozdecky, who until recently coached for Denver and was a target for the Ohio State job back in 2010.
With B1G hockey starting up next year, the athletic department needs to handle this search better than the one for a new women's basketball coach. They have yet to find Jim Foster's replacement, but according to the Dispatch, Miami (Fla.) coach Katie Meier and Toledo coach Tricia Cullop are being interviewed.
RODIN'S THE LINKER. Info on Eat Too Brutus IV: A New Hope... Early entries so far in the NBA Draft... Kevin Ware rehabbing... Yankees giving Boston some love... Adam Scott puts on the green jacket... Nostalgic Nickelodeon art... Arch enemies... Young Dick Whitman has quite an interesting filmography.
1 Last night, The Lantern spoke to a few Ohio State students who witnessed the explosion. Thankfully, none of them were injured, though it was no doubt a traumatic experience for everyone there. ↑
2 I blame Iowa. ↑
3 Adolphus Washington says "what's up?" ↑