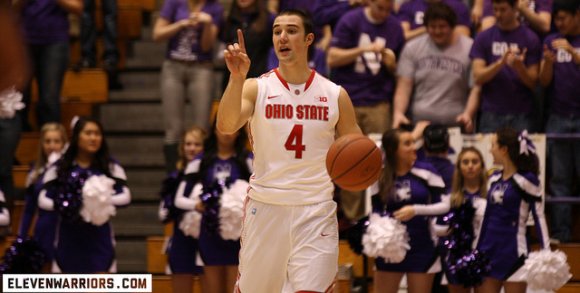 Aaron Craft has already had a pretty sensational run over his three years in Columbus. 
Averaging north of 30 minutes in virtually every meaningful game Ohio State has played since his freshman season, Craft has done more than his fair share in helping the Buckeyes to a three-year record of 94-18, a pair of B1G regular season crowns, two B1G tournament championships, a Sweet 16, an Elite Eight and a Final Four appearance. 
Individually, Craft has tallied three all-B1G defensive team selections, won the B1G's Sixth Man of the Year award, earned all-league honors twice, won the conference's Defensive Player of the Year award and been named the MVP of the B1G tournament. 
He's known as the best on-ball perimeter defender in the land, a notion backed up by his school-record 98 steals as a sophomore and an eye test that sees him completely engulf opposing point guards, at times disrupting the entire offensive flow of the opponent. 
Now, with Deshaun Thomas headed to the NBA, the Buckeye roster is void of a proven consistent scorer, though it does boast guys like LaQuinton Ross and Sam Thompson who might, that's might, be ready to take the next step. Whether or not those two rise to the occasion will undoubtedly have a huge impact on the success – or lack thereof – of the 2013-14 basketball Buckeyes, but the real key to the season lies in just how much improvement Craft is able to realize at the offensive end of the floor. 
At times, he showed flashes of greatness with the ball in his hands whether it be creating off the dribble, for either himself or teammates, such as we saw when he lit up Sparty for 20 points on 9/13 from the floor with nine assists in a 61-58 decision that extended Ohio State's late-season winning streak to seven games and vaulted them into the B1G tournament championship game. 
He had already punished the Spartans three weeks earlier, dropping in 21 points on 7/12 shooting with six assists in a 68-60 win in which he repeatedly blazed past high ball pressure for easy layups or dumpoffs to teammates ready to finish.  
Other clutch offensive performances included his 15 points on 7/10 shooting to spoil Senior Night in Bloomington and his splashy triple to beat Iowa State, capping an 18-point (5/10), six-assist performance that was almost undone by woefully erratic play leading up to the sweet redemption of his three to win it. 
Interestingly, as much as Craft was a huge offensive factor in many of the crucial late-season wins that allowed the Buckeyes to essentially meet or slightly exceed the season's expectations, he was an even bigger factor in virtually all of Ohio State's eight defeats. Behold:
AARON CRAFT'S OFFENSIVE STATS IN OHIO STATE'S EIGHT LOSSES

| OPPONENT | FG | 3FG | FT | AST | TO | PTS |
| --- | --- | --- | --- | --- | --- | --- |
| @DUKE | 3/15 | 1/4 | 4/6 | 1 | 3 | 11 |
| KANSAS | 2/9 | 2/6 | 1/2 | 3 | 4 | 7 |
| @ILLINOIS | 4/10 | 1/3 | 2/2 | 3 | 0 | 11 |
| @MICHIGAN ST | 2/8 | 1/5 | 0/0 | 6 | 4 | 5 |
| @MICHIGAN | 5/12 | 1/2 | 0/0 | 1 | 2 | 11 |
| INDIANA | 6/11 | 1/3 | 3/4 | 3 | 3 | 16 |
| @WISCONSIN | 2/9 | 0/3 | 0/0 | 1 | 0 | 4 |
| WICHITA ST | 2/12 | 2/7 | 3/5 | 2 | 2 | 9 |
It's pretty telling that Craft made just 2-3 field goals in five of the eight losses and his assist totals reached 4+ just once.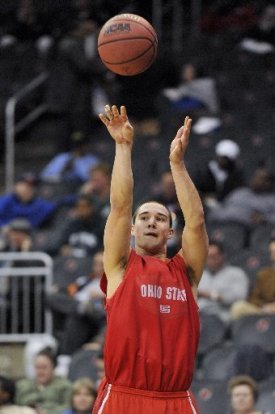 He did reach double figures in half of the losses but in three of those, he scored just 11 points, shooting 3/15 at Cameron Indoor.
In addition to his poor shooting from the floor, he also shot only 13/19 from the stripe, and failed to even reach the line in three defeats.
His handles also had a tendency to be loose as he coughed it up at least three times in half of the losses and actually recorded more turnovers than assists against Duke, Kansas and Michigan.
To be clear, I'm not insinuating on any level that Craft was solely responsible for any loss.
Instead, the intent is to illustrate just how impactful Craft's offensive game – for better or worse – correlated quite often to whether or not the team came away victorious.
Further, it should be noted that this trend unfolded even as the team had a proven, nationally elite scorer in Thomas.
Still, when you consider his overall importance to the team, and stack up his stats in losses compared to his overall season numbers, it appears paramount that Craft take some meaningful offensive strides in the offseason:
AARON CRAFT'S STATS IN LOSSES VS. OVERALL

|   | FG% | 3FG% | FT% | APG | TO | PPG |
| --- | --- | --- | --- | --- | --- | --- |
| IN 8 LOSSES | 30% | 27% | 68% | 2.5 | 2.3 | 9.3 |
| OVERALL SEASON | 42% | 30% | 77% | 4.6 | 1.9 | 10.0 |
I'm sure plenty of players see their production drop in losses compared to their season stats but Craft's feel pretty pronounced. His biggest deficiency, as even the eye test showed us, was the inability to consistently drain outside jumpers. He shot worse from the floor, from distance, and the free throw line in defeat and he averaged two fewer assists per game while turning it over at a higher rate. And it's not like he was burning up the nets even in victory. 
Knowing Thomas won't be there to carry the team offensively next year, coupled with the fact Ross and Thompson are improving but still unproven as consistent low-to-mid-teens scorers, the onus must fall on Craft to create good looks for others and more importantly, make opposing defenses pay for showing his jumper absolutely no respect.
A winner in every sense of the word, it just wouldn't be fitting for him to go out with a whimper in the form of a season that failed to accomplish a regular or postseason conference title, or at least make the Sweet 16.
Something tells me these stats aren't lost on Craft and the outstanding leader and defender will pour everything he has into becoming the type of offensive threat Ohio State needs in order to once again make noise on the national stage.