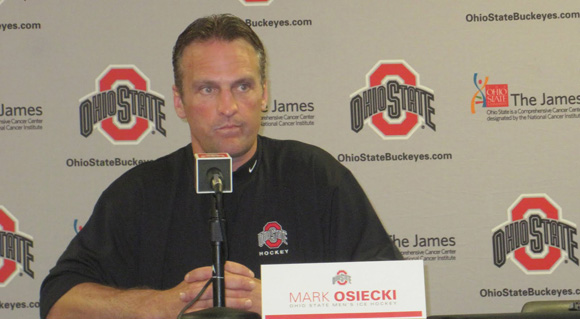 In a stunner, Ohio State released a statement saying men's ice hockey coach Mark Osiecki was no longer the men's ice hockey coach:
COLUMBUS, Ohio – Gene Smith, Ohio State associate vice president and director of athletics, announced today Mark Osiecki will not return as head coach of the Buckeye men's hockey program.

"We are making a change in our head hockey coaching position," Smith said. "There was a difference of opinion over the management of the program that could not be resolved."
Osiecki just completed his third season at the helm of the Buckeyes. They finished 16-17-7 overall and 13-10-5 in the CCHA. Ohio State advanced to the semifinals of the CCHA Tournament but fell short of reaching the NCAAs for the fourth consecutive year. 
The Buckeyes had an historic collapse to close out the 2011-12 season. Ranked as high as No. 2 in the country, the team team sputtered during the second half of the season, winning just one of their final 16 games. 
Osiecki was 46-50-16 during his three seasons in Columbus. Prior to his stint at Ohio State, he was a successful assistant at the University of Wisconsin, head coach and GM in the USHL and an accomplished coach on the U.S. development circuit. 
Associate head coach Steve Rohlik will lead the program until a permanent replacement is hired.
UPDATE: Mark Osiecki was caught off guard.
Fromer OSU coach Mark Osiecki on being let go this morning: "It was a surprise. Shocked might be a good word. I didn't expect it at all."

— Jeff Svoboda (@JeffSvoboda) April 15, 2013