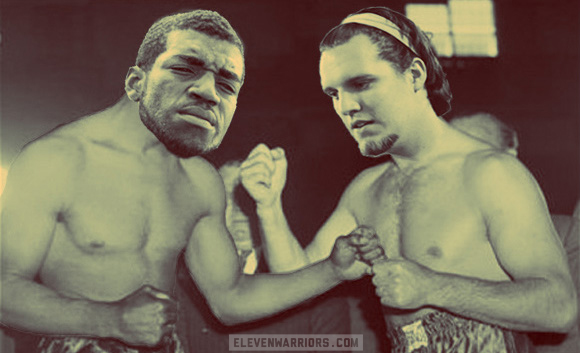 The offensive line is arguably the biggest strength for Ohio State as the Buckeyes embark on a season filled with high expectations. But it's that same line, and more specifically the right tackle position, that leaves head coach Urban Meyer "unsettled," as he recently put it. 
Just one year ago Ohio State found itself in the same position. The rest of the line was set. All that remained was right tackle. That competition, between a converted tight end and a true freshman, didn't exactly instill confidence into coaches and fans.
But Reid Fragel earned the starting job after a spirited battle and developed into one of the top linemen in the Big Ten. It was an unexpected event and led Meyer to yearn for another Fragel this season – someone who turns it on before their career comes to a close.
Taylor Decker and Chase Farris – both rising sophomores – have plenty of time to establish impeccable credentials, so they may not be proper candidates in 2013 for the inaugural Reid Fragel award. But a performance similar to Fragel's senior campaign would bring a sense of calm to Meyer, an emotion he's not currently feeling.
"That's real bothersome to me," he said, revealing there's been no separation between Decker and Farris.
Only two spring practices remain, with Saturday's spring game marking the final organized team gathering until fall camp commences in August. At the moment, the Buckeyes do not have a starting right tackle.
"Decker is a guy who is breaking the huddle with the ones right now, and he certainly has the ability to be the right tackle," Meyer said.
But then comes the uncertainty about not just right tackle but also the line as a whole. The returning starters – Jack Mewhort, Andrew Norwell, Corey Linsley and Marcus Hall – have not been on the field much together. Some have been limited in drills to allow depth to form, while Linsley has sat out with a foot injury.
Jacoby Boren and Pat Elflein have been two reserves who have emerged, though Meyer isn't exactly enamored with an offensive line that hasn't played to its potential.
"I pull out Jack Mewhort a little bit once in a while, so we don't have the chemistry that that group had a year ago," Meyer said. "That offensive line was, I don't want to say they were perfect, but their chemistry, their toughness, the way they handled their business is either 1A or 1B in why we won 12 games."
Most thought Decker would be plugged into the lineup with ease. He finished as runner-up to Fragel a year ago, earning glimmering reviews from Meyer and offensive line coach Ed Warinner. Decker, though, has not yet seized the opportunity.
According to Meyer, Decker is ahead of where Fragel was at this time a year ago. But that doesn't mean he's carved out a leading role. And it certainly doesn't mean Decker's season will resemble the level Fragel reached. No one expected him to be a force, but it wasn't until the fall when Fragel progressed into a top-flight lineman.
"I felt we were the best offensive line in the Big Ten. As of practice number 13, we're not right now."
The amount of information Decker could process left his coaches impressed last year. Here was a true freshman attempting to start on Ohio State's offensive line and he did it with a coolness that some had never seen.
"The sky's the limit for him," Warinner said. "He has unlimited football ability in terms of size, strength, bendability, athleticism. What I'm preaching to him is technique, technique, technique."
Chasing him is a man named Chase, Farris in this case. Adolphus Washington refers to him as "athletic," and in a return to 2012, Farris began his career in Columbus at a different position – defensive end. 
"I had always had my eye on him since he was in high school," Warinner said. "I got here and he wasn't really in the picture on defense, so I lobbied every day until Coach Meyer had no choice but to fire me.
"He should play a lot of football for us. He has a great upside and he has a couple more years. He's very athletic. If he's not the most athletic guy we have, he's one of them."
Said Washington: "I think they're both pretty good. Whoever gets the spot, gets the spot."
The talent and potential is there; it's the consistency that is the issue. That isn't completely unexpected, as Meyer admitted right tackle is one of the hardest positions to master. If only it was more simple.
Tale of the Tape
Decker
Farris
SO
Class
SO
6-7
Height
6-4
315
Weight
300
Vandalia, OH
Hometown
Elyria, OH
0
Starts
0
★★★★
Rivals
★★★★
★★★★
Scout
★★★★
★★★★
247
★★★★
★★★
ESPN
★★★★
Ratings for Farris are at DE.
"We have to teach them what the cadence is, what the splits are, what stance to get in, what each thing means," Warinner said. "You have to go back through it all. If you take anything for granted, take any shortcuts because you think you have nine starters back (on offense), it will bite you in the butt.
"We go back to ground zero, but thank goodness ground zero is a little higher up because there's some stored knowledge, there's some cumulative experience. We still are covering those basic things that we covered the first day, the second day, the third day last year – it's just that it doesn't take as long for it register now."
The pace must quicken, though. Time is of the essence at Ohio State, where a national championship hasn't been won in more than a decade. The coming season could provide Buckeye Nation with the success it so craves. But it's in the trenches where those supercharged title games are won or lost.
"The offensive line kind of set a nice little standard last year," Meyer said. "I felt we were the best offensive line in the Big Ten. As of practice number 13, we're not right now."