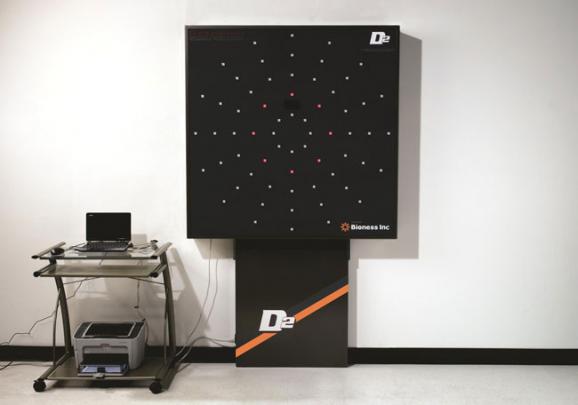 There are not robots at quarterback or Transformers playing along the defensive line – yet. But there is a new machine turning heads in the Ohio State weight room. Situated among countless strength, cardio and conditioning devices, the Dynavision D2, priced at $15,000, has become a go-to contraption for skill players.
The machine looks more like a laser light show than something that could help football players. The secret lies in improved hand-eye coordination. Strength coach Mickey Marotti said it's most useful for quarterbacks, wide receivers and defensive backs – positions that place a premium on the hands and eyes being in-sync. 
Since it's arrival nearly a month ago, the D2 has had a leading role in team meetings. Cornerbacks coach Kerry Coombs has especially taken a liking to it. He has his corners take part in Dynavision drills on a daily basis.
"They're eating it up," he said. "We start off every meeting with it. We're just doing a little quick vision test. How can that hurt us? They're taking to it."
Dynavision was founded by former Canadian Football Leaguer Phil Jones. The Edmonton Eskimos used vision reaction training, and he believed there was a market for developing high motor skills in performance athletics. 
While popular among athletes, the machine is also used in the Wounded Warriors Program and to help stroke victims on their road to recovery.
The D2 consists of more 70 light bulbs that light up at various points during a 60-second span. The bulbs go out by touch, which then signals the lighting of another bulb. The goal is to get the highest score in the one-minute time period.
"The object is obviously to decrease reaction time from the time they see a light sensor to they hit it," Marotti said. "The theory is when you see a ball, the awareness of what's going on around them, they can speed that up a little bit."
Tim Duncan, of San Antonio Spurs fame, owns the world record with a score of 139. The highest score achieved by a Buckeye is Doran Grant's 108. It's ironic when you consider Grant's low hand-eye coordination is what prompted Ohio State to get the machine. Coombs and Marotti were familiar with Dynavision from their days at the University of Cincinnati, where the baseball program used the machine.
The first time Grant used the machine confirmed Coombs' suspicions. He scored a whopping 48. Once the players got comfortable with the machine, the competition was on. That's something the coaches love. Urban Meyer has instilled a highly competitive atmosphere inside the football program with winners and losers being decided every day.
"It's good because it's competitive," Marotti said. "It's kind of like a video game. They're into it and they want to see who can get the highest score. They're fighting back in that back room to get the highest score."
For cornerbacks, a fraction of a second can be the difference in a completed pass and an incompletion. In many cases, tenths of a second can lead to a touchdown or an interception.
Any sort of improvement in getting to the ball faster or being more alert could alter the outcome of a game and, in turn, affect the Buckeyes' national championship hopes.
"It's showing up on my breaks, me seeing plays better, my overall vision on the field," Grant said. "I can make more plays and do certain things that I can see."
---
Notes
In regard to recruiting in Cincinnati, Urban Meyer said the addition of Kerry Coombs to the staff has helped greatly. Meyer said Ohio State is "killing it" in Cincinnati.
Coombs said Meyer is doing his best (and succeeding) to bridge the disconnect between Cincinnati and OSU.
Meyer said the spring game is really big for new starters and guys who haven't played a lot. For Jack Mewhort, Carlos Hyde, etc. not so much.
Asked about Noah Spence hitting Braxton again, Meyer said, "He better not. I'll have a baseball bat."
Meyer lauded the improvement of the defensive front seven. It was an area of concern entering spring, but they've been great.
He singled out Adolphus Washington, Noah Spence, Curtis Grant and Doran Grant as defenders who've stuck out this spring.
The right tackle position is unsettling to Meyer. He said there's still not a starter when it comes to Taylor Decker and Chase Farris.
Washington said the right tackles are doing OK. He called Farris athletic and Decker big.
Ohio State is going to the Reds Museum and Montgomery Inn during their trip to Cincinnati.
The Buckeyes will draft spring game teams tomorrow.
Meyer said Bengals head coach Marvin Lewis will deliver a pregame speech to the Buckeyes.
Coombs referred to Cincinnati as "my town." He said he's excited for Saturday, but he does notice the disconnect between the city and OSU.
I-71 goes both directions from Columbus to Cincinnati, Coombs said.
When you walk into a high school as an Ohio State assistant and Urban Meyer is the head coach, Coombs said there's a built-in advantage.
When Meyer called to offer him a position, Coombs said it was easy to take the job. But it was hard leaving behind a son who plays for the Bearcats.
Coombs called Cincinnati high school football the best in country. He said history shows regardless of ability, university or position his thinking is true.
Coombs said he imagines OSU coming into Cincinnati for its spring game is challenging for the UC coaching staff. A Cincinnati media member said UC head coach Tommy Tuberville indicated he plans on attending OSU's spring game.
Michael Bennett and Joel Hale are the leaders on the defensive line, according to Washington.
Washington said John Simon attends practice and lets him know when he's slacking in a certain area. Washington said he's using Simon as a model when it comes to pass-rushing skills.
When Simon was dragging freshmen to the weight room last season, Washington said he wasn't part of the group because he was already there working out.
Washington said he took off plays last season, called that his biggest problem. Simon has helped him correct it and get in the proper mindset each time he steps on the field.
Washington said he didn't notice OSU not being popular in Cincinnati because he was a fan of Buckeyes. He said he's thrilled to have the game at Paul Brown Stadium.
The D-line is going to be a big part of Ohio State's success or lack thereof this season – that excites Washington. He said he likes the spotlight and wants to be important.