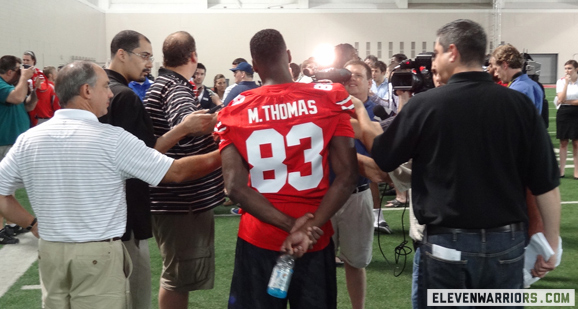 The Ohio State spring game MVP is a dreaded award. It conjures images of the NFL's "Mr. Irrelevant," a title saved for the final pick of the draft. In years past, Bam Childress and Taurian Washington were spring game superstars who never lived up to their potential during the regular season. 
Another wide receiver – Michael Thomas – doesn't want to fall into that same trap. A spring filled with accolades culminated last April with a 12-catch, 131-yard performance in the Buckeyes' annual Scarlet and Gray game. It was perhaps the brightest spot for an offense that got the tagline of "clown show" and passing game that was termed "non-functional."
During the 2011 season, Ohio State's leading receiver had all of 14 receptions during the 13-game schedule. It didn't get much better during the first 14 practices of the following spring. That's why Urban Meyer was so vocal in his criticism.
Then Thomas had his double-digit receiving game. But it never materialized into production during the regular season. Thomas managed to haul in just three passes for 22 yards.
"I don't think it was a curse," said wide receivers coach Zach Smith, about Thomas' spring tease. "But it was motivating because of the year he had and the expectations he had after the game. I'm glad it happened now.
"Last year, he might have been a little inflated. But he's not now."
Thomas' actions during an extended offseason prove that. After leading the state of California in receiving yards during a stellar high school career, a dip to 22 yards served as a reality check. The Buckeyes missed out on valuable practice time because they were not a part of the postseason. Before the team departed for the winter months, Meyer urged all 120 players to do their part for the lost time.
What's a receiver to do? Well, spend time with the starting quarterback, of course. Thomas, a native of Los Angeles, hosted Braxton Miller during the duo's trip to the West Coast to work with quarterback guru George Whitfield, Jr. The trip paid off for both of them. There's better on-field chemistry and Miller's game has soared, even after being named Big Ten Player of the Year. 
"Since I was out there with Braxton, sometimes I'll be able to give him pointers or reminders that George would give him," Thomas said. "We're just trying to get better and help each other get better. We just want to win games around here."
Ohio State is expected by many to win 14 games this season. For that to happen, Thomas and his fellow receivers must play a key role. The issue in 2011 was newcomers – the quarterback, wide receivers and head coach were all inexperienced. Last season welcomed another new head coach. While the quarterback and receivers were familiar with one another, they were not in tune with the offensive system. The Buckeyes' passing game ranked lower than 100th in the country.
"We were winning games every week and installing new stuff. I really couldn't slow the game down like I wanted to."
Still, Devin Smith led the Big Ten in yards per catch and Philly Brown finished in the top three in the conference in receptions. The receiving corps lacked a dynamic threat, though. Smith and Brown are expected to help fill that role in 2013. The same goes for Thomas, who has had another exemplary spring.
"Last year was a learning experience," Thomas said about his freshman campaign. "Every week was fast. We were winning games every week and installing new stuff. I really couldn't slow the game down like I wanted to. When you're able to slow the game down and get comfortable out there, you're able to make plays. You're able to play the game. I was trying to learn on the fly.
"This year, I've been able to slow the game down. Coaches have really been emphasizing reading the defense pre- and post-snap. I can read the triangle (safety, cornerback and linebacker)."
Thomas has a tall 6-foot-3 frame and exhibits all the tools of a go-to receiver. He can get behind the defense, tower over cornerbacks to grab the football and scoff at contact, as he did Saturday in a scrimmage, catching a touchdown pass despite heavy contact from Eli Apple.
"I've been going against some of the top guys in practice – Christian (Bryant) and (Bradley) Roby," Thomas said. "They like to disguise a lot of coverages, which makes it more challenging and makes me better. They do it just so I can see stuff."
With an uncle that happened to double as an All-Pro NFL wide receiver – Keyshawn Johnson – Thomas had the advantage of being coached up at a young age by someone who had achieved success at the highest level. The two talk daily now with Johnson delivering pointers to his nephew on the nuances and intricacies of the receiver position. 
"He's a normal, growing kid who wants to do big things," Johnson told the Toledo Blade. "I think (last year) was a bit of a wake-up call to him. You are a freshman playing big-time college football. The fact that you're even on the field playing a lot of snaps throughout the year speaks volumes.
"His future is bright. He's only a sophomore. What's the hurry? Enjoy your college career. Enjoy the school and academics, enjoy the girls. What's the hurry? Why are you in such a hurry. To be on the field to play? OK, you are going to do well, because (our family) is built that way. 
"I wish I could go back and be in his shoes at Ohio State."
Those are encouraging words from a former No. 1 overall pick and Super Bowl champion. Johnson is in the business of realism and tough love. He's a reassuring presence and sounding board for Thomas, but he isn't going to lead him astray.
The boisterous Johnson was quick to downgrade Thomas' spring game statistics a year ago, referring to his catches as "lollipop grabs."
"Hell, I didn't even play in the spring game," Johnson said. "What means something is he's playing against Michigan, playing against Wisconsin, that's what means something to me. And when you're in the rotation as a true freshman, what more can you ask for?"
A firm understanding of what the college game entails should help Thomas going forward. His friendship with Miller also doesn't hurt. Whitfield noticed the budding harmony between the two as hundreds of passes were thrown on the beaches of San Diego. 
"They're bonded as strong as can be," he said. "I like Mike. Long strider, great hands. You could see him make plays. He's a big, long target. He knows that his ability to assert himself this season is big for the Buckeyes. I'm excited to see him play."
Zach Smith is eager to see how Thomas, who he called "clueless" as a freshman, will evolve as a "talented" sophomore. 
Said Smith: "This summer has to be the best summer in the history of Ohio State football for my group."