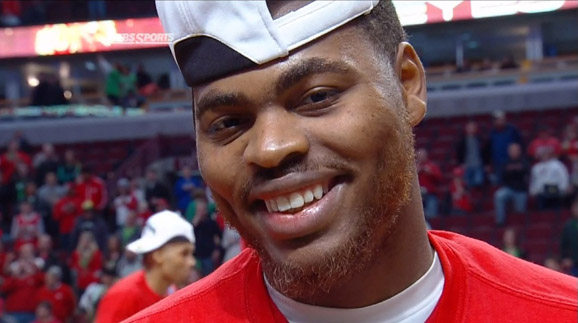 In a move that surprised almost no one, Deshaun Thomas announced Friday that he would forgo his senior season at Ohio State for an opportunity to make a living playing the game he loves. 
Too often, fans let emotions cloud their viewpoint on whether or not a player is doing the right thing by leaving college early, throwing out conveniently selfish or lazy declaratives about how the kid should stay to get his degree (as if the school isn't going to let him come back and finish later), when it's no secret just how small the earning window is for professional athletes compared to the real world. 
In Tank's case, statements about how he is making a mistake by leaving Columbus for a chance to play in the NBA have been rare. One reason is because those who truly dig into the details realize Thomas would've likely been better off, professionally speaking, had he bolted after a sophomore campaign that saw him catch fire during Ohio State's march to the Final Four. Another is that, knowing NBA teams draft largely on potential and the aforementioned earning window can be short-lived, most fans understand there is virtually nothing, realistically speaking, that Thomas can do on the court that will drastically improve his draft status. The final inarguable reason for turning pro, among others, is that he's a father of one-year-old Deshaun Jr., and it's a father's job to provide for his son. 
The noted fan response has been refreshing to see because, as it turns out, Deshaun probably did stay one season too long, and there's no question that the scoring machine from Fort Wayne, Indiana, has not only given Ohio State fans all they could ask for on the court, he has also truly blossomed from a kid into a man off of it, under the tutelage of Thad Matta. 
Remember, it was just three short years ago when the freshman, playing on a team absolutely loaded with talent in guys like Sullinger, Buford, Diebler and Lighty, would check in and immediately start cranking up shots, oftentimes on his very first touch, showing a hungry, yet woefully immature approach to the game. That's not to say the approach didn't come with success at times, such as his game one debut in which he fired up 16 shots in 20 minutes, scoring 24 points against a delicious cupcake in North Carolina A&T. 
He also made a bit of a mark as an offensive rebounder and even lit up a bad Indiana team for 22 points in a crowd-pleasing blowout. But the fairly consistent instances of impatient play that featured off-balance or deep shots way too early in the shot clock showcased a raw, though certainly not malicious, selfishness born more out of a desire to contribute than to be a bad teammate. 
Still, despite playing on a loaded team that didn't need him to try and jumpstart the offense, Thomas took a shot every 2.36 minutes, leading the team, and didn't pick up his 10th assist of the season until his 19th game (260 minutes). To his credit, Thomas did shoot a respectable 48% from the field. Thomas would later sum up his freshman season better than anyone when he offered, "Freshman year, I jacked a lot of shots up because when I got into the ballgame, I didn't know how long I'd play. So I was always looking to score."
Though he still wasn't exactly a defensive force, Deshaun showed an improving basketball IQ in year two.
More than doubling his minutes per game from 14 to 31, Thomas also more than doubled his points, improving from 7.5 to 15.9 per night. Even more impressive, Thomas did so while taking slightly fewer shots per minute (.42 to .38) and clearly taking better shots, as his accuracy from the floor increased from 48% all the way to 52%. The growth he showed as a player helped Ohio State overcome the inconsistencies in William Buford's jumpshot, giving Jared Sullinger a dependable offensive sidekick that finished second on the team in scoring, reaching double figures in 35 of 39 games.
Deshaun absolutely blew up down the stretch, going for 20+ in six of the final 13 games including Dance performances of 31 points against Loyola, 18 in the Gonzaga win, and 24 in the fantastic blowout of Cincinnati. His play over the final six weeks of the season illustrated just how much he'd evolved as a player and served as a springboard for this past season, where it was obvious Thad would be forced to lean on him heavily in the face of an offensively challenged roster.
This past season, with the entire country well aware of Ohio State's offensive limitations, Thomas had no choice but to shoulder more of the burden. To his credit, there were only a few stretches where he resorted to old tendencies and I was surprised to calculate this his shots per minutes only saw an uptick from .38/min as a sophomore to .44 per minute. His accuracy dropped from 48% to 46% but again, that's easy to understand considering the many nights when he was virtually a one-man band. 
"I really didn't know how much defense was important until I got to college." – Deshaun Thomas
Impressively, despite the frequency of instances in which he had little help, he never let it negatively impact his mental state and never chirped in the press about the grind he was going through. And make no mistake, even for a guy that loves to jack up shots, there were times when it was absolutely a grind as conference defenses swarmed him, daring other Buckeyes to step up.  
Instead, Thomas went about his business on the court, leading the league in scoring (19.8) while earning first-team All-B1G and third-team All-American honors. More importantly to him – another huge sign of his growth – Thomas led the Buckeyes to a conference tournament title and an Elite Eight appearance. Even with those facts and figures, what is equally impressive is how Thomas grew as a person over the last year.
He carried the team for the first three-quarters of the season, and then, as his teammates matured, he began to defer shots on occasion, letting Craft ride a hot streak and later, LaQuinton Ross, all for the sake of winning. To a man, the entire roster has done nothing but rave about DT's personal growth and his willingness to be a great teammate. 
With the season wrapped up, Thomas wrote a classy letter to The Lantern in which he implored the media and fans to give more attention to Ohio State's other numerous successful student-athletes and sports programs, not just the football and men's basketball teams. 
Finally, in a closing salvo illustrating his outstanding growth and maturity, Thomas had this to say as he announced his decision to turn pro:
"My three years at Ohio State have been the best years of my life. I have grown tremendously as an individual and as a basketball player. I intend to return to finish my degree, but I believe that now is the best opportunity to pursue my dream and begin my career as a professional basketball player. I will always be a Buckeye and am blessed to be a part of the Ohio State University family."
Thanks for the memories, Deshaun. It was a hell of a ride.