As many of you know, yesterday QB Braxton Miller showed up at the Buckeye Football Spring Kick-off sporting this bad boy.
The Tyrann Mathieu-esque look turned quite a few heads and the reaction on Twitter was certainly mixed:
Considering Braxton Miller's new blonde hair swath and his 2-0 record vs. Wisky, perhaps he should be called the Honey Badger Beater.

— Tim May (@TIM_MAYsports) April 4, 2013
Ohhhh, noooo. RT @kostagus: "@espn_bigten: The new Miller 'do #TwitPict twitpic.com/cgq2q8" @steaknstiffarms

— Elika Sadeghi (@steakNstiffarms) April 3, 2013
Sooooooo did he lose a bet orrrrr... Braxton Miller rollin' w/ the blonde hair to ring in the spring football season. cbssports.com/collegefootbal…

— Eli Burris (@elijahQB) April 3, 2013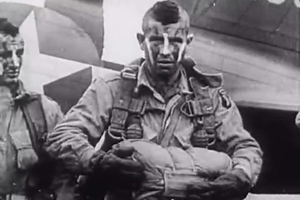 While not everyone loved the new 'do, I'm here to tell you why you should. However, in order to understand, a brief lesson on the origins of the Mohawk is needed.
HISTORY OF THE MOHAWK, THE ABRIDGED VERSION
The hairstyle derives its name from the Mohwak nation, the Native Americans who inhabited the Mohawk Valley in upstate New York. However, the association of these individuals with the current hairstyle is slightly off, as the Mohwaks used to pluck out all of their hair except for a three-inch square on the back of their head.
This was done as a form of rebellion against the mass scalpings taking place in the area, ultimately serving as a taunt to those who sought the scalps of their people. The Pawnee and Iroquois tribes were known to sport a "Mohawk" as well.
It's not clear when it happened, but eventually the Mohawk became the hairstyle of those preparing for war. When heading into battle, 16th century Ukranian Cossacks were known to shave their heads leaving a long strip down the center. Later, American paratroopers fighting in WWII adopted the cut to shake up their enemies. During the Vietnam War, U.S. troops followed their lead.
Obviously the hairstyle went on to symbolize other movements: punk rock, emo, Beckham fever etc. But that's not why Braxton went all "mo" on us. Right Braxton? Right?
THE REASON BRAXTON WENT BLOND
No, Miller has no time for rebellion, garage bands, black eye shadow or penalty kicks. He's got a football team to lead, and an undefeated season to defend.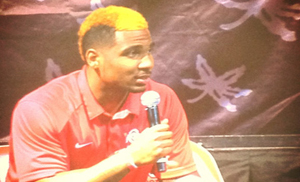 So, that leaves only one reason for the hawk: battle preparation
In fairness, this prepping started months ago when Miller left for California to pursue the tutelage of QB whisperer George Whitfield. The decision to make the trip was Miller's and Miller's alone as NCAA rules relegated QB coach Tom Herman to a "hands-off" role until spring practices began.
The extra work seems to have paid off, as early reports indicate Miller's throwing mechanics, footwork and delivery look much improved.
Then came the report from yesterday that Miller traded what appeared to be "fightin' words" with Noah Spence after the DE leveled him on a no-contact pitch option play.
The hit fired up Miller who got in the face of Spence until teammates intervened and separated the two.
The reaction was decidedly un-Braxton-like, as the normally reserved Miller showed a side many had never seen from him before.
Urban Meyer's reaction:
"I like quarterbacks that want to go get in a streetfight and get after it. That's not probably the time to do it, but he's a competitor. So you're asking what kind of reaction would I want out of a quarterback? I didn't really see what happened, but Braxton is a competitor. I guess that's better than the opposite, just curl up and, 'Why did he hit me?' So he's a tough kid."
A "streetfight" might be an understatement.
In 2013, the size of the target on Ohio State's back will be enormous. The squad will field the only reigning undefeated team in the nation, a top recruiting class, a Heisman candidate at QB and a showtime head coach. Simply put: If you're bringing a knife, you're wildly unprepared.
It's hard to think of a time when the expectations have been higher in Columbus. Streetfights might happen in a myriad of college stadiums this season, but when the Scarlet and Gray suit up, it will be an all-out war. Coach Meyer knows this, the team knows this and Braxton knows this.
I'd like to think that's the reason for the Mohawk. Battle preparation.