Despite losing all four starters to graduation or the NFL, few are worried about the Ohio State's defensive line. Replacing Garrett Goebel, John Simon, Johnathan Hankins, and Nate Williams will be one of the many talented underclassmen that are ready to step into a starting role.
Michael Bennett is one of those guys that is projected to seize a starting defensive tackle spot. The junior has the most experience of any of the potential starters, bringing in 28 tackles, six for loss, and four sacks. Though he has just two career starts under his belt, Bennett has very much been in the mix since he arrived from Centerville as a freshman.
However, a groin injury last season severely limited his playing time and effectiveness once he did return. Bennett only recorded 11 tackles, one for loss, and one sack last season. Not exactly what one would consider a springboard campaign.
While the Buckeyes could have used him last fall, his absence likely paved the way for freshmen Adolphus Washington, Tommy Schutt, and Noah Spence to gain more game experience than they would have otherwise. 
As the Buckeyes begin the fourth week of spring practice, Michael Bennett has as a vital cog in an otherwise untested machine. 
Mike Vrabel was blunt about it: "We need Michael Bennett."
This unit will need both Bennett's playmaking ability and his leadership. As one of just two upperclassmen linemen in contention for a starting spot (the other being Joel Hale), Bennett brings unmatched experience to a unit that desperately needs just that. 
So far this spring, Bennett has delivered by emerging as one of the team's more vocal leaders, along with safety Christian Bryant and cornerback Bradley Roby.
However, the focus so far this spring has been almost entirely on the underclassmen – particularly Schutt, Washington, and Spence. While defensive ends typically get more of the spotlight than the interior guys, it's somewhat surprising to see a formerly hyped veteran go relatively unnoticed so far. 
After not making any noise throughout the first 11 games, he exploded for his lone sack on the season and a forced fumble against Michigan in The Game. 
Maybe all he needed was to build some confidence by filling in for the injured John Simon. "Michael Bennett needs some confidence in himself and he's gaining it," Vrabel said. "He has to stay healthy and take care of his body."
Bennett's talent is unquestioned, but his health and ultimately his role are big unknowns. Bennett is transitioning into the spot formerly occupied by Johnathan Hankins, and their body types and playing styles are much different.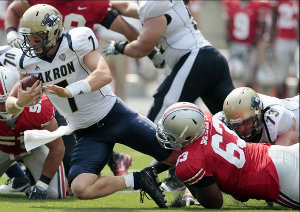 The relatively slim 6-foot-3, 285-pound Bennett will need to rely more on his quickness to disrupt the backfield. In contrast, the much bigger Hankins could eat space in the center to disrupt opponents' inside running plays.
At a recent practice, Bennett said as much: "I've got to be my own player but I'm going to take tips from people (like Hankins) who's succeeded at it."
Thankfully, Bennett and the rest of the defensive linemen are currently practicing with one of the elite offensive lines in the country.
"They are one of the top offensive lines in the country. When you go against talent like that every day you are going to get better as a whole group. That's experience a lot of D-lines are not going to get."
This spring, practice has been like iron sharpening iron for Bennett and the offensive line, with Bennett grading out positively in five out of six practices according to Meyer. Against that offensive line, grading out means something.
Bennett's leadership is a crucial, yet still developing, storyline this spring. The defense needs leaders, the offensive line needs competition, and the defensive line needs playmakers – Bennett hopes to provide all three.