Well, it's that time of year when my sports fandom is centered around baseball. Unfortunately, this happened a week earlier than I wanted it to.
Also unfortunate was Opening Day for my team, the Reds, who gave me PTSD flashbacks to the past weekend when I was forced to watch another favorite team in a seemingly endless struggle to find any semblance of an offense1. 
Even though Ohio State is not among the last four teams standing as we all hoped they would be, I like to have a dog in the fight, no matter how superficial the reason might be. Perhaps you strongly believe in the transitive property and are putting your support behind Wichita State. Or you could just like the Cinderella aspect they bring to the table. 
Or maybe B1G allegiance is temporarily more important to you than deep-seated hatred and your conference superiority complex would prefer Michigan becomes the first Big Ten team in more than a decade to take home a national title in college hoops2.
Or maybe you're going with Syracuse for being not-Michigan.
After the Buckeyes lost on Saturday night, I decided to pull for Louisville, almost solely because they are the most Ohio State-ish team remaining. Luke Winn even deemed Ohio State "Louisville Lite" a couple weeks back, so if not my team, then I'll go with the one most similar to them. 
I also decided, based entirely on his name, that Gorgui Dieng was my favorite player still in the tournament. 
After the devastating leg injury to Kevin Ware, more people probably jumped on the Louisville bandwagon, hoping his teammates could win a title in Ware's honor in his hometown of Atlanta. Whether he can travel to the Final Four yet is unknown, but the sophomore is optimistic:
"It's 50-50 right now that I'll go," Ware said, "but I'd say more on the good side of 50-50." 
The good news is that yesterday, he was already walking around on crutches after undergoing surgery on Sunday night. 
As it were, some of you probably couldn't care less who wins now that Ohio State is out of it. We all have our own rooting interests from here on out.
Really, though, anyone but Michigan.
WOODEN BUCK. The same day he was announced as a third-team AP All-American selection, Deshaun Thomas was also named to the John R. Wooden All-American team. Of the 10 players honored, four were from the B1G. Joining Thomas were the usual suspects: Trey Burke, Victor Oladipo, and Cody Zeller. 
The other six members were Shane Larkin, Doug McDermott, Otto Porter Jr., Kelly Olynyk, Mason Plumlee, and Ben McLemore. 
If DT goes pro like most are predicting, LaQuinton Ross is viewed as his successor on the scoring end. His performance in the tourney was certainly a positive sign for next year, but there's another player Matta is expecting big things from:
That's quite a declaration, and one that Thompson is hopefully taking as a challenge. Same goes for Shannon Scott:
Regardless, at least Matta won't be dealing with having to replace his entire starting lineup like Mark Gottfried at NC State. 
PREMATURE TALKING POINTS. In an interview with The Lantern, Urban Meyer told everyone to pump their brakes on the national championship talk, claiming that at least right now, "we're not worthy of that conversation."
Similar to Jim Tressel, Meyer believes the main objective is to win the Big Ten:
"I've heard these people say our goal is a national championship," Meyer said. "No it's not, because what happens if you have two injuries or bad chemistry on your team? Do you not play the rest of the year? We want to compete for championships in November."
Not that a national title isn't the ultimate goal, but his point is that you can't get there if you don't win the conference. First things first, after all. 
The football team will be back at practice today, as well as Thursday and Saturday this week. Saturday's practice is Student Appreciation Day, open to all students and something the head coach is pretty gung-ho about:
"I'd love to see thousands of students here," Meyer said. "It's their football team, it's their coaching staff, it's their facility. It's not ours … I'm trying to give them ownership of this program." 
He's also not a fan of the phrase "academic reform" because of all the progress he thinks has been made on that front, and not just in football. For example, 511 Ohio State scholar-athletes were recognized at a dinner last night for their achievements in both athletics and the classroom; 30 of them were on the football team, which seems like a pretty impressive number. Still, I think there's always room for improvement in this area.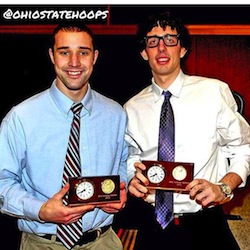 The Big Ten Medal of Honor winners, however, came from two other sports: Alicia Herron (softball) and Max Stearns (fencing).
 THEY HAUNT ME LIKE A CURSE. Today's practice should give us some new info to discuss, other than previews of preseason polls, which Urban almost certainly does not approve of.
But heck, it's the offseason, so on that note, here's CFN's preview of the preseason poll. The Buckeyes come in at No. 2 behind Alabama, and naturally half the list is comprised of SEC teams, though another B1G team sneaks on there: Michigan (?) at No. 9. Although that seems too high to me, a lot can happen between now and August, like Jadeveon Clowney coming out of nowhere and knocking UM down the list.
And Michigan has to figure out a way to stop the Purdue virus that has infected the program. QB Russell Bellomy became the latest Wolverine to suffer an ACL tear after the same injury befell LB Jake Ryan two weeks ago. 
Meanwhile in State College, a few Penn State players thought they'd have fun on April Fools' Day by sending out tweets that made it sound like they were leaving the program. Unsurprisingly, some fans got a little bit freaked out before it was revealed to be a prank. 
Considering the curse that has followed other players who transferred out of Penn State, it's probably best for their sakes that it was just a joke.
TROLL TIDE. It's comforting to know that even though he's no longer coaching in the B1G, Bret Bielema continues to give us plenty of reasons to mock him. Last week, he caused a collective Internet double take when — at a fish fry because he's in SEC country now — he was quoted as saying, "You can take Saban's record when he was at Michigan State and when he was a coach in the Big Ten and put it against mine, and he can't compare."
Since it was such an obtusely arrogant statement, everyone assumed it was just Bielema being Bielema. That could still very well be the case, though yesterday he maintained it was just a joke, which he conveyed in total Bielema troll form, complete with a shot at former Arkansas coach Bobby Petrino3:
Unluckily for him, Saban is immune to the chill pill, and everything else that isn't holy water, and will have his revenge on Oct. 19. That game is in Tuscaloosa, too. But at that point, I'm sure the Bama fans won't remember AT ALL.
MARK LINK-BAKER. Ohio State apparently targeted, but didn't offer, Geno Auriemma for the women's BB coaching job. Gail Goestenkors is supposed to interview today... Tubby Smith to Texas Tech, the land of deposed former B1G coaches... Andy Enfield is leaving Dunk City for USC... Pac-12 head of officiating was investigated but not fired for comments about Sean Miller... An update on Brian Bobek... I know how you feel, AJ... Alex Trebek knows what's up... If you need something to hold you over until Sunday, a few photos from Mad Men's season 6 premiere.