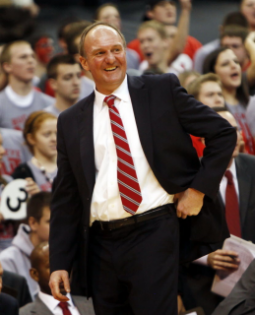 Losing in the Elite Eight sucks for anybody. It's in that magically frustrating place between the Sweet 16 ("hey, at least we got to the Sweet 16") and the Final Four ("wow, what a year, can't believe we got to the Final Four!"), in that no one is really impressed that you got there, because the implication is that if you won three games in the NCAA Tournament, four should be a piece of cake.
This week Ohio State knows that better than anyone, especially since that Elite Eight loss came against a nine seed; and not only that, but a nine seed that is making its first Final Four appearance since 1965, which isn't as shocking as the fact that they've actually made the Final Four before.
As Ohio State fans, we want to tell ourselves that we're better than that, that we should expect to go to the Final Four year in and year out because hell, that's who we are! We win games and championships, period. Easy as falling off a log.
Of course, most astute college basketball observers will tell you that's not true, especially in a ridiculously tough conference like the Big Ten. Making the NCAA Tournament every year is absolutely an attainable goal for Thad Matta and Ohio State. Making the Elite Eight with semi-consistency is extremely difficult (in the past 10 years, only two coaches have made the Elite Eight three years in a row, John Calipari and Billy Donovan) but doable.
Regular Final Fours, though? That's where the demarcation between the highest tier coaches and those who haven't quite made it there becomes evident. Thad Matta and OSU haven't gotten there yet, but we expect it. Today I want to take a look at why that's both brilliant and insane, with a look back at past OSU tournament history.
Any story about how a team has done historically in the NCAA Tournament has to start with the caveat that the tourney was much, much different even as little as 30 years ago. Seeding didn't begin until the 1979 tournament, and that 1960 team that won OSU's only national championship in basketball only needed to win four games to seal it up.
So things have changed somewhat, and for the purposes of this article I'm just going to look at how OSU has performed in the "modern" era of college basketball; I mean, sure, it might be relevant to talk about the fact that Ohio State reached the Elite Eight in 1939, 1944, 1945, 1946, and 1950, but since there were only eight teams total in those tournaments it's probably a little disingenuous to include them.
Anyway, this year marks the 35th NCAA Tournament since seeding started. Ohio State has only been a part of 19 of those tournaments, but interestingly has averaged around a four seed in those tourneys combined, having gotten a one seed four times and a two seed another four times. Pretty good, right?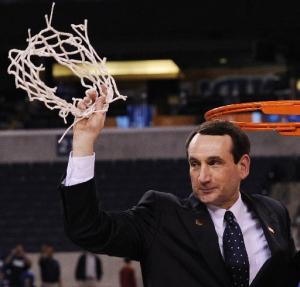 Here's where the bottom falls out a bit. In those 19 appearances, the Buckeyes have failed to make the Sweet 16 11 times; including in 2006 when they were a second seed and promptly destroyed by seventh-seeded Georgetown in the round of 32. In those 19 appearances, the Buckeyes have made the Final Four three times. In those 19 appearances, the Buckeyes have made the championship game exactly once.
In other words, historically, Ohio State is not a great tournament team. Before Thad Matta was hired, Ohio State had won multiple NCAA tournament games in back to back years only once since 1979, and neither of those teams made it past the Elite Eight.
Which is no crime, but it's easy to see how Ohio State fans can set our goals as high as we do, because of the success that other coaches have been able to have in the past 10 years or so.
Coach K at Duke hasn't missed an NCAA Tournament since the mid-90s. Tom Izzo has six Final Four appearances since 1999 (and only one championship, which is an indicator of how ridiculously difficult they are to win). Rick Pitino now has as many Elite Eights with Louisville as he had with Kentucky, which is kind of insane to middle school me. John Calipari is a tremendous douche, but managed to reach the Elite Eight or beyond three years in a row before falling off the cliff this season. Jim Calhoun has won three championships since 1999. And on we can go, with Williams and Boeheim and Self and so forth.
Here's my point: Thad Matta is an excellent coach. He would tell you that his goal is to win the Big Ten and then the NCAA Tournament every year. Ohio State has a ton of potential. Every player on the team would tell you that their goal is to win the Big Ten and then the NCAA Tournament every year.
That's not realistic. Not yet. The closest analogue that I can think of right now is Matta's (according to Mark Titus) eternal rival in Billy Donovan. Donovan arrived at Florida in 1996 at the age of 31 and in his first nine years as head coach took them to March Madness seven times. The first time they advanced past the Sweet 16 was in 2000, when they lost to Michigan State in the championship game. The second time was in 2006, when they won the first of back-to-back titles. It was Donovan's 10th season as Florida's coach.
It's coming. Thad Matta has turned one of the Big Ten's most inconsistent NCAA Tournament teams into one of the most consistent, and in nine seasons as head coach he's won 17 NCAA Tournament games, more than Ohio State had won in all the combined seasons since 1979.
Don't change the goal, because the goal is what drives the program to be successful. But do keep in mind that this is a process, and Matta is just getting started.