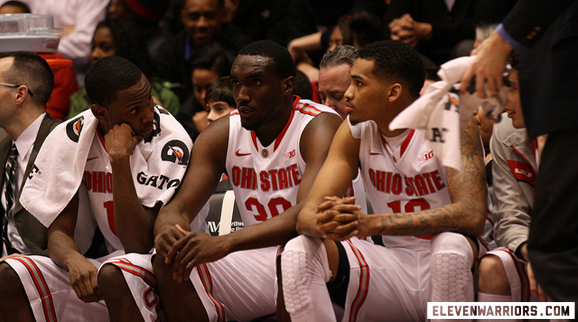 The Millennium Force was tame in comparison to Ohio State's up-and-down roller coaster of a season. A No. 4 national ranking in the preseason brought high hopes, even in October as the football Buckeyes were in the midst of an undefeated season under first-year head coach and soon-to-be emperor, Urban Meyer.
Now, some five months later, the focus has shifted fully to football, but not after a season of thrills for basketball fans. It started with a highly anticipated game aboard an aircraft carrier that was cancelled and ended with a heartbreaking defeat in the Elite Eight.
When Ohio State took the court against Marquette in Charleston, S.C., many believed the Buckeyes were over-ranked. A game against the gritty Golden Eagles would have gone a long way in determining Ohio State's legitimacy. But condensation on the court put an end to the unique event on the USS Yorktown.
Three weeks later, even in defeat, the Buckeyes proved themselves worthy of a top-10 ranking. Leading for almost 40 minutes, Ohio State came 'this close' to ending the Duke Blue Devils' non-conference home win streak, which has stretched to triple digits.
Another close loss was had at home against highly ranked Kansas. The Buckeyes led at one point, but were overpowered by the Jayhawks strong in-and-out game, featuring Ben McLemore and Jeff Withey. When Illinois dominated Ohio State from start to finish in early January, the Buckeyes fell to 0-3 against ranked opponents and red flags were starting to emerge.
Head coach Thad Matta showed no panic, though, saying he'd seen his team enough and knew they could play good basketball. That statement came to fruition less than two weeks later when Ohio State beat then-undefeated and now Final Four-bound Michigan in Value City Arena. 
The win signaled a 'for real' feel to the Buckeyes. Ohio State jumped out to a 21-point first-half lead and looked like the team that many believed it would be when the polls were released. Deshaun Thomas flashed his array of offensive skills, Aaron Craft stymied Trey Burke for much of the game and the overall team defense stifled the Wolverines.
A heartbreaking loss at Michigan State would come one week later, followed by a February swoon that seemed to eliminate Ohio State from Big Ten title contention and end any thoughts of an NCAA Tournament run. The Buckeyes advanced to the Final Four in 2012, but the losses of Jared Sullinger and William Buford were monumental to overcome.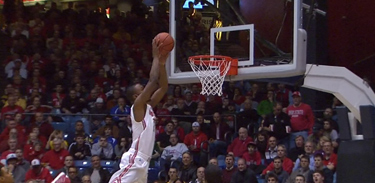 It's precisely why many felt Ohio State didn't deserve its lofty preseason ranking. But just as soon as they were counted out, especially on the heels of a 22-point thrashing at Wisconsin, the Buckeyes somehow emerged as not only a threat to reach the Final Four but a favorite.
They entered the NCAA Tournament on a tear, winning their final eight games, including the Big Ten Tournament. Victories came against Michigan State (twice), Indiana – on the Hoosiers' Senior Night – Illinois and Wisconsin. Ohio State's win over the Badgers one month after its humiliation in Madison put a stamp on its resurgence.
"I've never seen a team come together like this one did," Craft said in the aftermath of the Buckeyes' 70-66 loss to Wichita State in the West Regional final.
Ohio State's run to the Elite Eight included 11 straight wins and back-to-back three-point buzzer beaters, one by Craft and the other from LaQuinton Ross. The season began to get a destiny feel to it. But those thoughts ended with a thud thanks to a horrendous shooting night against the ninth-seeded Shockers.
The ending brought tears and red faces to the Buckeyes' locker room in Staples Center. But those solemn reactions that are so common in the immediate aftermath of NCAA Tournament losses should turn to a proper perspective in the near future.
"We clicked at the right time," Thomas said. "That's what's good about this team. We knew we had to sacrifice for it and we did that."
Matta said multiple times that he'd never been more proud of a team. It's safe to say they overachieved for the season. That thought comes even though a Final Four was there for the taking.
Ohio State trailed by as many as 20 points against Wichita State before nearly pulling off a rally for the ages. The lead was trimmed to three, but the Buckeyes could never get closer. It denied Ohio State its second consecutive trip to the Final Four, something that had only been accomplished once in the program's proud history.
"There's a lot of positives, but at this moment you don't think about those," said junior guard Lenzelle Smith Jr. "Right now the only thing going through my head is that the season is over."
The game acted as a microcosm of Ohio State's season.
"I'm proud of the way our guys came back, dug down," Matta said. "Everybody remembers the last game. I'm not going to. I'm going to remember this season, because I'm very proud of what these guys have accomplished this year."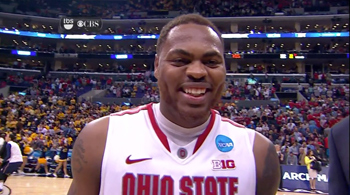 A wait-till-next-year attitude now permeates through the locker room and Buckeye Nation. There's a waiting game with Thomas, who will likely forego his final season of eligibility in favor of the NBA Draft. If the Big Ten's leading scorer returns, the Buckeyes would be a lock as a top-five team entering the season. Regardless, there is hope for the program that Matta has built into a consistent national power.
"We're finally going to have more than one senior on the team, which we haven't had in a couple years, so that will be unique," Matta said, looking ahead to 2013-14. "You look at Wichita State's experience, they had a lot of seniors and you see what a difference that makes."
Matta said Thomas will be educated on the process of what's right, what's wrong and what's best for him.
"I think there is a possibility he could go," the head coach said. "But I want to make sure it's right for he and his family. There's a possibility he could stay."
Without him, Ohio State's starting lineup will feature four returning starters and Ross, the breakout player in the Buckeyes' late-season surge. He averaged 17.7 points in three NCAA Tournament games with a bulk of those points coming in the second half.
Two recruits – Ohio's Mr. Basketball, Marc Loving, and Baltimore native Kameron Williams – could also provide depth for the Buckeyes.
For the time being, though, Ohio State's players will hold the Wichita State loss with them – and that's not always a bad thing. When the Buckeyes lost a gut-wrenching game to Kentucky two seasons ago, the team held on to it throughout the next season, helping spur them to a Final Four berth they felt slipped through their fingers the prior season.
Those same thoughts are already floating around the Ohio State locker room.
"For my teammates and brothers that are still going to be here, we have some work to do. It's definitely a bad feeling right now, but we need to make sure that this doesn't happen again next year," Smith said.
Said Craft: "It hurts. I know we're all hurting. It's very tough to end the season here so close to what you worked for all year. But this team came together like no team I've been a part of. I'm excited to think about next year."