College football fans think games are won and lost by the athletes and the coaches. It is the players and coaches, after all, that work the nested hierarchy of the profession to land at the highest stage of the game, like college football. It is also the players and coaches that take devastating losses personally, with professional consequences that can become personal. These are half-truths. We footballs — the actual balls themselves — are part of the game.
My name is Rick. I'm a football and I was part of Ohio State's 2011 collapse at Nebraska. This is my story.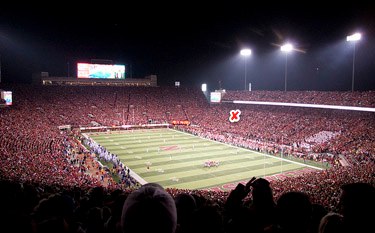 I always dreamed of playing big-time college football. Football is my life. I AM a football and I wanted to be the best. But, it was hard to entertain dreams of glory growing up in Uhrichsville, Ohio. The quality of football is far from great. It was basically just me, Lawrence, and Alshon. Lawrence (he always insisted on being called Larry) stopped developing after grade school and still remains in Tuscarawas County as a pee wee football. Last I checked, Alshon resides in the garage of the McGillicuty family on Center Street. We haven't talked since high school, though I wish him well.
During high school, I sought the tutelage of Papa Jerry. I called him Papa Jerry because he was like a father football to me. Papa Jerry was the best tutor I could find in Tuscarawas County, having been a football for Marietta College in the mid-1970s. Papa Jerry agreed to take me underneath his stitching, but always told me to temper my dreams. Maybe I could get a walk-on offer at Ohio Northern. Maybe I could get a scholarship to his alma mater in Marietta. But maybe wasn't good enough for me. When I got the preferred walk-on offer from The Ohio State University in 2007, ol' Jerry couldn't believe it.
I redshirted my first year at Ohio State. I worked hard and learned as much as I could, but keep a low profile. Beyond some scout team honors for my work in helping Ohio State prepare for Purdue in 2007, I didn't make an immediate impression. The depth chart ahead of me was outstanding. Only the best footballs get used at Ohio State. Still, I was part of some great teams and some great memories. My highlight to that point had been a celebratory spike from Brian Rolle in 2009.
My time came in 2011: I was going to be in the rotation for our game at Nebraska. It promised to be a signature day. I was going to be a part of Ohio State's first visit to Lincoln and Nebraska's first Big Ten home game. I worked my ass off during practice that week, which is made all the more difficult because footballs really don't have asses. I worked that hard and, for a while, it showed during the game itself. I like to think Carlos Hyde's 63-yard touchdown run was a team effort between he and I.
And then Braxton Miller got injured and Joe Bauserman had to come in. Don't get me wrong. I like Joe, but things went south in a hurry. Without Braxton, and with Bollman and Siciliano in the booth, we were a ship without a rudder.
The worst of it came late in the fourth quarter, having already lost the lead and all of the momentum, Joe hurled me into the stands on a 3rd and 10 with the game tied. I was intended for Devin Smith. I landed on a poor Nebraska fan in the 24th row of Memorial Stadium. Ashley Jo Hansen was fine. Her soda and nachos were not. The injuries I suffered from that throw effectively ended my college football career and to make matters worse, we lost that game on that next Nebraska possession.
This is where we get back to those half-truths I mentioned earlier. I took that loss incredibly hard. I couldn't convince myself that I wasn't a cause of that crushing loss. I could've done better to navigate myself into Devin Smith's arms. I should've. With my career over, I couldn't have a chance at redemption. It ate me up inside (my inner rubber, that is). For months, I tried to wash away the pain and trauma of that defeat through liquor. All the vodka in Columbus couldn't soothe that pain I felt inside me.
My turning point came in May of last year. After waking up in a dumpster outside Brothers Bar & Grill, I knew I needed a change. I lost many friends that October night in Lincoln, but I was spared. My career was over, but my life didn't have to be. I committed myself to change.
Since then, I'm on the straight and narrow. I found a job working at a Mt. Vernon YMCA. The pay is decent and the hours are great. Importantly, I'm happy. It's there that I met my fiance, Veronica. She's a badminton racket. Things are moving pretty quickly between us, but I feel I'm in a good place now.
I get asked by my coworkers, especially the dodgeballs, if I have any regrets. Yeah, I do wish some things would've worked out differently, but life is about the journey.
Do I begrudge the experience at Ohio State? Not at all. I follow the Bucks every Saturday on TV. Go Bucks.