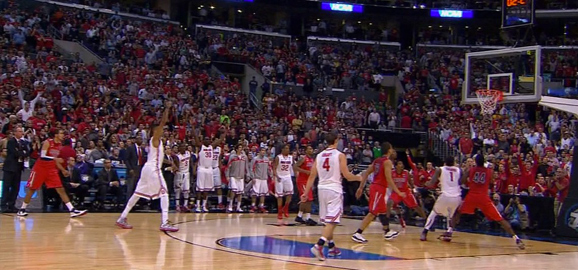 Sunday, Iowa State battled back from a 12-point deficit with eight to go to force a tie with Ohio State. The Buckeyes were able to play for the final shot and Aaron Craft buried the biggest three of his life to win the game.
In Thursday's Sweet 16 game with Arizona, the Buckeyes again held a double digit second half lead – up 10 with 11 minutes remaining – and then watched as the Wildcats rallied to force a tie with 21 ticks on the clock.
And then a Qnami struck.
In the last two NCAA tournaments, just five players have made a game-tying or go-ahead field goal in the last 10 seconds of a game. Aaron Craft and LaQuinton Ross are two of them.
Needless to say, Twitter was a riot. Here are some of the best reactions to Ohio State's second game-winning three in as many outings.
Bang!

— Jermale Hines (@Male_Hines7) March 29, 2013
Ahhhhhhhhhhhhh!!!!!!!!!!!!!!!!!!!!!!!!!Ross for 333333333!!!!!!!!!!!!!!!!!!!!!

— Kirk Herbstreit (@KirkHerbstreit) March 29, 2013
Hell yea!!!!! #GoBucks

— Carlos Hyde (@El_Guapo34) March 29, 2013
Ahhhhhhhhhhh!!!!!!!!!!!!! O-H!!!!!!!!!!!!

— Malcolm Jenkins (@MalcolmJenkins) March 29, 2013
WHOOAAAA!!!!!!! #GoBucks I just lost my mind!!

— Brian Hartline (@brianhartline) March 29, 2013
An official review after Ross' shot is OUTRAGEOUS. Ridiculous.

— Jay Bilas (@JayBilas) March 29, 2013
I think the refs are checking to see if it was a 4.

— Bill Rabinowitz (@brdispatch) March 29, 2013
LaQuinton Ross is Nasty!!! Enough said.

— Dennis Hopson  (@DennisHopson) March 29, 2013
It's just what we do..#buckeyenation

— Dallas Lauderdale(@DallasL3) March 29, 2013
My new favorite letter is Q

— Mark Pantoni (@markpantoni) March 29, 2013
QQQQQQQQQQ!

— Mike Vrabel (@CoachVrabel50) March 29, 2013
We live to fight another day!#GoBucks #themarchcontinues#toughnessandcharacteralwayswin.

— Kerry Coombs (@OsuCoachCoombs) March 29, 2013
#GoBucks i see you Q! Big time shot. Way to go guys. O..H..I..O

— LeBron James (@KingJames) March 29, 2013
Too all that complained on my twitter about this OSU team and how much you need me...... WE ARE PLAYING BETTER WITHOUT.... #BandwagonFans

— Jared Sullinger (@Jared_Sully0) March 29, 2013
I also have a giant mancrush on @qross2011. Lol

— Sam Thompson (@SlamIAm12) March 29, 2013
LaQuinton Ross was amazing last 8 min. His stock is skyrocketing right now. Scouts have always liked him. Living up to potential in tourney

— Chad Ford (@chadfordinsider) March 29, 2013