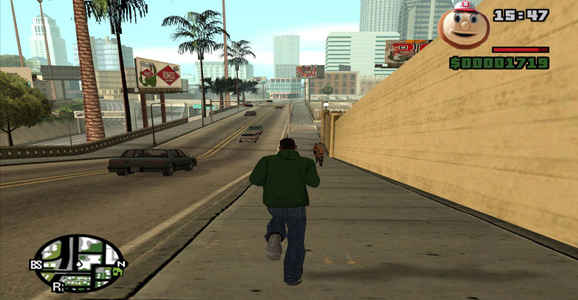 You find yourself in Los Angeles for a few days of NCAA Tournament action, but you're not quite sure how to spend your time away from the hardcourt action. Fear not, brave Buckeye, for we consulted a panel of Southern California residents to provide the skinny on what to do and see while you're in LA.
It's been said that Los Angeles is 100 suburbs in search of a city and until recently, that's held true. The city has long been conscious of this image and recently took steps to correct it. In late 2005, construction began on L.A. Live, Tinseltown's version of the Arena District, if you will.
Now complete, the entertainment complex features over 5,000,000 square feet of bars, concert venues, restaurants, theaters, hotels and condominiums. ESPN's West Coast edition of SportsCenter is filmed here at a studio adjacent to an ESPN Zone. The fact that SportsCenter is filmed here is notable, the ESPN Zone part of the deal is not. Do not travel to Los Angeles to eat or hang out an ESPN Zone.
Angelenos complain about L.A. Live imposing a wall between itself and busy Figueroa Boulevard and that it took design concepts from the nearby Staples Center [1111 S Figueroa St)[W] to their natural, and ultimately arrogant, conclusion. That said, hotels and restaurants were needed and the development has turned downtown LA into a viable entertainment option.
Since you'll be spending a lot of time at the Staples Center, you'll surely come away with your own impression of the complex.
Downtown
A few blocks north of L.A. Live is the Bradbury Building (304 S Broadway and 3rd Street)[W], built in 1893. The building is notable for its Italian Renaissance Revival style of architecture, but you will remember it from the rooftop scene in Blade Runner.
Nearby is the Walt Disney Concert Hall (111 S Grand Ave)[W], designed by Frank Gehry. If you've been to the Jay Pritzker Pavilion in Chicago's Millennium Park, or the EMP Museum in Seattle, you've seen Gehry's work and know that it's amazing.
North on I-110 is Dodger Stadium (1000 Elysian Park Ave)[W]. For $15, you'll get an 80-90 minute tour of the park, which includes a walk through the press box that Vin Scully calls home 81 times a year.
Central LA
Taking 101 northwest from downtown will bring you near two amazing restaurants. Pho Legend Noodle & Grill (209 S Vermont Ave) serves up some of the best Vietnamese food you'll ever try and the Boiling Crab in Korea Town (3377 Wilshire Boulevard) will bring you a bib before dropping off a bag of messy, yet delicious shrimp.
Hollywood & the Hills
Get back on the 101 and head for the Hollywood Hills to take in the Griffith Observatory (2800 E Observatory Ave)[W] which is where the first T-800 Terminator arrived, naked, on May 12, 1984, to find and kill Sarah Connor. Griffith also features an amazing view of downtown LA.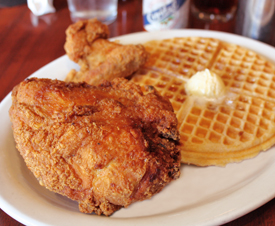 You're not too far from the Hollywood Sign, if that's important for you to see. Head to Canyon Lake and Mulholland for the perfect view.
Making your way back down to Hollywood, there's the Capitol Records Building (1750 Vine St)[W] you saw on every episode of CHiPs. Within walking distance is Katsuya (6300 Hollywood Blvd) for the trendy Hollywood ambiance sushi. Be sure to hit up Amoeba Music (6400 Sunset Blvd), one of the largest independent music stores in the world.
Five blocks east of Amoeba is the world famous Roscoe's House of Chicken 'N Waffles (1514 N Gower St). Get the #13: one succulent breast and one waffle.
Further west in Hollywood is Gruaman's Chinese Theater (6925 Hollywood Blvd)[W], famous for a lot of things, but foremost for the debut of Star Wars in 1977. Unlock the "Creepy Landlord" achievement for finding the star of Don Knotts at the nearby Hollywood Walk of Fame [W] or do what GOB would do and hit up the Academy of Magical Arts Magic Castle (7001 Franklin Ave).
A few blocks northwest of Hollywood is Runyon Canyon Park (2000 N Fuller Ave), where you're liable to hike with a celebrity or two without even realizing it.
Sunset Ave
Head to the Chateau Marmont (8221 Sunset Blvd)[W] if you want to embrace your inner Entourage bro – or if you just want to see Lindsay Lohan drunk. Take Sunset west a couple of miles to the Whiskey a Go Go (8901 W Sunset Blvd)[W] to pay homage to the live music joint that's seen it all, including a stint where the Doors were the house band. If you hold your nose just right, you can still smell glam metal.
If fossil deposits are your thing, you'll want to check out the Page Museum (5801 Wilshire Blvd)[W] at the La Brea Tar Pits. That tar produced a mammoth, after all.
If you jump on Santa Monica Boulevard, the Annenberg Space for Photography (2000 Avenue of the Stars) in Century City has a fantastic war and photography exhibit and Gulfstream (10250 Santa Monica Blvd) has amazing seafood, with the recommended ahi tuna burger.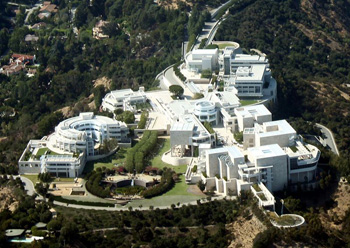 The Getty
Before arriving in Santa Monica, be sure to hit up the Getty Center (1200 Getty Center Drive)[W] off the 405, just northwest of the city. I've only visited LA a few times, but the Getty is easily the coolest thing that I saw that didn't involve college football and the San Gabriel Mountains. Grab some lunch and soak it up – both the art and the amazing views.
Malibu
If you still haven't satisfied your inner Johnny Drama, hit Malibu for shopping, beaches and calf implants. The Malibu Inn (22969 Pacific Coast Hwy) is a good spot for food and drink.
Santa Monica
The Santa Monica Pier is an attraction worth seeing, but if you want to just grab a drink, head to Shutters on the Beach (1 Pico Blvd), a beautiful hotel with a great bar or The Huntley Hotel (1111 2nd St) for its unique upstairs bar.
If you're hungry, Father's Office (1018 Montana Ave) is a great gastropub, if busy, Unami Burger (500 Broadway St), where the "Manly" or truffle burger will change your life, or Lobster's (1602 Ocean Ave) for fantastic seafood. The Counter (2901 Ocean Park Blvd) is known for great burgers, shakes and beer.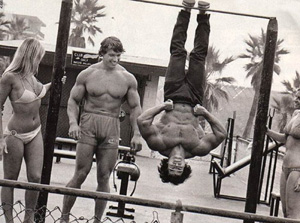 Venice Beach
You can't visit LA without seeing freaks, so head to the Venice Beach Boardwalk (1800 Ocean Front Walk) and Muscle Beach to see grown men lifting outside (while someone on a unicycle rides by with devil sticks).
For food, you can do worse than Gjelina (1427 Abbot Kinney Blvd), but you'll want to make reservations. If you can't get in, there are numerous spots on Abbot Kinney that are worth your time.
Manhattan Beach
If you find yourself in MB, El Tarasco (350 N Sepulveda Blvd) has amazing Mexican cuisine and M.B. Post has been recognized as one of LA's best restaurants.
The Mythical In-N-Out Burger
Eating at In-N-Out Burger is a rite of passage for Ohioans traveling west. There are locations all over the city, but sadly, none near L.A. Live and the Staples Center. If you do go, do not be afraid to order from the not-so-secret menu.
---
Thanks to Elika, Kristin, Brian and Mark for the suggestions. If you have any additions or corrections, please feel free to weigh in.

View Los Angeles for Buckeyes in a larger map