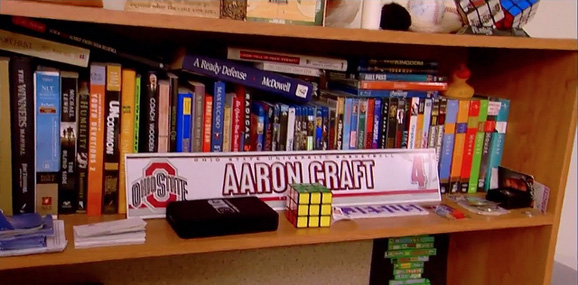 Aaron Craft, Sam Thompson and Alex Rogers were part of a group of 75 Ohio State student-athletes named Winter Academic All-Big Ten on Wednesday.
Craft, named a Capital One Academic All-American in 2012 – the first for OSU men's basketball since Bill Hosket in 1968 – is essentially an auto-bid to this group, but it's nice to see that Sam Thompson really is an astronaut, and not just a guy who plays one on the hardcourt.
Name
Year
Major
Hometown
 
Men's Basketball
Aaron Craft
Jr.
Nutrition (Pre-Med)
Findlay, Ohio
Alex Rogers
Jr.
Consumer, Family Financial Services
Cincinnati, Ohio
Sam Thompson
So.
Business Finance
Chicago, Ill.
Men's Gymnastics
Cory Barnes
So.
Political Science
Hillard, Ohio
Kris Done
Jr.
International Studies
Auckland, New Zealand
Brandän Jones
Jr.
Japanese
Windsor Mill, Md.
Misha Koudinov
Jr.
Japanese
Auckland, New Zealand
John Laing
Sr.
Civil Engineering
North Reading, Mass.
Larry Mayer
So.
Sport Industry
Carmel, Ind.
Michael Newburger
Sr.
Physics
Austin, Texas
Danny Steiner
So.
Undeclared
Mesa, Ariz.
Nick Tagliaferro
Jr.
Health And Rehabilitation Services
Sewell, N.J.
Men's Swimming & Diving
Ian Betts
So.
Political Science
Mansfield, Texas
Zach Birnbrich
Sr.
Mechanical Engineering
Anthem, Ariz.
Andrew Braun
So.
Biology
Louisville, Ky.
Ryan Bubb
Jr.
Art
Lincoln, Neb.
Chris Cowley
So.
Neuroscience
Krugersdorp, South Africa
Michael DiSalle
So.
Health Sciences
Toledo, Ohio
Dmitry Dolgov
So.
Biology
Powell, Ohio
Michael Gallagher
Jr.
Biology
Sandusky, Ohio
Tamas Gercsak
So.
Family Resource Management
Budapest, Hungary
Zach Holmes
Sr.
Journalism
Houston, Texas
Sean Johnson
So.
Mechanical Engineering
Hillsborough, N.J.
Andrew Keily
Sr.
Sport & Leisure Studies
Houston, Texas
Blaine Kincaid
Sr.
Biology
Springboro, Ohio
Connor McDonald
So.
Pre-Health Sciences
Lake Oswego, Ore.
Michael Meldon
So.
Biology
Strongsville, Ohio
Alex Miller
Jr.
Chemical Engineering
Cincinnati, Ohio
Shane Miszkiel
Jr.
Operations Management
Victoria, B.C.
Alex Osterhage
So.
Finance
Dayton, Ohio
Dominic Pecze
So.
Sport & Leisure Studies
Amherst, Ohio
Andrew Slater
Sr.
Biochemistry
Lancaster, Ohio
Andrew Spurling
Gr.
Statistics
Cincinnati, Ohio
Keanu Stevenson
So.
Mechanical Engineering
Newburgh, Ind.
Luke Stirton
Sr.
Journalism
Sydney, New South Wales
Dak Stone
Jr.
Welding Engineering
Birnamwood, Wis.
Garrett Trebilcock
Jr.
Finance
Canfield, Ohio
Gavin Trebilcock
So.
Pre-Business
Canfield, Ohio
Rowan Williams
So.
Accounting
Ottawa Hills, Ohio
John Zucca
So.
Electrical Engineering
Hudson, Ohio
Women's Basketball
Aleksandra Dobranic
Sr.
Business/Marketing
Novi Sad, Serbia
Martina Ellerbe
Jr.
Communications
Teaneck, N.J.
Emilee Harmon
Sr.
Political Science
Pickerington, Ohio
Shelbi Honeycutt
So.
Sport Industry
Siloam Spring, Ark.
Amy Scullion
Jr.
Nutrition
Salem, Ohio
Amber Stokes
Gr.
Anthropology
Gahanna, Ohio
Women's Gymnastics
Victoria Aepli
Jr.
Hospitality Management
Dublin, Ohio
Colleen Dean
Sr.
Speech And Hearing
Sylvania, Ohio
Alex DeLuca
Jr.
Marketing
Longwood, Fla.
Taylor Fasel
Jr.
Health Sciences Program
Palos Heights, Ill.
Sarah Grady
So.
Biology
The Woodlands, Texas
Aly Marohn
Sr.
Criminology
Langley, B.C.
Sarah Miller
Jr.
Sport And Leisure Studies
Collegeville, Pa.
Melanie Shaffer
Jr.
Speech And Hearing
Pittsburgh, Pa.
Women's Swimming & Diving
Phoebe Cater
Jr.
Communication
Sydney, Australia
Emily Creran
Sr.
Exercise Science
Haddonfield, N.J.
Mary Sarah Cruzan
Jr.
Anthropology
Beaverton, Ore.
Lauren Davis
So.
Biology
Austin, Texas
Megan Detro
Sr.
Health Sciences
Carmel, Ind.
Shannon Draves
Sr.
Human Development And Family Science
Gilbertsville, Pa.
Taylor Ford
So.
Neuroscience
Ann Arbor, Mich.
Kristyn Fulcher
Jr.
Human Nutrition
Upper Arlington, Ohio
Makena Lynch
So.
Logistics Management
Cranberry Township, Pa.
Lauren Massey
Sr.
Biology
Indianapolis, Ind.
Kelsey Moran
Sr.
Psychology
Lakewood, Ohio
Alex Norris
Jr.
Exercise Science
Cincinnati, Ohio
Angela Severn
Sr.
Exercise Science
Harleysville, Pa.
Lisa Spurling
Jr.
Psychology
Cincinnati, Ohio
Kelly Titus
Sr.
Psychology
Bowling Green, Ohio
Ashley Vance
So.
Neuroscience
Kingwood, Texas
Michelle Williams
Jr.
Exercise Science
Toronto, Ontario
Wrestling
Randy Languis
Jr.
Material Science Engineering
Dublin, Ohio
C.J. Magrum
Sr.
Communication
Oak Harbor, Ohio
Ian Paddock
Jr.
Agriculture Business
Warsaw, N.Y.
Nikko Triggas
Sr.
Family Resource Management
Moraga, Calif.