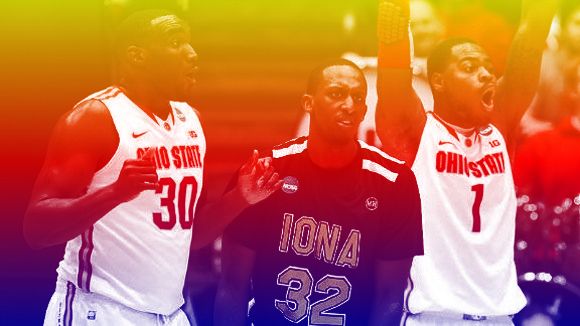 The pit in my stomach last Friday night did not gestate on account of some dire personal crisis. It wasn't due to any food poisoning or that hideous norovirus epidemic that sent entire classrooms home vomiting the previous week.
And it wasn't because Ohio State was just beginning its journey into the cruelest postseason in sports. That pit formed because I was in a strange place, and worse, I was totally blind.
Tengo que ver el juego del Ohio State y, um, Iona. Ayúdame por favor? I never formally learned Spanish, but I know enough to sound like an earnest American traveler. Ohio State's first second-round game had tipped ten minutes earlier in Dayton. I was in rural Puerto Rico, and the uniformed gentleman I had just spotted looked like he might be able to help. He was uniformed, after all.
"Yeah man," he replied, pointing in the direction I had been walking. "Go to the front bar in the hotel lobby. They might have it on there." It was Puerto Rico, our unofficial 51st state, where the English is hablo'd almost everywhere con mucho gusto – but that doesn't keep the television programming from consistently reminding you that you're somewhere else.
"Thanks," I said, shuffling toward the lobby. Grassy-ass.
Just about every week you will see the desperate pleas on message boards and social networking sites: A huge fan among us is in the throes of unavoidable travel, the Buckeyes are playing in a big (or little) game and that displaced little lady needs help finding an accommodating television set or online feed.
It's admittedly hard to get too emotional over some anonymous lost soul in a place where you'll never be – until suddenly you're that soul and the Buckeyes' NCAA tournament run is beginning. That was me last Friday night after a week out on business somewhere else.
I wasn't interested in an Internet feed. The six previously mostly-disconnected days on the island had soured the notion that a robust, reliable and public pipe for streaming the OSU/Iona game existed. No, I needed a sports bar, and preferably one with some other Buckeyes in it.
The uniformed man proved worthy of his costume, as that hotel lobby front bar was equipped with not one but two functioning televisions that looked just old enough to be considered out-of-date. The unit carrying the Buckeyes and Ionians was marked by two ladies seated directly in front of the game, shouting instructions to Amir Williams.The unit carrying the Buckeyes and Ionians was marked by two ladies seated directly in front of the game, shouting instructions to Amir Williams.
They sounded very frustrated, and it was strangely comforting. I had found my home for the next two hours. My flag was planted.
At the time I still had not seen a bracket. The most recent Buckeye basketball game I had watched was the B1G tournament semifinal against Michigan State, shortly before I had to board a plane which caused me to miss the championship against Wisconsin (which is why there were no Badger references in my post last week; the only pit-in-the-stomach feeling that can compete with being blind during a Buckeye game is writing blind for all of you).
Despite the cosmos, the Internet machines and our rapidly shrinking planet, it's still extremely difficult to be an American college sports fan outside of the 48 contiguous. There are just too many variables working against you, most commonly inconvenient time zones and vacuous local interest. They don't even watch college soccer in other countries unless one of their own is playing.
It's partly why I was so excited about the prospect of a global B1G/PAC alliance last summer before it unceremoniously dissolved: One of those two enemy elements of our global tailgate – vacuous local interest – might have been mitigated. It still might be, but as of today it's difficult to get the non-natives emotionally invested in our beloved campus contests.
Case-in-point: As the first half of OSU/Iona drew to a close, I had to outbid another bar patron more interested in [globally popular non-basketball sport] just to keep the Buckeyes on our screen. The bartender rewarded my bribe with complimentary fried plantains.
Those desperate pleas across the Internet begging anyone for a reliable place to see the Buckeyes in Seoul, Machu Pichu, Turkmenistan, Antarctica, Jupiter's seventh moon, or somewhere further away are largely futile shots into space. They're looking for a hero.
There are viewing parties in cities and towns everywhere, but sometimes you don't really know where you are. And worse: Someone else – or no one else – is driving the car. I didn't make the attempt and accepted that I probably wouldn't see the game, just as I had missed Wisconsin in-flight. I've found myself in that isolation several times before.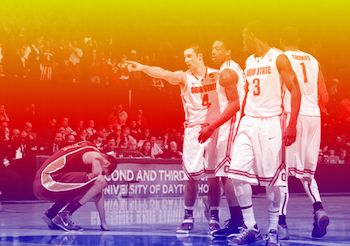 I was in London over the week of Thanksgiving in 1996, when the entirety of my Internet connectivity consisted of collecting AOL free trial CDs. Reliable online streaming had not yet been conceived and the prospects of finding that week's Ohio State-Michigan game – in which the Buckeyes were undefeated as 17-point favorites – was pure fantasy.
So I placed very expensive phone calls from a landline to America to get updates. That proved to be more agonizing than being blind.
After a 3rd quarter update had abruptly tied my stomach in knots (something about Shawn Springs falling down during a routin-**END TRANSMISSION**) I decided to wait until the following week to discover who had won the game, knowing the Buckeyes were already heading to the Rose Bowl regardless.
Two days later I was standing at the Tube platform on the West end and saw a man reading the international edition of USA Today. The front page was a wall of red jerseys jumping up at scrimmage to block either a field goal or a PAT, swallowing a slight kicker in a white jersey and a winged helmet.
The headline read, "Michigan Does it Again." And that's how I found out what had happened to Ohio State's perfect season, standing shocked on a suddenly freezing train platform filled with dozens of people but no one to talk to.
It's a lonely feeling when the Buckeyes lose while you're on your own somewhere strange with no outlet for catharsis. That's how social media has significantly improved the curse of our unrequited love for an unforgiving team, regardless of how much you cringe at athlete tweets or status updates. You're never alone, whether in Seoul or on Jupiter's seventh moon.
As Ohio State ended Iona's season on Friday, those two ladies who had coached Amir from 2,000 miles away welcomed me to celebrate with rum and more fried plantains.
We regaled our glorious stories of past Ohio State triumphs that we had all watched in other strange places, like Beijing, Barcelona and the Varsity Club basement (they don't have doors on the bathroom stalls down there – it's basically a Bangkok bath house with loud marching band music). 
It was a nice memory that was made better by the Buckeyes winning, and I've already lined up a place in San Juan to watch the Arizona game Thursday night. Thanks, Internet.