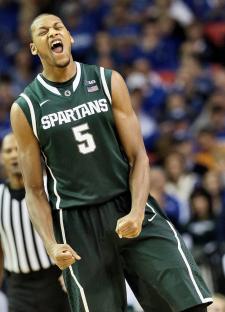 Conference tournaments are the ugly sibling of the college basketball season. It's nothing more than a financial ploy, made-for-TV events that attract fans and fill conference coffers.
But on Saturday at the United Center, the atmosphere and revelry will rival that of a Final Four. Indiana-Wisconsin in the first game, Ohio State-Michigan State to follow. All four teams are ranked, three in the top 10.
The Big Ten has been the nation's best conference since the outset of the season, and Saturday will be a showcase of sorts. For Ohio State's Shannon Scott, it can be an introduction to the country.
A top recruit coming out of high school, Scott had an underwhelming freshman season. The Georgia native has lived up to his billing in Year 2, though. Coming off the bench, he can facilitate the offense and drive opposing guards crazy with his exhausting defensive skills.
Pair him with Aaron Craft and the duo is as lethal as any in the sport.
Their latest performance came against Nebraska, a 71-50 beatdown. Scott and Craft combined for 14 points, 12 assists and four steals.
"Those guys are really quick," Nebraska head coach Tim Miles said. "They put a lot of pressure on you."
Defense has been the catalyst in Ohio State's current six-game win streak. But the Buckeyes continued a trend that has been present much of the season – starting slow. A 9-4 deficit gave way to head coach Thad Matta turning red-faced after All-Big Ten performer Deshaun Thomas gave a lackadaisical effort.
He found himself on the bench, Ohio State fell behind 15-6, and then everything changed. The Buckeyes went on a 46-13 run that started under the guidance of Scott.
"He's really settled into that position here lately," Matta said. "He has a great understanding of what he needs to do when he comes into the basketball game. I think one of the biggest things I've seen with Shannon is just his communication skills in terms of when he comes in, he feels like he's running the team.
"I couldn't be happier with how he's playing right now."
Opponent
Keith Appling and his Michigan State Spartans had just knocked off Iowa in dramatic, come-from-behind fashion. Then the realization of what lies ahead came to him: another showdown with Aaron Craft.
The Spartans and Buckeyes split their season series, but Craft played the role of pest in both games. He had multiple key steals late in the game in East Lansing in a losing effort, while shredding Michigan State for 21 points three weeks ago, as Ohio State cruised to victory. Appling had a forgettable afternoon, finishing with three points on 1-of-6 shooting and three turnovers.
That was during a nightmare stretch for Appling, and Michigan State, when the point guard played three consecutive suspect games and the Spartans lost all three – to heavyweights Indiana, Ohio State and Michigan.
Now the Appling that was All-Big Ten caliber for most of the season has returned. In the Spartans' comeback win over Iowa on Friday, he had 13 points, two steals and two blocked shots. Appling said it was one of the most physical games he's been a part of. It only gets tougher from here, though, due to Craft's relentless nature.
"He tore us apart," Izzo said after Ohio State's 68-60 win in February. "He beat us every way you could beat us."
Michigan State could never recover when the Buckeyes made a huge second-half run. The same did not hold true against Iowa. Facing a deficit for nearly the entire game and as much as 13 in the second half, the Spartans refused to give in, going on a decisive 22-2 run.
After a porous first half, a baffled Izzo didn't scream at his team in the locker room. Actually, he said nothing. He left the stirring speech to his players. Arms folded, Izzo looked on with encouragement, knowing that his team was in the right mental state.
Sophomore Branden Dawson, Appling, a junior, and senior Derrick Nix were the Michigan State players who gave the team its stern talking-to. Appling told the Spartans they wouldn't be losing on this night and an emotional Nix said this was his last go-round, rallying the team together.
"I was happy that players started coaching the team, and that means they're taking some ownership," Izzo said. "It's taken a while. It was just kind of a cool thing. It was maybe stupid to some people, but it was really, really neat to me."
Said Appling: "That's the character of our team. We have a lot of guys with the will to win and we just didn't want to go home."
Nix and running mate Adreian Payne pose matchup problems for the Buckeyes, but Ohio State outplayed Michigan State for large stretches of both games this season. The Spartan defense, as it's been known to do at times, had major defensive lapses.
Facing a confident and hot Buckeye crew, Michigan State must reinstate the magic. Win or lose, Izzo has his team winning in the month of March once again. The Spartans haven't loss since March 3.
"I can say 98 percent of this year, we've shown up every game, and I'll look at this as an out-of-body experience and get ready for Ohio State," Izzo said.
Buckeye Breakdown
There's something about basketball and the bright lights of the big cities. Whether it's New York, Chicago, Washington or LA, the roundball seems to mix. Oftentimes, the best high school talent in the country comes from urban areas.
One of the most fertile recruiting grounds in the country is the Chicagoland area. Matta has pried several top-flight players from the region in his nine years at Ohio State, including national player of the year Evan Turner. Two current members of the Buckeyes – Sam Thompson and Lenzelle Smith Jr. – hail from the city or nearby.
When Ohio State played at Northwestern in February, Smith had a happy homecoming, scoring 24 points and making six three-pointers. In the Buckeyes' quarterfinal tournament game with Nebraska, sophomore Sam Thompson had his moment in the sun.
Educated – in the classroom and on the hardwood – at Whitney Young High School, just blocks from the United Center, Thompson put on a show in his old neighborhood. The dunking sensation scored a career-high 19 points on 8-of-9 shooting.
"It was a surreal experience," he said of playing in the Madhouse on Madison.
Thompson didn't shy away from the experience or the excitement. He's been talking to teammates about the tournament for weeks, Craft said. On gameday, Thompson was the first Buckeye on the court, more than an hour before tip. Anything to stare up at the six championship banners and retired jerseys that include childhood heroes Michael Jordan and Scottie Pippen.
"I have seen Michael Jordan play on this court," Thompson said. "I have seen Derrick Rose play on this court. It was just a good experience to play well, but, most importantly, be able to get the win."
Thompson never played in the United Center because the City Championships were moved the year before he entered high school. It left him frustrated and disappointed. But the wait was worth it after a first-time performance that is the talk of the town.
Get Smart
Ohio State and Michigan State split the season series.
The Buckeyes are 24-12 all-time in the Big Ten Tournament. 
At Ohio State, Thad Matta is 48-12 in the month of March.
Jim Nantz and Clark Kellogg have the call.
"Sam was very, very effective," Matta said. "His shot preparation was good, he was cutting well without the ball and he did a nice job on defense, too."
Thomas also deserved applause after an early benching. There was no sulking for the wiser and more mature Deshaun. Had the incident occurred a few years ago, however, it would have been a different story.
"Coach felt like some guys' minds weren't right," he said. "I was one of those guys."
The stay in timeout was short and sweet, and Thomas learned not to draw the wrath from Ohio State's basketball emperor. Nineteen points and nine rebounds drew a smile from Matta and more proof that he's a master in March and at motivating his players.
"It was déjà vu," Matta said. "We have notoriously started our first game like this, and the thing is, I would try the best that I could to warn our guys that this could happen. You know, I felt like we needed a timeout to say, 'Hey, this is what I was talking about last night in the final meeting; it's what I talked about this morning after the film session. If you're not ready to go, you're going to get embarrassed,' and we were getting embarrassed."
The conclusion ended up embarrassing Nebraska. For a time, though, it looked like the Buckeyes were in need of another reality check, a la Madison. Instead, Thomas got his dose of humble pie and the Buckeye Express continued on chugging full steam ahead.
"I was just getting my mind right, getting my mind ready," Thomas said. "My teammates were making plays out there and I was cheering them on, just being ready when my team needed me. Coach called my name and I came in and got a couple easy buckets.
"The show was on from there."
| # | Name | YR | HT/WT | PTS | REB | ASST | P | # | Name | YR | HT/WT | PTS | REB | ASST |
| --- | --- | --- | --- | --- | --- | --- | --- | --- | --- | --- | --- | --- | --- | --- |
| 4 | A. Craft | JR | 6-2/190 | 9.7 | 3.6 | 4.5 | G | 11 | K. Appling | JR | 6-1/190 | 13.5 | 3.6 | 3.7 |
| 32 | L. Smith Jr. | JR | 6-4/205 | 10.1 | 5.0 | 1.6 | G | 14 | G. Harris | FR | 6-4/205 | 13.2 | 2.4 | 1.4 |
| 12 | S. Thompson | SO | 6-7/190 | 7.0 | 3.5 | 1.0 | F | 22 | B. Dawson | SO | 6-6/230 | 9.7 | 6.0 | 1.2 |
| 1 | D. Thomas | JR | 6-7/225 | 19.7 | 6.1 | 1.3 | F | 5 | A. Payne | JR | 6-10/240 | 10.1 | 7.5 | 0.7 |
| 23 | A. Williams | SO | 6-11/250 | 3.9 | 4.0 | 0.1 | C | 25 | D. Nix | SR | 6-9/270 | 9.3 | 6.3 | 1.5 |