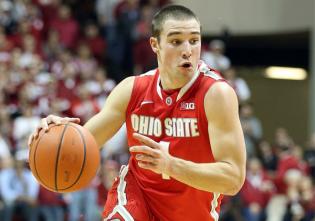 Admit it. You spent all of the 2012 football season seething or at least mildly irritated with the ol' B1G's utter incompetence. No, the denizens of the Midwest are never going to be solidarity-seeking "S-E-C!"-ers, but if you can tell me with a straight face that you don't wish the Big Ten was at least a wee bit better at football on the whole, you are either a heck of a liar or Tim Brando.
But the sad truth is that is probably going to take quite a bit to happen. Ohio State will likely be very good to great for the foreseeable future, but if you're looking for overall competence from the conference, a good old fashioned 13-year coma might be in order.
So this year you turned, perhaps a tad unwillingly, to basketball. The penultimate refuge of the desperate (just ahead of hockey and/or wrestling). Usually when we turn as a conference to basketball, it means obligating ourselves to a long series of games that, at best, give us an incentive to avoid hibernation for several months, but not a whole lot else.
This year, though... this year was different.
Yeah, it was cool and flattering to be called the nation's best conference over and over again this season, but the 2012-2013 Big Ten basketball regular season was way more than that. Some of the best, most hilarious, most frustrating, and most frustratingly hilarious basketball was played in the B1G over the past several months, and seeing as how the ride is over (to soon be replaced by a much more exciting and vomit-inducing one), today it might be worth it to look back at the season that was, and some of the games that made this past season pretty special.
Chaos
That's the best word to define this season. Glorious, beautiful chaos.
Maybe that's just how college basketball works now, or maybe this season truly doesn't have any great teams, but either way, I wouldn't trade it for the world.
"I think what you saw tonight is why we all love college basketball," he said.
"He" is Michigan coach John Beilein, and "what you saw" was Penn State, winless in 18 straight conference games, defeating #4 ranked Michigan, and doing so after erasing a 15-point deficit in the final minutes. It was a completely insane, nonsensical win that ultimately revealed nothing about either team. But it was awesome.
There were other totally awesome and meaningless games this year as well. Minnesota taking down #1 Indiana on February 26. Illinois taking down... uh, #1 Indiana on February 7. And a whole slew of lesser upsets and overtime victories that said less about the quality of the teams playing them and more about how fun college basketball can be in general to watch. Is the Big Ten the best conference in the country? Yes. But it's the best because we eat our own in glorious fashion.
CRAP
Then there are the other games.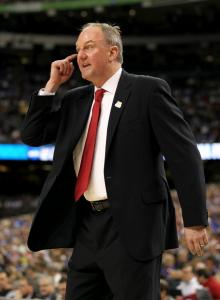 You know, the games that the Big Ten is known for. Games where neither team shoots more than 35% and each possession is designed to slowly, inevitably, horribly kill the shot clock until the very last second when an undersized point guard hucks a three that doesn't even hit the rim.
Defensive rebound. Rinse. Repeat.
An example: Bo Ryan has perfected this style of slowball at Wisconsin, and generally it's been successful. Wisconsin was a respectable 20-10 this year overall and beat Michigan, Ohio State, and Indiana this year. They also had a three-game stretch where they went 1-2 and failed to score more than 50 points in all three games.
Traevon Jackson managed 12 points in one of those games (against Ohio State), and that was the most anyone was able to score for the team in that stretch in a single game. To extrapolate further, Wisconsin's leading scorer this year averages a whopping 11.5 points per game, or a little over half of what Deshaun Thomas averages.
Wisconsin isn't the only offender by a long shot, and this has led some to bemoan the death of college basketball, including noted old dude Ray Glier, who calls it "an old jalopy."
Whatever. Just because coaches have figured out how to hadoken their way through games doesn't mean college basketball is boring, or bad, or crap.
If anything, it means that college basketball is healthier than ever, because now teams are forced to adapt and change to a system that shines the harshest light possible on mistakes, both mental and physical. The great equalizer, March Madness, will show how the Big Ten's anaconda style of play matches up against whatever their opponents throw at them, and maybe Glier can unclench a bit when he realizes that this is all part of the greater tapestry of sports.
Consistency
Ah, the rarest jewel of all.
And we we come right down to it, this Big Ten season was about survival. Indiana had the best team; as much as it sucks to admit it, their record proves it. Michigan State played well enough to share second place. But I'm most proud of Ohio State and Thad Matta.
How this team pulled out their last five games undefeated is beyond me. I was thinking 3-2, 2-3 if there's bad luck. But the newfound consistency and toughness that they found amidst the chaos and crap of the Big Ten this year is impressive, and that's why I'm looking forward to the NCAA tournament with an optimism I didn't think I'd have a few weeks ago.
Well done, guys. It's going to be a hell of a postseason.