With spring practice kicking into full gear, Ohio State recently released an updated team roster complete with new numbers for a few incoming freshmen.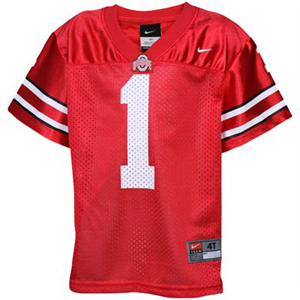 I can imagine learning what your number will be for the first time as a Buckeye is quite an experience. I have nothing of merit to compare it to; however, I can tell you that "jersey day" on my high school soccer team was a lot like witnessing sharks devour a whale. Numbers meant something, and everyone was clamoring for the chance to grab a certain digit.
Of course, upperclassmen starters got the first pick, then came underclassmen starters and finally bench players who were left with the scraps. 
Choices were made based on a myriad of factors including favorite number, number worn last year and inherent "coolness" of the number (7 looks cooler than 19. You know it, I know it, everyone knows it.)
But those weren't the only factors taken into consideration. Choices were also made based on former talent who wore the number.
If the graduated star player wore 12, then 12 was in high demand. It was as if the talent could be passed down in a garment. 
Of course that isn't the case, but we make those associations. That's why it's hard to ignore some of the new players' numbers. With all of the greatness that has come through the locker room at Ohio State, chances are you're going to get a number that was worn by a star.
Does inheriting the number of a former great guarantee your spot on Mt. Hayes? Of course not. But, with that said, suiting up in a famous number has got to provide a little added inspiration to get better.
So let's take a look at some of the new players' numerical muses.
Eli Apple –  No. 13
The incoming CB from Voorhees, N.J. has got a lot to live up to. In Buckeye lore, the number 13 was worn by another incoming freshman who had the talent to put the team on his back at times, ultimately helping pave the road to a national championship.
Say what you will about Maurice Clarrett, but he was a phenomenal player. During his freshman season he tallied 1,237 rushing yards, 16 TDs and a 5.6 YPC. And we won't soon forget this:
J.T. Barrett and Cameron Burrows – No. 16
QB J.T. Barrett is widely considered to be the heir to Braxton Miller's throne. The four-star prospect out of Texas has a highlight reel that impressed many including LSU, Oklahoma, Texas and Texas Tech.
Cameron Burrows is entering the program with similar acclaim. The four-star CB out of Trotwood, Ohio, was courted by the likes of Michigan, Notre Dame, Stanford, and Wisconsin, but ultimately chose the Buckeyes.
While the two accomplished much at the prep level, neither has had to fill the shoes of a Buckeye #16.
The guy who stretched those shoes out was QB Craig Krenzel. While no one would argue Krenzel was the most talented player on the 2002 national championship squad, many would go to bat for him when it comes to will to win.
For 14 fall and winter game days during the 2002 season, Krenzel put on a winner's seminar. That's why his #16 should be worn with pride by Barrett and Burrows.
Tracy Sprinkle – No. 93
DE Tracy Sprinkle was handed the number 93. Talk about added inspiration.
Of course I'm talking about DE Will Smith, who appears numerous times in Buckeye defensive records including third-most tackles for a loss in a season (20), fifth-most career tackles for a loss (45.5) and sixth-most career sacks (22). The impressive numbers earned him an All-American nod and a first-round draft selection.
Smith had a knack for making great plays over the course of his Ohio State career, and arguably no snap is remembered more fondly than Smith's first play sack of Miami's Ken Dorsey in the 2002 national championship game:
Tyquan Lewis – No. 59
DE Tyquan Lewis is a four-star DE out of Tarboro, North Carolina. A lot of informed observers are high on Lewis, because he's athletic and has a big frame. It's not hard to picture him becoming another in a long line of Ohio State greats at defensive end.
Lewis will start his career #59, which kind of puts him in hipster territory. You will be hard-pressed to come up with a Buckeye great that's donned #59 – Ken Vargo? – meaning Lewis has a real chance to make that jersey number cool before it became cool.
That's one route. Lewis could also work himself into playing time and a chance to snag a more coveted number.
May I suggest #94? Not only will it look great next to #93 Sprinkle, but he'll also be able to consult with the original #94: his defensive line coach, Mike Vrabel.
This from Vrabel's OSU coach profile page:
Vrabel twice set the Ohio State single season record for sacks and tackles for loss (TFL) and he still holds school records for career sacks (36) and single season and career TFLs (26 in 1995 and 66). He ranks third all-time in the Big Ten in sacks and sixth in TFLs.
Yes, Vrabel truly made the #94 look good. I mean, just look at this guy: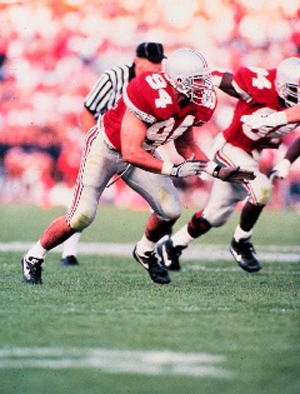 He obviously wore it better than this humanoid.
So there you have it. Much like a high school team, receiving a number means something as a member of the Scarlet and Gray.
The difference is in high school you inherit a number, but at Ohio State you inherit a legacy.