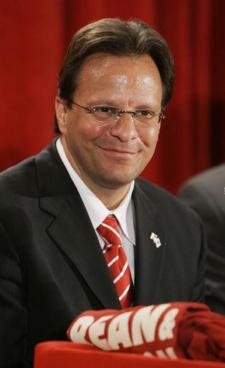 As recently as one week ago, this game had little bearing on the outcome of the Big Ten championship. But the penultimate week of the conference schedule provided a major shake up.
Suddenly, Ohio State could win a fourth straight Big Ten title. An Ohio State win combined with an Indiana loss on Sunday at Michigan – not a long shot by any calculation – gives Thad Matta and his Buckeyes more hardware. 
For Indiana, it only needs to win Tuesday to own the conference outright. But the Big Ten has been the most competitive and entertaining conference all season, so trying to predict winners at this point would be foolish.
Road games against ranked opponents have not been Ohio State's strong suit this season. Wisconsin's win at Indiana earlier in the year gives the Buckeyes hope, however. Not to mention, Ohio State is playing with the most confidence it's had all season. 
"They're not the only ones playing for something," Ohio State point guard Aaron Craft said.
Put in a similar position one year ago, the Buckeyes did the unthinkable, winning two road games the final week of the regular season to earn a share of the Big Ten title. The second of those happened when Ohio State overcame a double-digit deficit at Michigan State.
That experience has given the Buckeyes reason to believe it can pull off a similar heist this season.
"We feel like we can do it again," said forward Deshaun Thomas.
The odds are much longer this season. For one, Ohio State doesn't control its own destiny. Secondly, the competition is better and the Buckeyes aren't the Final Four team they were a year ago.
But that means little at this juncture. Ohio State has proven it can play with and beat elite teams. And Matta has been in the Big Ten long enough to know the unlikeliest of outcomes happen at the most improbable times.
"This is my ninth year," he said, referencing his time at Ohio State. "We've won the Big Ten five times and it's always come down to the last week. I had a pretty good sense it would come down to something like this."
Opponent
Four years ago, Indiana finished 1-17 in the Big Ten. Seniors Christian Watford, Jordan Hulls, Derek Elston and redshirt junior Maurice Creek were just finishing up their high school careers at the time and were offered college scholarships.
It's a dream for any recruit, especially when Indiana is the one beating down your door. But this wasn't Bob Knight's Indiana – the program that evolved into one of college basketball's blue bloods. This was still the post-Kelvin Sampson program that was riddled with NCAA sanctions.
That mattered little to the quartet with immense skills. They were going to Bloomington, and Tom Crean had his worst big-time recruiting class. Four years later, the cliché "Those Who Stay Will Be Champions" has rung true. Indiana already has a share of the Big Ten championship, its first since 2002. A victory over the Buckeyes would mean the Hoosiers first outright conference title in 20 years.
The resurrection job by Crean in such a short amount of time has been nothing short of remarkable.
"The culture left the program a little bit, but the fans, the support, the former players – that didn't leave," he said. "If that would have gone, we would have been in real trouble."
During Crean's five-year tenure, there have been many ups and downs that have led Indiana to where it is now. The two-man recruiting class of Victor Oladipo and Will Sheehey was roundly criticized, while Cody Zeller's commitment marked a return to prominence. The Hoosiers are 52-14 overall and 24-10 in the conference since Zeller made the trek to Bloomington.
It is somewhat appropriate that Indiana is playing Ohio State with a opportunity to reach the Big Ten's mountaintop, because over the past 20 years, the Buckeyes have supplanted the Hoosiers as one the conference's premier programs. In that span, Ohio State has six Big Ten championships to Indiana's one.
Just how far did Indiana fall? Well, despite the success the past two seasons, Crean's overall record is still just one game above .500 – 79-78 – and in the Big Ten he is 32-56. Prior to last season, Crean was a robust 8-46 in Big Ten play.
"I think the most important thing is that all of our fans and everyone keep understanding how hard a road it's been to get back, and enjoy it," he said. "But at the same time, never take it for granted.
"You never take winning for granted, because when you lose it, it's so hard to get it back."
Much like any of the sports blue bloods, it was inevitable that Indiana would eventually return to its old winning ways. Now Crean has the Hoosiers in place to add another title to the Harbaugh family's trophy case.
Buckeye Breakdown
Basketball is a game that's all about matchups. Some highly ranked teams – Michigan, for example – are excellent matchups for Ohio State. Indiana is not one of those teams.
The Hoosiers are tall, athletic and long on the perimeter. They stretch the defense with Oladipo and Watford, creating havoc both inside and outside. It's a game Ohio State has trouble playing with this season's team. Indiana is one of the nation's highest scoring and best shooting teams in the country. The last thing Ohio State wants to do is get in an up-tempo slugfest.
"We weren't ever able to get control on defense and take away what they were trying to do and make them go to a second option or a third option," Matta said of the 81-68 loss to Indiana in February.
In the first game between the two, Oladipo, Zeller and Watford combined for 70 points – 86 percent of Indiana's output and more than Ohio State scored as a team. It was in the midst of the Buckeyes' three losses in four games streak that they've since turned into second place in the Big Ten.
"A couple of weeks ago we got down and kind of took a step back," Craft said. "We hadn't really been in that position since I've been in college. We've kind of always controlled our own destiny. But as a team we did a good job of really picking ourselves up and understanding there's still a lot to play for."
It begins in Assembly Hall, one of the toughest environments in all of college basketball. Indiana has only lost one home game all season, and the night will begin with senior festivities for Watford, Hulls and Elston. Zeller and Oladipo also are likely to be playing for the final time in front of the hometown fans.
Get Smart
Thad Matta is 45-12 in March as Ohio State's head coach.
OSU has won 7 of 9 against IU, including 2 of 3 in Bloomington.
Mike Tirico, Dan Dakich and Sam Ponder have the call.
"The crowd gets into it and it's hard to hear," said Thomas, who said only Kansas' Allen Fieldhouse is louder than Assembly Hall. "It kind of throws off your focus a little bit."
Thomas is certain to get more negativity hurled his way considering he spurned Indiana, leaving Fort Wayne for Columbus.
"When I was getting recruited, they were down a little bit," he said. "They weren't a great team with a lot of stars like they are now."
Thomas scored 26 points on 8-of-20 shooting the first time Ohio State played Indiana this season. Oladipo, a candidate to take away Craft's Big Ten Defensive Player of the Year award, did a good job at shadowing the conference's leading scorer. Containing Thomas' inside and outside all-around game will be at the top of the Hoosiers game plan again.
So where does this put Ohio State? As the decided underdog.
"I'd prefer to be on the other side, to be honest," Craft said. "But I can't think of a better way to play a basketball game to get us ready for the Big Ten Tournament and, hopefully, later on down the road, the NCAA Tournament. This is what we need."
The No. 1 thing they need is a win.
Starting Lineups

| # | Name | YR | HT/WT | PTS | REB | ASST | P | # | Name | YR | HT/WT | PTS | REB | ASST |
| --- | --- | --- | --- | --- | --- | --- | --- | --- | --- | --- | --- | --- | --- | --- |
| 4 | A. Craft | JR | 6-2/190 | 9.4 | 3.6 | 4.4 | G | 11 | Y. Ferrell | FR | 6-0/178 | 7.8 | 2.7 | 4.4 |
| 32 | L. Smith Jr. | JR | 6-4/205 | 10.3 | 5.0 | 1.6 | G | 1 | J. Hulls | SR | 6-0/182 | 10.7 | 2.5 | 3.1 |
| 12 | S. Thompson | SO | 6-7/190 | 7.0 | 3.3 | 1.1 | F | 4 | V. Oladipo | JR | 6-5/214 | 14.0 | 6.0 | 2.1 |
| 1 | D. Thomas | JR | 6-7/225 | 19.8 | 6.1 | 1.3 | F | 2 | C. Watford | SR | 6-9/232 | 12.7 | 6.4 | 0.9 |
| 23 | A. Williams | SO | 6-11/250 | 4.2 | 4.1 | 0.1 | C | 40 | C. Zeller | SO | 7-0/240 | 16.5 | 8.1 | 1.2 |