Merry March morning, everyone. Even if I didn't have a calendar, I can always tell it's March, and not just because I had my first Shamrock Shake of the month yesterday.
The sports world is suddenly busier, with basketball games getting progressively more bonkers while the stakes become higher. Such is the case tonight when Ohio State visits Assembly Hall, Bloomington version.  
Second-ranked Indiana will look for its first outright Big Ten regular season title since Groundhog Day was in theaters. Ohio State will also be trying to keep its slim, but still possible, title hopes alive. That alone would make for a lively crowd; add in that it's at Indiana, whose fans generally don't have warm and fuzzy feelings for Thad Matta1, and it should be quite the raucous environment.  
On top of that, I believe something else is going on today that's relevant to Buckeye fans' interest. Just a lil thing called FOOTBALL.
Thanks to the switch to semesters, Ohio State spring football starts earlier than ever this year. Both practices this week — today and Thursday — will be in shorts, and the team will switch to pads on March 19, after the players return from their spring break. 
Today's practice is open to the media, so expect updates and quotes from Urban Meyer, who will no doubt let us know which of his 51 returning lettermen need to step it up. 
LEADERS, LEADERS, LEADERS! As has been written about around these parts recently, Meyer is searching for players to emerge both on the field and in the locker room. 
Leadership is paramount to Ohio State's head coach and after losing a group of seniors that he thought the world of, he said:
"There's no doubt about it; that was a huge part of a successful season. It was the leadership of a John Simon, but also the developed leadership of a Zach Boren, a [Garrett] Goebel, [Etienne] Sabino and many others."
Everyone knows that guys like Braxton Miller, Carlos Hyde, Ryan Shazier, and Bradley Roby can dominate in a game, and we know they're capable of turning into even better players. But can they also become leaders that the team needs? If not them, a few of their teammates, even if they're not as big of "names", will have to claim the role. 
So while the coaches and the fans will concern themselves with how the linebacker battle plays out, what the new starting DL will look like, and who will handle punting duties, it's also worth noting which players Meyer ends up speaking glowingly about because those will most likely be the new leaders for Ohio State, the leaders of the Leaders Division. 
JUKING THE STATS. Fine, there will be no juking the stats. Instead, I'm just going to link to a few stats for tonight's game. But any excuse to quote The Wire, right? 
One stat in particular stuck out to me:
Ohio State allows 23.1 points per game in the paint, tied for the fewest in the Big Ten.
Ohio State is a decent shot-blocking team, averaging 4.5 a game, but the Buckeyes aren't huge, either. There's no overly intimidating presence down low or a 7-footer like Cody Zeller. But I guess it makes sense when you consider their opponents' ability to pull improbable three-pointers out of their collective butts.
Last month against Indiana, Ohio State surrendered 28 points in the paint and in their losses this season, that average rises to 29.1. On a similar note, Ohio State is generally good at not allowing teams to score transition baskets, but Indiana excels in that area. So tonight, the good guys should focus on playing good defense and limiting easy baskets.
Piece of cake, I know.
ONE ON ONE, I WANNA PLAY THAT GAME TONIGHT. Yesterday, Sports Illustrated launched One on One, their new college hoops blog2. 
For its inaugural day, Andy Glockner provided 68 reasons why he and his Twitter followers love college basketball in March. Besides the fact that they're sentient beings, that is. Well, for the most part. I'm sure there's a fair share of bots in there, too. 
Some of the reasons are more serious — and accurate — than others, such as "buzzer-beaters" and "6:03 p.m. ET on March 17: The start of the torrent of tweets ripping the job the selection committee did."
Others are on the sillier side, like "Kelly Olynyk's hair", but still on the money. I mean, that's one impressive Mitch Kramer mane he's rocking.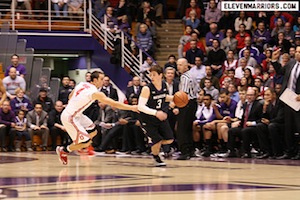 Then there are those that I can't get behind, namely " 'That game' when a John Beilein offense clicks on all cylinders and it's majestic." That's nothing against offenses clicking or even John Beilein. It's merely the fact that he coaches for Michigan and I find nothing about them to be majestic, unless it involves them losing.
THE BIG READ. Last Thursday, The Big Lead spent the day with Sean Farnham, a former UCLA player and current college basketball analyst who was on the call for Ohio State-Northwestern.
Although that's not a site I normally frequent and I barely even paid attention to the announcers for that game because I was too busy yelling, "WHY DO THEY ALWAYS HAVE THESE PROBLEMS WITH NORTHWESTERN? THEY SHOULD BE UP BY AT LEAST 20!"3 and making Donald Duck noises, I'm a sucker for any article that gives us tidbits about the Buckeyes.
This article offered a few, including Chris Jent and Jeff Boals leading pregame drills and footage of Craft that curiously went unaired:
Farnham and his producer worked on a feature on Ohio State guard Aaron Craft, isolating plays demonstrating his defensive prowess both on the ball and as a help side defender. This feature, by the way, never made it into the game broadcast, an example of the work that goes in behind the scenes just in case the ebb and flow of the game dictates its use.
In all honesty, it was an interesting, albeit kinda long profile of an up-and-coming analyst who seemed pretty knowledgeable about what was happening on the court, at least in my brief moments of sedation. Farnham, along with Joe Tessitore again, will be covering Wisconsin-Michigan State this Thursday.
IF YOU'VE GOT LEAVIN' ON YOUR MIND. Speaking of Wisconsin, new football coach Gary Andersen is not amused with the way assistant coach Jay Bollman Boulware left for Oklahoma. 
Boulware was supposed to coach special teams and tight ends for the Badgers and took the same position under Bob Stoops. Andersen brought him on board on Jan. 9, so Boulware hadn't even been at Wisconsin for two months and the head coach only found out a few hours before Oklahoma made the announcement. 
That, along with Wisconsin's spring practice starting on Saturday, did not make for ideal timing, something that Andersen did not appreciate.
"I told the kids this this morning," Andersen said, "ultimately I hired him and it's my fault. It's disappointing. It's upsetting. And I brought the wrong guy in here. We'll be better off as we move forward.
A Wisconsin coach that can say what's on his mind without coming off like a total jerkwad? Who knew that was even possible?
Boulware's replacement has not been named yet, while Michigan just brought on former linebacker Roy Manning as a new assistant, filling a vacancy left open by DL coach Jerry Montgomery's departure to, once again, Oklahoma.
DON'T EVEN LINK ABOUT IT, SAY NO GO. Big Hank and Reid Fragel make FoxSportsNext's list of top 100 players in the NFL Draft... The Dantonio rebrand... Gordon Gee received a mentoring award and then gave not-so-great advice to Mark Emmert... Regis, and therefore Notre Dame, will be getting a new show on Fox's answer to ESPN... Twelve former students face manslaughter charges for the hazing death of an FAMU band member... Weathered wood wallpaper for all 125 FBS teams... Detailed floor plans from TV and film... Passive-aggressive fun.
1 Except for the near-consensus loathing of Tom Crean and Bo Ryan, it seems like most B1G fanbases don't have much of a problem with the other coaches in the conference. Indiana fans, though, do not care for Matta. ↑
2 They referred to it as an "initiative", but unless they're experimenting on vampires and demons in a secret underground research center, I'm calling it a blog. ↑
3 The cleaned-up version, anyway. ↑