Ladies and gentleman, today marks the true beginning of spring practice.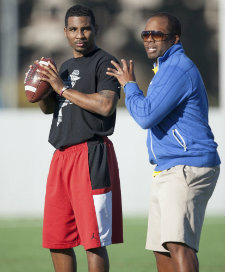 After two two-hour practices in just shorts and helmets before spring break, the Buckeyes return today with full pads. While those first two practices allowed us to give everyone the eyeball test, now we can get a much better picture of who has been hitting the weights and the film room this offseason. 
To celebrate the return of spring ball, I took a look at the four most important areas for improvement from 2012 and what progress we can expect to see during the rest of spring practice. Let's get to it. 
Braxton GOES TO Study Hall 
The Buckeye offense looked much improved this season after the 2011 Bauserfest, but the team still ended up with the 105th-ranked passing offense and 49th-best offense on passing downs (we could often count on Braxton's legs even on passing downs). 
There's no doubt that Coach Herman and Meyer want to see these numbers improve for 2013 as they "Chase" down Alabama. Thankfully, Braxton is committed to becoming a better passer as well. 
That commitment came in the form of working with quarterback guru George Whitfield Jr. over both winter and spring break. Braxton reportedly worked with Whitfield on what he calls "chaos mechanics" – how to reset your feet and maintain poise after escaping from pressure. 
Beyond passing mechanics and footwork, Braxton seemed to struggle more with the intermediate to deep passing game, only throwing 10% of passes from 10-14 yards, 5.7% from 15-19 yards, and 4.3% from 20-24 yards. Further, he only completed 14.3% of passes 10-14 yards, which is actually the worst out of all charted quarterbacks in Football Study Hall's sample. 
The takeaway here is that Braxton really is not close to his ceiling. His adjusted completion percentage was 62.9%, which is among the very top for returning quarterbacks. In spring ball I hope to see more evidence of Braxton's intermediate-range passing ability and composure after pressure. 
Will the Real Receivers Please Stand Up? 
Receivers are the other half of the passing equation, and they're another group that desperately needs to step up during spring practice. We're extremely excited for Corey Smith, Dontre Wilson, James Clark, and Jalin Marshall to come in over the summer, but they will need both senior leadership and intense competition at practice if they are to reach their full potential. 
I did a quick look through the target-and-catch data from 2005-2012 and it's pretty grim from a Buckeye standpoint. The highest-ranked performance in that period was Santonio Holmes' 2005 season, which came in at 66th overall. Corey Brown's 2012 campaign was ranked 464th, with a 71% catch rate and 7.9 yards per target. 
Brown's move to slot and Jordan Hall's move to H-back will certainly help the receiving corps by allowing Devin Smith, Evan Spencer, and Michael Thomas to compete for time at the outside X and Y receiver positions.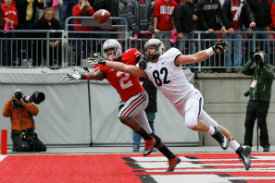 Senior Defensive Backs Lead on the Field 
The current group of upperclassmen defensive backs is well known for being vocal leaders. Curtis Grant said as much in a recent interview: "We definitely have a few leaders on defense already. Guys like Christian Bryant and Bradley Roby, along with the other seniors have stepped up." Now is the time for these vocal leaders to play as an elite squad. 
The 78th-ranked unit in 2012, the passing defense was eaten up by teams like Miami (OH), Indiana, and even Michigan State. 
However, the 2013 unit will be full of veteran players after only losing Orhian Johnson and Travis Howard to graduation. With one All-American contender in Bradley Roby, the extremely talented Doran Grant on the opposite side, and Tyvis Powell or Corey Brown at Star (not to mention Armani Reeves, Eli Apple, and Cam Burrows for depth), cornerback looks to be as solid as we've seen in years. 
Christian Bryant has made big strides since the first half of 2012, with Fickell recently praising Bryant's leadership and playmaking ability in the secondary.
The starters seem as locked in as we've seen in quite a while, so the pressure will be on for this group to transition to "best of America" level.
Even without much depth chart movement, it will be interesting to watch whether Withers calls for more zone coverage in spring practice after transitioning to primarily man coverage during the latter half of the season. Zone defenses seemed to lead to coverage confusion, slower reaction time, and poor pursuit angles (I shudder when thinking about the first play of the Purdue game). 
A Middle Linebacker Please? 
Finally, we can't write about spring ball without mentioning just how important it will be to find a middle linebacker.
With a search by committee approach, Fickell and Vrabel hope to find a leader or two out of David Perkins, Cam Williams, Curtis Grant, and Josh Perry in spring ball before Mike Mitchell and Trey Johnson come in during the summer. 
Former five-star recruit Curtis Grant certainly hopes to put it all together this spring and have his play equal his gargantuan size. The focus of a recent Q&A with the athletic department website, Grant said:
"I've always been told my greatest strengths are my passion and energy. When I don't have those two things it's like the whole team is kind of down. But when I do it really helps us out."
This should be encouraging to Buckeye fans, as passion and "Juice" are what Urban Meyer is all about. 
Beyond Grant and incumbent starter Ryan Shazier, the other potential starters will all work on coverage and playing instinctively in the spring. Principally, the linebacking corps will need to quickly recognize coverages and react without hesitation or with poor pursuit angles.
Their job is easier with a potentially top-five defensive line returning, but the defense as a whole will not be elite without at least two guys stepping up beyond Shazier.