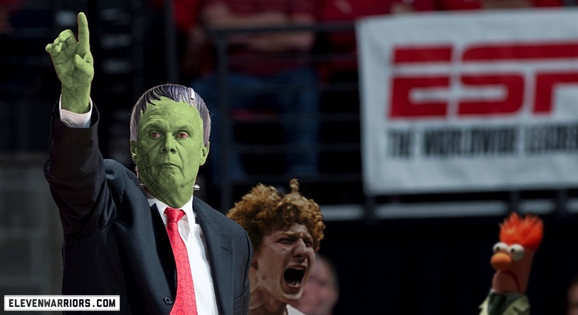 They should just rename March Matta – because the Ohio State head coach owns the third month of the calendar year. In his nine seasons in Columbus, Matta is 49-12 and he's appeared in seven of the last eight Big Ten championship games, including the past five.
He's tied with Tom Izzo with three conference tournament titles and is the win-percentage leader in Big Ten Tournament history. The only blemish on his otherwise perfect résumé is the lack of a national championship.
There's been no rhyme or reason to Matta's string of successes, especially when you look at how Ohio State has overpowered blue bloods such as Indiana and Michigan State.
"It's all Coach, him and the players he recruits," junior point guard Aaron Craft said. "He really takes this tournament seriously. He takes it one game at a time and looks at it as, if you lose, you go home. He does a phenomenal job, and it really trickles down to us."
Ohio State is on a lucky seven-game win streak. But even playing their best basketball of the season doesn't have them among the favorites to win a title as the tournament nears. The job Matta has done to this point has far surpassed expectations from as little as one month ago, when the Buckeyes were a middling team in the nation's toughest conference. Now, Ohio State has an opportunity to lay claim to being a member of the elite.
The Buckeyes were ranked No. 4 in the preseason poll, but even Matta thought that was a stretch. Today, Ohio State could be the fourth-best team in the country. Losing Jared Sullinger and William Buford, though, did not provide visions of a team of that caliber. Ironically, it was a 21-point loss to Wisconsin in February that lifted Ohio State to this point.
"Ever since then we've been on a mission to get back on our defensive edge and do what we have to do to win games," junior guard Lenzelle Smith Jr. said. "You have to play maximum level defense to beat anybody, especially good teams in this conference. This being the toughest conference in the country, if we want to win games, we have to bring our defense.
"Now we understand that."
Opponent
Whether it's the football title game or basketball's version, chances are Wisconsin is playing in it. The Badgers' roundball streak isn't nearly as impressive as the Buckeyes, but it's serious nonetheless.
Wisconsin will be appearing in its fifth Big Ten Tournament championship game on Sunday. It took home titles in 2004 and 2008 and lost in '05 and '07. Needless to say, they belong.
"We're not really too concerned about what's going to happen there," senior center Jared Berggren said. "A lot of the resume is already built throughout the season, but getting two big wins the last two days definitely won't hurt us. But right now we're just focused on trying to get another win and hopefully win the championship."
The Badgers' place in this game is still surprising, even as a No. 4 seed. Going through Indiana, a team they've now beaten 12 consecutive times, was still viewed as a momentous upset. Wisconsin is 5-1 against Indiana, Ohio State and Michigan. Time and again, the Badgers have proven they're a dangerous team to run into.
"There are just things in this game where no matter how you try to explain them, they defy explanation or reason," Ryan said.
With a style that frustrates those trapped in it, Wisconsin has been a pest of an opponent since Ryan arrived. It's now or never for a Final Four run. The roster is loaded with seniors that mesh nicely with complementary pieces.
Guards Ben Brust and Traevon Jackson have elevated their games in the past month, contributing to Wisconsin's string of big victories. And like Ohio State, the Badgers have done it mostly with defense. They're ranked ninth in the country in that category. Wisconsin and Ohio State are 1-2 in the conference.
"I just again can't tell you how proud I am of the defensive effort," said Ryan, after the Badgers made arguably the best team in the country – Indiana – look inept during the second half.
Berggren has been a rebounding and block machine down low and Jackson, the son of an Ohio State legend, has some of his pops in him, turning into a master of the steal.
"It just shows that we're capable of competing with and beating anyone," Berggren said. "When we play our game, when we stick to our rules, play as a team, help each other out, take care of the ball, play solid defense like we take pride in, then we're capable of beating anyone. I think we've shown that the last two days in beating two very good teams."
A third on Sunday would send them into the stratosphere entering the NCAA Tournament.
Buckeye Breakdown
Revenge and redemption are two longtime game themes in sports. Ohio State will have the opportunity to achieve both Sunday afternoon in Chicago.
On Feb. 17 in Madison, anything that could go wrong went wrong. The Buckeyes were laughed out of the gym, losing 71-49 to Wisconsin. But in a weird way, it jumpstarted the current seven-game win streak Ohio State is on.
Talk to the Buckeyes and they'll all tell you practices have been more intense and the focus is Marine-esque ever since the blowout loss. Now, to win a Big Ten title, Ohio State is in a must-win against the Badgers.
Get Smart
Ohio State and Wisconsin tied the season series 1-1.
The Buckeyes aim for their fifth Big Ten Tounrnament title.
Thad Matta is fourth among active coaches in March win percentage.
Jim Nantz, Clark Kellogg, Steve Kerr and Tracy Wolfson have the call.
"I don't know how these guys feel, but for me it's personal," Smith said.
What made the loss that day even more confounding was the fact the Buckeyes beat the Badgers so handily when the two teams got together in Columbus. The margin was nine points in a game Ohio State controlled. Wisconsin dictated the pace, but the Buckeyes beat them at their own game.
Ohio State's lone senior is looking to go out a winner in the Big Ten Tournament once more. If you think the coaches are going to remind the team what happened in February, ask about another source. Evan Ravenel said Matta and Co. will focus on other matters, not a humbling defeat. The players are fully aware, however.
"It definitely adds a lot of fuel for the game," sophomore forward LaQuinton Ross said. "It opened our eyes to the rest of the year."
For that eye-opening experience, if Ohio State's March journey ends in Atlanta, Matta might send Bo Ryan a Christmas card this winter. The turnaround in less than a month's time has been nothing short of incredible. During that time period, the Buckeyes have beaten Michigan State twice, Indiana, Minnesota and Illinois. All four teams will hear their names called on the Selection Show later tonight.
"We've responded," sophomore forward Sam Thompson said.
There really wasn't any other choice, unless Ohio State was content with wallowing while looking in the mirror. The Buckeyes gathered upon returning to Columbus that night and had a heart-to-heart. The result is their current play.
"We aired our issues," Ravenel said. "We said everything people wanted to hear and didn't want to hear."
Now, they're giving their coaches and fans a glimpse of everything they want to see.
| # | Name | YR | HT/WT | PTS | REB | ASST | P | # | Name | YR | HT/WT | PTS | REB | ASST |
| --- | --- | --- | --- | --- | --- | --- | --- | --- | --- | --- | --- | --- | --- | --- |
| 4 | A. Craft | JR | 6-2/190 | 9.6 | 3.5 | 4.6 | G | 1 | B. Brust | JR | 6-1/195 | 11.4 | 5.3 | 2.4 |
| 32 | L. Smith Jr. | JR | 6-4/205 | 9.9 | 4.9 | 1.6 | G | 12 | T. Jackson | SO | 6-2/213 | 6.8 | 2.4 | 2.8 |
| 12 | S. Thompson | SO | 6-7/190 | 7.4 | 3.4 | 1.0 | F | 31 | M. Brusewitz | SR | 6-6/223 | 6.5 | 5.3 | 1.9 |
| 1 | D. Thomas | JR | 6-0/225 | 19.7 | 6.2 | 1.3 | F | 5 | R. Evans | SR | 6-6/208 | 10.2 | 7.4 | 1.9 |
| 23 | A. Williams | SO | 6-11/250 | 3.8 | 3.9 | 0.1 | C | 40 | J. Berggren | SR | 6-10/235 | 11.3 | 7.0 | 0.9 |