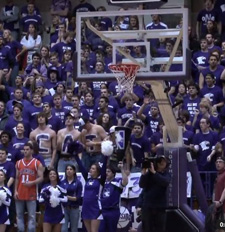 For the second time this month, Ohio State head coach Thad Matta is tasked with doing one of his least favorite parts of the job – preparing for Northwestern. He's 14-1 against the Wildcats, but those wins have been the equivalent of 14 root canals.
"I think it's a little bit more difficult because of the offense they run," he said. "That's so unique in terms of chewing the shot clock, all the passes that they make and all the cutting that they have. That's probably harder to prepare for.
"But we know after last game we've got a pretty good feel what they may attempt to do. (Northwestern head coach) Bill (Carmody) is one of the best coaches in the country, so you never know what you're going to get. So we'll be looking at tapes from years back trying to get our guys to understand this is what we have to do to score against whatever defense they're playing."
The last game Matta referenced took place on Valentine's Day in Columbus, and it was anything but sexy for Ohio State. The Buckeyes trailed for more than 30 minutes against a Northwestern team that's down to seven scholarship players. It took a late run for Ohio State to finally seize momentum and put Northwestern away.
It's actually the road games at Welsh-Ryan Arena that has given Matta's teams – and those of Jim O'Brien, Randy Ayers, etc. – fits throughout the years.

"The last two times it really came down to the last minute," Ohio State's Sam Thompson said.
Asked why the less than state-of-the-art, cramped gym presented so many problems for Ohio State, Matta didn't have an answer. On Thursday night, he hopes it's not asked during his postgame press conference.
Opponent
A season that at one time had such promise has now spiraled out of control for Northwestern. The Wildcats started the season 6-0, got a signature win at Baylor and were 11-7 overall and 2-3 in the conference after winning convincingly at Illinois on Jan. 17. A 2-8 record in their last 10 games has derailed any thought of the postseason.
The most recent setback was a 31-point loss to a rebuilding Purdue team – the same Boilermaker squad Northwestern beat by 15 less than a month ago. Northwestern shot less than 29 percent in the rematch. Granted, the Wildcats have a depleted roster with so few players available that playing five-on-five in practice is a challenge.
"As a team, there's not much more to be said than you just keep fighting," senior Reggie Hearn said. "There's nothing elaborate. Just fight and show some more heart."
The latest injury Northwestern was dealt has been too much to overcome. Jared Swopshire, the Wildcats' best defender, suffered a season-ending knee injury. Since his absence began, Northwestern has lost five consecutive games, and Swopshire's diminished presence is evident in the margin of the losses.
"We have lost a lot of our defensive principles," Hearn said.
Part of the problem is Northwestern's reliance on young, inexperienced players. There is potential, sure, but three freshmen – Kale Abrahamson, Tre Demps and Alex Olah – have experienced serious breakdowns on defense.
"They're having a hard time staying in front of their guys," Carmody said. "They're working at it and working at it."
Because of the poor showing this season, even with all the injuries, it's Carmody's job that could be at stake. He's in the midst of his 13th season in Evanston and is the winningest coach in Northwestern's history. But that NCAA Tournament bid has still not been found. Carmody has taken the Wildcats to four NITs and finished the season with a winning record on five occasions, including two 20-win seasons.
Can Northwestern do better? That is the main question being pondered and asked aloud. Many believe Northwestern could have its best team yet next season. Eliminating Carmody would be a severe blow.
''The systems we have in place on offense and defense really allow us to be very competitive," Hearn said. "A lot of that is due to coach Carmody.''
Buckeye Breakdown
Funny how quickly things change. For the Ohio State men's basketball team, that forecast seems to alter on a daily basis. The Buckeyes were ranked fourth to begin the season, suffered two close non-conference losses to Duke and Kansas and then opened the Big Ten season with a shellacking at Illinois.
A win over then-undefeated Michigan served as a pick-me-up, but Ohio State bottomed out by losing three of four games during a rough February stretch. The third loss was an uninspiring 21-point defeat at Wisconsin. But one week later, the outlook was much brighter.
Ohio State went 2-0 a week ago, dispatching Minnesota and Michigan State in convincing fashion. The latter was the Buckeyes' second win over a top-five opponent this season. Heading into Northwestern, Ohio State finally has a sense of who it is. They might not have that second scoring option to complement Deshaun Thomas, but confidence could trump that.
Said Aaron Craft, after Sunday's 68-60 win over then-No. 4 Michigan State: "The biggest thing that we get from a game like this is a win against a great opponent. This is big for this basketball team, the way we've picked ourselves up from a week ago when we weren't ready to go. Hopefully we can continue to build off this."
Two things about Craft have stuck out for the duration of his three-year career: smarts and defense. He was recently named the Division I Academic All-American of the Year, this coming on the heels of a first team Academic All-American a year ago. He is currently the Big Ten's reigning defensive player of the year, an honor he could very well win again this season, and is regularly considered to be the best defender in the country.
Get Smart
OSU is 45-31 all-time in Evanston.
The Buckeyes have won 7 of the last 8 games at Welsh-Ryan Arena.
Deshaun Thomas is one of 30 players remaining on the Naismith Award midseason list.
Joe Tessitore and Sean Farnham have the call.
But it's his recent dose of offense – a career-high 21 points versus the Spartans – that has reinvigorated Ohio State.
"It was great to see the ball going in for Aaron and him attacking the rim," Matta said. "I thought he was tremendous. It definitely helps our basketball team when he's doing that because you know what you're going to get on the other end."
The stats show that when Craft is productive and efficient Ohio State wins. The Buckeyes are 4-1 when their point guard scores 15 or more points, and they have suffered three losses when he is held under eight points. On the season, Craft is averaging nearly 4.5 assists per game, but in Ohio State's seven losses that number has dipped to 2.5.
Surprisingly, Ohio State is 4-0 when Thomas, the conference's leading scorer, is limited to 15 or fewer points. The reason: his teammates have been able to elevate their game.
And that's where the academics come in. Ohio State has a smart team this season, on and off the court. It's a quality that has meaning to Matta.
"The best teams I've ever had have had the highest team GPA," he said. "The correlation there is amazing."
Now Ohio State's goal is to continue its newfound consistency and good form and corral the smartest team it plays every season – Northwestern.
"This time of the year, we need to find something rolling," Craft said. "We found ourselves in a similar situation last year."
That is a reference to the Buckeyes' three losses in four games last February, before winning two games in the final week of the regular season – both on the road – to win a share of the Big Ten championship. 
| # | Name | YR | HT/WT | PTS | REB | ASST | P | # | Name | YR | HT/WT | PTS | REB | ASST |
| --- | --- | --- | --- | --- | --- | --- | --- | --- | --- | --- | --- | --- | --- | --- |
| 4 | Craft | JR | 6-2/190 | 9.6 | 3.7 | 4.4 | G | 3 | Sobolewski | SO | 6-1/190 | 10.2 | 2.8 | 3.9 |
| 32 | Smith Jr. | JR | 6-4/205 | 9.7 | 4.9 | 1.7 | G | 11 | Hearn | SR | 6-4/210 | 13.7 | 4.4 | 1.4 |
| 12 | Thompson | SO | 6-7/190 | 7.1 | 3.3 | 1.0 | F | 14 | Demps | FR | 6-2/200 | 7.2 | 1.8 | 0.8 |
| 1 | Thomas | JR | 6-7/225 | 19.9 | 6.1 | 1.4 | F | 13 | Abrahamson | FR | 6-7/195 | 4.6 | 1.5 | 0.4 |
| 23 | Williams | SO | 6-11/250 | 4.3 | 4.1 | 0.1 | C | 22 | Olah | FR | 7-0/275 | 5.7 | 3.9 | 1.9 |