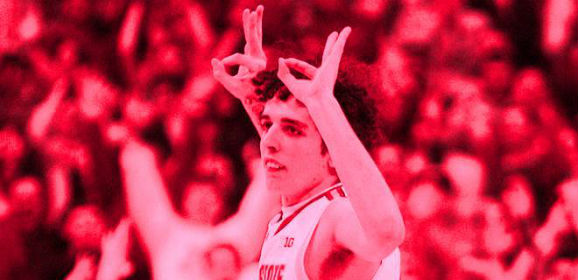 Ohio State's 71-45 victory over Minnesota on Wednesday didn't exactly right the listing ship of the past two weeks. The Buckeyes shot poorly for much of the game, went on prolonged scoring droughts, turned the ball over cheaply, and didn't rebound well at home.
While it's still cool to chillax and enjoy the win in the midst of a stretch that has humbled the Scarlet & Gray, it would be a mistake to think Ohio State played up to its potential or to assume that all is well. You're likely not feeling as good as you did when you saw the Buckeyes take Michigan to the wire in overtime in Ann Arbor.
Michigan State arrives in Columbus this weekend, fresh off a painful home loss to Indiana, intent on staying in the B1G race. Sparty will be hungry.
What can Thad Matta do to prepare his team not only for the Spartans, but for the regular season home stretch and the tournaments beyond?
On Wednesday we saw a myriad of new lineup combinations. We even saw a "twin tower" lineup in the second half, including both Amir Williams and Trey McDonald. Matta was partly trying to accommodate foul trouble, but clearly he's still searching for something — the magic combination that will unlock the potential of the 2013 Buckeyes.
Perhaps Matta should give Amedeo Della Valle more playing time.
OK, I know, but hear me out on this one. Indulge me, if you will.
Despite what we saw in his few, mostly uneventful minutes in the first half Wednesday — including falling down on defense once — inserting ADV from time to time could give Ohio State an interesting wrinkle, while giving opponents something different to prepare for.
With Della Valle's floppy-haired mayhem (h/t Vico) as part of the OSU offense, Matta can send Deshaun Thomas down onto the block against teams without multiple, talented bigs (read: almost everyone). Thomas can handle anyone his size or slightly taller in different ways — posting up, making a quick dribble move, or stepping back for a short-to-mid-range jumper.
This wouldn't necessarily work against a team like Michigan State, which can send out Derrick Nix and Adreian Payne together, but against many teams Tank can eat guys alive on the block.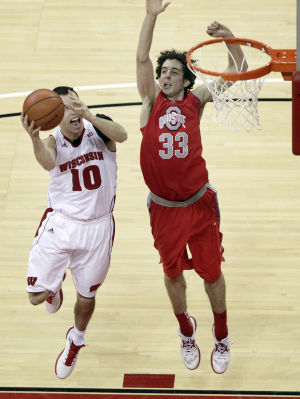 This is where ADV comes in. Thomas and Della Valle could work a two-man game on the same side of the court against a team playing man-to-man defense, as long as Ohio State's pivot can draw his defender to the other side of the lane. This is far from guaranteed, but at least Evan Ravenel can knock down baseline jumpers.
With proper spacing, ADV's defender would need to double down on Thomas, much as we saw in the past with Jon Diebler/William Buford and Jared Sullinger. Quick ball movement would result in either an easy basket for Thomas or an open triple for ADV. Since the Italian freshman is leading the Buckeyes in 3FG%, it would add a dimension to the offense that has been missing.
While there are defenses, and even teams, against which this doesn't work, it's better to dictate to the opponent than to let them get comfortable doing whatever they want.
Are there issues to overcome from this? Sure. We saw it in the first half Wednesday. Della Valle got broadsided by a screen and a slow reaction from Shannon Scott on the resulting switch left a shooter wide open. Playing ADV with the more instinctive Aaron Craft could mitigate situations like that.
It's natural that defensive movement is one of ADV's weaknesses at this stage of his career. He does get lost at times, but he's been better at man-to-man defense than I expected. The trouble, as with all young players, is with communication on screens. Still, he has quick hands, a fairly long reach, and he's shown an ability to block shots. Would you believe that ADV has blocked more shots this season than Lenzelle Smith Jr.? He has.
I believe Della Valle can handle the offensive part of the game, although he'd likely be more turnover prone than the upperclassmen ahead of him. ADV is hitting 42% outside the arc. Compare that to Jon Diebler's 29% from downtown his freshman season, although the floppy-haired wonder has a much smaller sample size from which to draw. From what we've seen thus far, I think the Italian has the stroke and the confidence to add the kind of offense that this year's squad could use.
In 12 appearances this season, ADV averages 7.8 minutes per game and three points per outing. Extrapolating that to a 20-minute average, Della Valle could provide about eight points off the bench on a given night. With the rotating disappearances we've seen this season from Smith Jr. and Sam Thompson, it could mean the difference between winning and losing a close game in a brutal conference schedule.
Importantly, Della Valle doesn't seem to be the type of player who would be discouraged by getting pulled from the game for a mistake, or the kind of guy who would let inconsistent minutes affect the confidence he has in his shooting.
If he can shoot 42% on triples when mostly coming in cold off the bench, after sitting for almost two hours, it's not unlikely his percentage could increase when he's routinely in the flow of the game and properly warmed up. Could he get open regularly? That remains to be seen, but the only way to find out is to play him.
Matta isn't stupid. He sees ADV every day in practice and would play him more if he trusted him. After all, he wants to win, and winning percentage directly affects his livelihood as a head coach. But it's also true that some players show better in games than in practice. Whether that applies to Della Valle…well, there's simply not enough data to say definitively.
Perhaps the B1G season isn't the best place for experimenting, but it's a much better place to do it than the postseason. With just a few games remaining, Ohio State is more or less locked in to where it will finish the regular season, give or take a position or two in the standings. Its NCAA seed probably won't change much, unless it upsets both Sparty and Indiana.
And so what if more of ADV doesn't work out? Matta can always go back to the old rotation. If it does work, his team becomes even more dangerous in Chicago and in the NCAA tournament.
I think that makes it worthy of a look. What do you think? Would you like to see more mayhem?