Chicago (IL) De La Salle OT Jamarco Jones has expressed heavy interest in Ohio State since he received an offer from the Buckeyes staff after his performance at one of the camps held in Columbus this past June.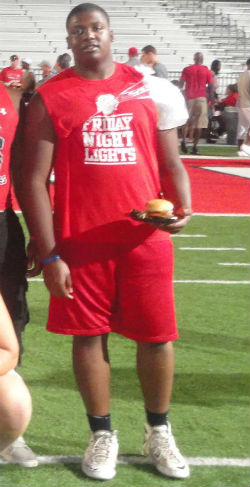 On Sunday, Jones showcased that ability once again with his performance at the Rivers Edge Indoor Complex in Cincinnati with the rest of his Core 6 members. Jones competed against OSU defensive line offers Malik McDowell and Dylan Thompson, showing why he is considered one of the top linemen in the nation. 
The four-star prospect came away with MVP honors for the offensive line group, backing up all of the hype with his play. Both McDowell and Thompson informed me that Jones was the toughest player to beat that they faced and he was certainly the real deal.
The coaching staff at OSU made it very clear at their Signing Day press conference that the offensive line would be the greatest emphasis for the 2014 class. The results on those claims have been quick, as Lancaster (OH) OT Kyle Trout and Cleveland (OH) Glenville OL Marcelys Jones have already pledged to Ohio State.
With two of the best in-state talents already in the hopper, the Buckeyes' sights will now be set on elite national recruits at the position.
Jamarco Jones fits that bill and just may be the top priority remaining on the board.
The top-50 overall player also just came off a visit to Ohio State, his fourth since June. In addition to that camp last summer, he was in attendance for The Game against Michigan and also attended an OSU basketball game with his teammate Mikale Wilbon earlier in the year , before his latest trip.
Keep reading to find out what Jones thinks of the Buckeyes, when a college decision could come, and what he thought about his most recent visit to Ohio State.
How would you assess your performance at the Core 6 Showcase?
It was intense. I thought I did well but I was challenged by guys like Dylan Thompson, Malik McDowell, and a few others. It was a helpful experience. To keep improving is the name of the game.
I know you have been to OSU several times now but what were some of the things you took out of your most recent visit there?
I got to build on the relationships I have made with their coaching staff even more. It is a school I like a lot so I want to know as much as I can about it. This time I got to hang out with the players more and get a feel for what it would be like to be teammates with them all. We hung out in their dorms and everything and just had a great time getting to know one another. 
What coaches from Ohio State have you established the best relationship with thus far?
Coach Warinner and I get along real well. He's a great coach and we talk quite a bit. Coach Vrabel recruits my area so I'm comfortable with him as well. I'm able to talk to Coach Meyer some too.
Are there any other visits that are scheduled for the near future?
I know I want to get to Michigan, Michigan State, Florida, and a few other schools. I think I'm going to Florida for their spring game, which should be a fun experience and a good chance to see what they are about. Another trip to Ohio State at some point is possible too.
Are there any other camps you plan on attending?
I know I want to get to the Nike camp. The Opening is one of my goals. I want to be there for that.
Is there a time you hope to make a college choice by?
We will see how things go. I'm going to take my share of visits for now to be sure of where I want to go. I plan to have a choice by August. That is the time I want to announce. 
HIGHLIGHTS: