Little more than 72 hours after their worst performance of the season, a 22-point loss at Wisconsin where Ohio State sleepwalked for 40 minutes, the Buckeyes responded with an emphatic win over equally reeling Minnesota.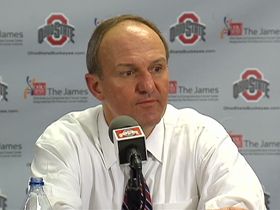 Ohio State stopped the bleeding – albeit momentarily – after losing three of its past four games. But the 71-45 thrashing of the Golden Gophers will be put in the rearview mirror quickly. Sunday presents another challenge as No. 4 Michigan State traipses into Columbus. The Spartans are coming off a heartbreaking home defeat to top-ranked Indiana, so a win over Ohio State is a necessity if they hope to keep their conference championship hopes alive.
The Buckeyes' chances at winning a fourth consecutive championship are nearly nonexistent, but that doesn't mean the season can't still be a success.
"It's February and getting close to March," junior guard Lenzelle Smith Jr. said. "It is time we turn the page and become that team we know we're capable of being."
A preseason No. 4 ranking heightened expectations for the season and probably took them to an unrealistic level. Losing close at Duke, a game Ohio State led for large portions, added to the perception. The crash to reality has been the past two weeks. But here the Buckeyes come again, rising from the ashes.
Several uncharacteristic issues have plagued them of late – defense and a focused mindset. Thad Matta, a defense-first guy, has made his intentions clear – if you can't play at both ends, you'll sit on the bench. Deshaun Thomas learned that early in his career and LaQuinton Ross is now going through the same phase.
The biggest problem, however, is that the entire team went through a no-defense zone. During a stretch where Ohio State lost three of four, the defense allowed more than 70 points per game and let opponents convert on nearly 50 percent of their shots from the field and 45 percent from beyond the arc. En route to the 2012 Final Four, the Buckeyes didn't let opponents reach 60 points per game.
It was a trip back down memory lane on Wednesday. Minnesota scored 45 points, a low number in college basketball. But the gory details were located in the fine print. The Gophers shot just 29 percent from the field, made 14 total field goals and turned the ball over a season-high 24 times.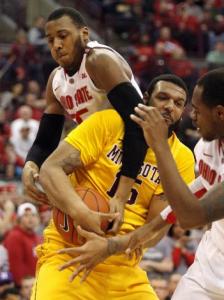 All of it contributed to eye-popping stats for Ohio State – 26 points off turnovers, 20 fast break points, and on defense the havoc included 10 steals and five blocked shots.
"Our big concern was the rebounding," Matta said. "We held them (to 33) one below their average. But the turnovers were nice. Guys made some very active plays on that end.
"I felt like we kept pursuing the ball and moving around (on defense). We made some mistakes in the first half and recovered. That was the biggest thing I was pleased with – we kept playing."
What Ohio State did was get back to defensive principles that were on hiatus. Matta instills fundamentals into his players that have been lacking. There's been laziness and players simply being unaware of the surroundings. When those disappear, so do opponents' scoring chances. 
"I thought we had some juice to us," Matta said. "We had guys covering for each other, reading and see what was going on. A lot of it was doing what we were supposed to be doing as far as being in position."
Limiting scoring is the path of least resistance to victories. But it also takes points of your own. The loss of Jared Sullinger and William Buford were understated, it appears, as Thomas has been Ohio State's only consistent scoring threat. More players might be participating off the bench, but it hasn't equated to more production.
"Our call is we're a defensive team," Smith said. "When we get defensive stops, it's going to lead to good offense for us, and I think we forgot that.
"We took for granted what we had going for ourselves and started to think of ourselves as a team we're not. We're not going to go out there and outscore anybody, especially in this conference."
Deficiencies on the court can be easily correctable, though recurring miscues are frustrating. But perhaps more alarming is the team's lack of a killer instinct. The overriding theme from the Wisconsin game was that the team entered the game with a lackadaisical attitude. It's hard to dispute after viewing the effort and uninspiring play once the Buckeyes faced a big first-half deficit.
"Flat out, we just didn't come out to play," sophomore forward Sam Thompson said. "The Kohl Center is a tough place to play and not many teams that go in there win, and we didn't have the mindset to go in there and get a win that we needed in the Big Ten. As a result we embarrassed our program and we embarrassed the university, and we understand that's something we can't do, so we're going to change it."
After the humbling defeat Ohio State received, its worse loss in three seasons, the message was well-received. The Buckeyes trailed briefly in the first half until steamrolling Minnesota after the break. A 16-0 run lasted more than 10 minutes.
"We felt we had to prove a point," sophomore point guard Shannon Scott said.
"We're not that good. We have to continue to come in every day and practice hard and continue to learn and find ways to get better."
Urban Meyer has spoken frequently about his wishes for having an angry football team. Well, Matta wants the same from his basketball Buckeyes. No more Mr. Nice Guy.
Before the tip, he gathered his team and reminded them of what took place in Madison. The message was to not forget about it and put it in the past – he wants it front and center in their minds so it doesn't happen again.
"If you're not angry, I would question those people," Smith said. "If you're not angry about a loss, then you should not be here."
Some might question Matta's motivational practices, but the result gives him ammo. And damaging their psyche wasn't his concern.
"I haven't been real worried about confidence the last couple of days to be honest with you," Matta said. "So I really don't care, if that makes sense. Play."
The giant elephant in the room is still Ohio State's inability to close out against its best competition. Beating top-five teams is by no means easy, but Ohio State is capable of doing it. It just seems to falter at inopportune moments.
The Buckeyes' shooting percentage is 10 points lower against ranked opponents. The same is true for Thomas, who not only shoots worse, but also exerts much more energy trying to score. He finished 6 of 16 against Minnesota. Luckily, some friends helped out along the way.
"We played as a team, we got the 'W' and we were together out there," he said.
Reality may finally be hitting these Buckeyes – they know they need each other and must rely on defense to create offense.
Oh, and Matta has a message of his own.
"I told the guys afterward, you can't relax and think, 'Hey, we're back,'" he said. "We're not that good. We have to continue to come in every day and practice hard and continue to learn and find ways to get better."