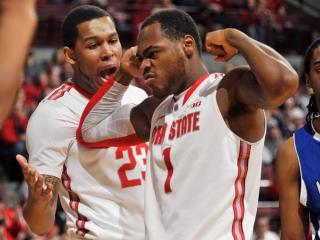 Sometimes I wonder what Deshaun Thomas thinks as he's tying his shoes before a game. In my mind, it goes something like "I am going to score a bajillion points. I am going to score a bajillion points. I am going to score a bajillion points" which repeats about fifty times. And then there's a pause, and finally before he steps out on to the court, a tinny, thin little voice shouts out from the dark recesses of his mind:
"...AND IT'S STILL NOT GOING TO MATTEERRRRRRRRR!!!"
This is a story about how Deshaun Thomas' 2012-2013 season stacks up against other Thad Matta Big Man On Campuses, but before we get into that it should also be pointed out that this is a guy who carries a ridiculous amount of weight on his shoulders. He's taking a full third of his team's shots, something no one has done at Ohio State during Thad Matta's tenure. He's averaging twice as many points as the second highest scorer on the team, Lenzelle Smith, and Lenzelle is the only other guy averaging double figures.
Point being, no player under Thad Matta has been asked to do so much with so little help, and through it all Deshaun has handled it like a champ; Jared Sullinger and Evan Turner, for as good as they were, could pout or mug or complain or call out their teammates if things weren't going their way. Deshaun has done none of that (even if it could be argued that maybe sometimes he should), which is a testament to his character.
But context still matters, and that's why we're going to see how the six-foot-seven forward's Sisyphean season stacks up against the likes of Dials, Butler, Turner, and Sullinger, from an offensive standpoint.
THOMAS VERSUS DIALS
Terence Dials was Deshaun Thomas before Deshaun Thomas was Deshaun Thomas. More of an inside presence, however, and that is shown by his .561 FG% in 2005-06. Dials accounted for about a quarter of the shots that his team took, which isn't particularly high (especially when compared against some of the other guys mentioned in this post), and a lot of that is a function of the guys he had around him.
I would love, LOVE, to see what Thomas could do surrounded by the players that Dials had on his team. Not that Foster, Lewis, Butler, and J.J. Sullinger were amazing, but they were consistently good. Five players on the '05-06 team averaged more than 10 points per game, and it's pretty obvious how Dials benefited from that kind of shooting, especially with Foster and Butler both shooting over 40% on threes.
Nothing against Dials, but it's obvious that he simply wasn't the kind of force that Thomas is asked to be and is on a regular basis.
THOMAS VERSUS Butler
Two things before I get into the Butler/Thomas comparison: one, I ignored '06-07 because that team was such a ridiculous combination of brilliance by committee that it's hard to pin down who the legit BMOC was. Oden averaged the most points per game, and was an amazing defensive presence, but Lewis, Conley, and Cook all had significant contributions to that team, and it'd be extremely hard to compare Thomas to any of them.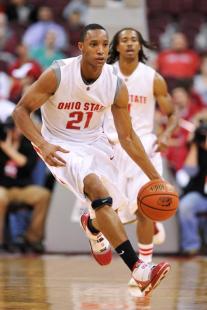 Two, it's really fun to twist the Kosta Koufos knife. As good as he was in 2007-08, people always forget that it was Butler who was the more consistent scorer, who averaged more points per game, played more, and was ranked by Ken Pomeroy as a better overall offensive player. And the truth is, I agree with him! Butler was great at distributing the ball, was a smarter shooter, and was one of the best free throw shooters in recent OSU history.
He still doesn't match up with Thomas. Thomas takes more junk shots and isn't the assist creator that Butler was, but in terms of sheer point production it's hard to argue that Thomas has had more impact than either Butler or Koufos had in '07-08.
THOMAS VERSUS TURNER
Evan Turner had an absolutely monster season in 2009-10, and definitely earned the honor of National Player of the Year. He averaged 20.4 points, which Thomas can match, but also added 9.2 rebounds and 6 assists per game. It was, offensively, one of the best seasons by an Ohio State player period, and to say that Thomas' 2012-13 season is on par with this is pretty heady praise.
Well it isn't on par, although I go back to Pomeroy's rankings which, welp, says that it is. I've been poring over his offensive rating stat to see why he ranks Thomas higher this season than Turner in 09-10, and to be completely honest I'm not sure how he comes to that conclusion. My guess is that it possibly overvalues the percentage of possessions used statistic, but I do think the rest of the formula is sound, because aside from the aforementioned assists and rebounds, Thomas is on par with or better than Turner by almost every other metric.
I still think that Turner had the better season than Thomas is having, but after this season is over, it might not be a bad concept to revisit when we're thinking about the legacy that Thomas leaves at OSU.
Thomas versus SULLINGER
This is interesting, and probably the most difficult comparison to make, as Thomas and Sullinger played together. Sully's best season was in 2010-11, where he averaged 17.2 points, over 10 rebounds, and shot 54% from the field. Pomeroy actually rates this season higher than Turner's NPOTY turn, probably because of how amazingly efficient Sully was with the basketball.
He also had a ton of help, including from a guy utterly unconscious from three for the majority of the season. Without Diebler and others to take the heat off Sully, it's a season that's good, but not incredible.
And ultimately, this is why I put what Thomas is doing above every "point man" for Matta, save Turner. He has no help, is the entire focus of the opponents' defensive game plan, is being asked to carry the team, and is still turning in an amazingly efficient offensive performance. Hopefully this Buckeye team somehow finds scorers in the last month or so of the season and goes on a tear toward March Madness.
But if they don't, they'll know that they only got as far as they did because of the skill of Deshaun Thomas.