Linebacker was a troublesome position for the Ohio State coaching staff this past year, despite the team finishing with a perfect 12-0 mark.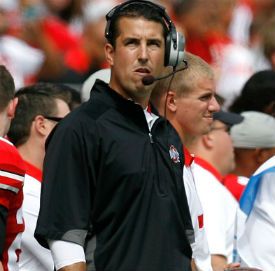 In the middle, Curtis Grant just wasn't ready for the spotlight and Storm Klein, following some preseason legal issues, just was a step too slow on the field. It took fullback Zach Boren coming over from offense to solidify play in the middle of the Buckeyes' defense, and while he did a great job on the fly, there were still some shortcomings.
On the outside, Ryan Shazier had a rocky start to the year, but came on strong in the back half of the season at the WILL linebacker spot. On the other side, at SAM, Etienne Sabino suffered an injury that caused him to miss a good part of the season, and during his time out the Bucks struggled at the spot in rotating DE Nathan Williams and true freshman Josh Perry.
After those events, it was easy to see why the OSU staff went hard after linebackers in the recruiting class of 2013, eventually landing Mike Mitchell and Trey Johnson, while also bringing in Tyquan Lewis, Chris Worley, and Darron Lee, who could all end up playing the position down the road.
While this year's group was a good haul, Urban Meyer will continue to look for elite linebackers in the class of 2014 and there certainly isn't any shortage of talent when it comes to that area across the country.
After a short hiatus from our "Forecasting 2014" segment to bring you Signing Day coverage, we are back in "target mode" and in this week's edition we take a look at the players left on the board that Ohio State is looking at to continue to bolster the linebacking corps.
Tier 1
Leading the way in Tier 1 for linebackers is longtime Buckeye favorite Raekwon McMillan. The Hinesville (GA) Liberty County star is rated as the nation's top inside linebacker according to the 247 Composite and has gotten OSU fans excited by naming the program his early leader.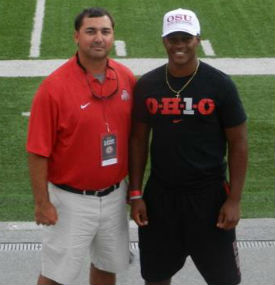 Clemson and Alabama both certainly continue to make a strong presence for his services, but already having made multiple trips to Columbus and having two more planned for early April and then the summer (key one, with his parents), I think it is safe to say that Ohio State is in a good spot.
McMillan plans to enroll early and will announce a decision as late as December, but Buckeye fans have reason to feel good at this moment.
Right behind McMillan in the heart of Buckeye Nation is Plainfield's (IL) Clifton Garrett. Garrett is another prospect that has visited Columbus multiple times and is expected back on campus this weekend, coinciding with the Core 6 Showcase in Cincinnati. The nation's second-ranked outside linebacker says he grew up a Buckeye fan, but that doesn't mean he's a done deal to Ohio State just yet.
Ole Miss, Notre Dame, Michigan State, and a few others are all up there for his services, but like with McMillan, I would say it's safe to say that the Bucks have the early lead for this super prospect at the moment.
Another Illinois prospect that has caught the eye of area recruiter Mike Vrabel is Nyles Morgan of Crete-Monee High School. The 6-2/225 Morgan is rated as the nation's fourth-best inside linebacker after recording 118 tackles, 4 sacks, 2 interceptions, and 2 forced fumbles in his junior season.
Morgan earned his offer from the Buckeyes back on November 5 and has maintained he has high interest in the program. The key with him will be to look for the visits, as that will show how serious that interest is. Right now he has an impressive list of scholarships that includes Florida, Michigan, Ole Miss, Wisconsin, Oklahoma, Nebraska, Michigan State, Notre Dame, UCLA, and others.
One of the top prospects on the board we haven't mentioned yet is the only one in Tier 1 that calls Ohio home. That prospect would be Akron (OH) St. Vincent-St. Mary's Dante Booker Jr., who has said for a long time that Ohio State is the leader for his services.
Many, including myself, think it's a matter of when, not if, Booker commits to Urban Meyer and I wouldn't be surprised if that happened sometime this spring. Booker just saw his teammate Parris Campbell commit to OSU and while they are not a package deal, it has to help that his good buddy could likely be his future college teammate as well.
The last two prospects in Tier 1 are Kain Daub and Dwight Williams. Both are considered "longer shots" to end up in Columbus, but they are excellent talents and will continue to be pursued by the staff.
Tier 2
Tier 2 can be hit or miss depending on the position group, but make no mistake about it that linebacker is one of those that has a group of very talented players in it.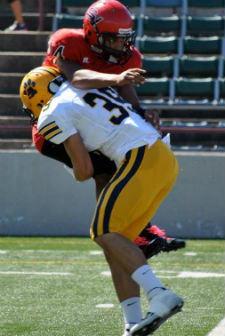 One player I had on the edge of the top two tiers is Cleveland (OH) St. Ignatius's Kyle Berger. Berger, who was a sleeper up until a couple of months ago, already has an Ohio State offer in hand and has stated the Bucks will be tough to beat for his services.
He's maintained that he wants to take visits to Michigan, Stanford, Tennessee, Notre Dame, and a few other schools, but a decision could come as early as April and right now Urban Meyer and OSU have to be considered the front runners for the four-star prospect.
Dillon Bates of Ponte Vedra Beach (FL) is another four-star linebacker with an OSU offer in hand. Bates is the son of former NFL linebacker Bill Bates and was in Columbus back in November when the Bucks took on Illinois.
Right now he says the Buckeyes are high on his list along with Tennessee, Florida, Notre Dame, Oklahoma, and Texas A&M, but with a more stable situation in Knoxville, where his father went to school, many think the Vols could be tough to beat.
One of the more recent players to earn an offer is Petera Wilson of Memphis (TN) White Station. Being that the 247 Composite four-star just got his offer last week, little is known on his interest in the Buckeyes thus far, but it looks like there is a large field competing for his services. Wilson also has offers from Alabama, Ole Miss, Florida, Georgia, Florida State, LSU, Michigan, Tennessee, USC, and other top flight programs.
Rounding out Tier 2 are Los Angeles (CA) Bishop Mora Salesian's Jamardre Cobb and Tampa (FL) Jesuit's Vincent Jackson. Cobb seems to have heavy interest from West Coast schools, but has gotten some attention from the OSU staff. Jackson got a visit from the Ohio State coaches in early December, but word is Oklahoma could be the early favorite for his services.
Tier 3
Tier 3 in the linebacker group consists of some solid Ohio talent that has not yet been offered, as well as some regional players that have shown interest in the Buckeyes, but are considered backup plans at this point.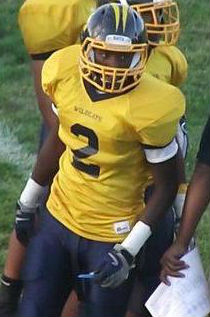 In Ohio, the players included are Davonte James, Tinashe Bere, Dorian Hendrix, and Airius Moore.
James currently hold an offer from Purdue and is rated as the 13th top inside linebacker in the nation according to the 247 Composite. Ohio State has been in touch and keeps contact, but it looks like they are just keeping the seat warm for now.
Bere, out of Sycamore in Cincinnati, is another prospect who has skills, but those skills may just be a level below what Urban Meyer is looking for. Bere has been to OSU multiple times and if an offer ever came I think he will jump on it, but in the end I see him landing at another Big Ten program when the time comes to make a decision.
Hendrix hails from Huber Heights Wayne and has a few BCS offers, including his most recent, from Kentucky. Wayne has been kind to Ohio State in the past, most recently with Braxton Miller, but it looks like the Bucks will wait for the next great prospect to come out of the program. 
Moore is a prospect to keep an eye on, as he has the athleticism to keep the interest of the staff. The Beavercreek star has offers from Cincinnati, Illinois, and Indiana already, but thinks some bigger programs could enter the picture after combines and camps this spring and summer. I agree with him and think he is a name to keep in your back pocket.
Finally, out of state prospects that are on the radar, but haven't gotten a bite yet are Detroit (MI) Cass Tech's William White and Gary Hosey, and Indianapolis (IN) Lawrence Central's Brandon Lee. All three are solid players and compete for programs that OSU is familiar with, but at the end of the day I'm not sure if any have the ability to leap the aforementioned players on the big board. Lee appears to have the best chance of the group and could definitely make a move this summer.