While Indiana and Michigan State have created a bit of separation from the conference pack with 10-2 records, the Buckeyes currently sit at 8-4, tied for 3rd place with both Michigan and the Wisconsin Badgers.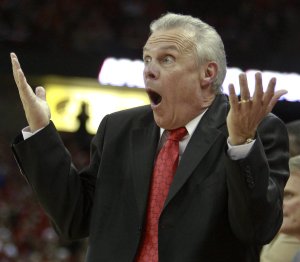 Tomorrow, Ohio State has a chance to make a move inside the B1G as they face the Badgers in the Kohl Center. 
Playing in Madison hasn't been kind to the Buckeyes. Thad Matta has beaten the Badgers in Madison just once, a 58-52 win last season powered by a 24/10 dub-dub from Jared Sullinger. 
The Buckeyes and Badgers squared off in the Schott just a few weeks ago with the Buckeyes getting 25 from Deshaun Thomas in a 58-49 win. It's safe to say things will be much tougher, as is per usual on the road in the rugged B1G. 
With such a big game on tap, we reached out to Phil Mitten, the hoops guru at the venerable Bucky's 5th Quarter, to give you the lowdown from behind enemy lines. You can also read my thoughts on Phil's questions here. 
Wisconsin picked up a huge win last weekend against then-3rd ranked Michigan, courtesy of Ben Brust's clutch Evan Turner impersonation and strong team defense in overtime. Where does that win stand in Badger lore? Any particular games against Ohio State on your short list, such as Wisconsin's 15-point comeback win against the Buckeyes in 2011?
Given that Michigan was the de facto No. 1 and considering the back-and-forth that went on in the last minute of regulation, it was a huge win. I guess I won't know where to place it until after the season though. (The fact that I had to watch it on tape delay really, really sucks and robbed it of some excitement for me personally.)
The Jordan Taylor game in 2011 is certainly the sweetest Ohio State memory I can remember. The next most memorable would probably both be contests from 2007, year of the "Baby Buckeyes." Wisconsin held on for the first win at home that year, then lost on a last-second Mike Conley bucket on the road in the game where Brian Butch snapped his elbow in the first half. That 49-48 loss handed the outright Big Ten title to Ohio State and basically signaled doom for one of the most talented UW squads ever. The following year, however, a 58-53 win in Columbus propelled the Badgers to the undisputed league title.
In the first matchup between these two squads, Deshaun Thomas turned in 25 points on 10/17 from the floor, Aaron Craft added 13, and Ohio State used a 15-0 run in the 2nd half to pull away in a 58-49 victory. If you're Bo Ryan, what changes do you make, if any, to slow what has typically been a mediocre Ohio State attack?
I think Bo Ryan can probably live with the 58-point defensive effort. After all, the worst part of that 15-0 run you speak of was the 0 points for Wisconsin, not the 15 for OSU. From watching game one, Ryan Evans personally held Thomas to only 9 points, so keeping Evans out of foul trouble will go a long way toward slowing Thomas.
At the other end of the floor, the Badger offense settled for 28 three-point tries out of 52 total field goal attempts, hitting 39%, while shooting exactly zero free throws. How do you expect Wisconsin will alter the offensive approach on Sunday?
I would expect most differences to be in execution rather than approach. However, Bo went to freshman forward Sam Dekker early and often against Michigan (12 pts, 5 rebs), perhaps showing signs that he's willing to kickstart the offense a bit more. Dekker also scored 14 points in 22 minutes against Minnesota.
In any world, shooting more than 23, 24 threes is bad for business. Obviously the Badgers will try to work the ball inside more. Luckily they have Frank Kaminsky back at full speed (he played 4 empty mins against OSU in his first attempt at returning from an eye injury). That gives Jared Berggren at least one capable backup.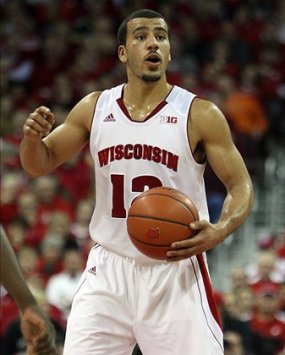 Traevon Jackson is a Badger many Buckeye fans keep loose tabs since he's Jimmy's son. How would you summarize his sophomore campaign thus far and what's his ceiling in Madison?
Enigmatic. Jackson was only needed for spot duty as a backup guard until Josh Gasser's ACL injury. He and George Marshall split minutes at point until Jackson somewhat surprisingly seized control of the starting gig with his defense and confidence initiating the offense.
He's probably the most intriguing guy on the team right now. Physically, his ceiling isn't that high. However, there are simple things Jackson can improve on that would make him so much better. He has already shown the knack for making clutch shots, a la Jordan Taylor, and I've come to realize his "herky jerky" style is surprisingly effective at freeing himself for a shot. But his brain fart turnovers and stupid fouls are THE most frustrating to watch. Jackson just had a terrible offensive game in the loss to Minnesota and his assist to turnover ratio in B1G play is in the negative.
His range is limited right now too. Assuming those bball IQ issues get corrected, however, I'd say the future is bright for Jackson. Because of the glut of talented guards beside him, Jackson will never have the opportunity to be the next Taylor, but he could be the same style of player when all is said and done.
A huge chunk of Buckeye fans have put Bo Ryan at the top of their Most Hated B1G Hoops Coach list ever since his famous "deal with it" response to Jared Sullinger's assertion that was spit on in the Kohl Center.  Do Badger fans dislike Thad Matta on a similar level? If not which conference coach holds the title?
No, Badger fans are quite indifferent toward Thad Matta. Beyond message board lunatics wondering how he recruits so well, his record at Ohio State, Xavier, et al, speaks for itself.
Nobody in the B1G compares on the hate scale to the duo of Tom Crean and Tom Izzo. A very enjoyable UW-MSU rivalry has been built on the previously chilly relations between Bo and Izzo. But I think a silent majority begrudgingly respect Izzo as a coach even if he has a history of whining. That leaves Crean to take the cake. Wisconsin fans perceive Crean to be a phony and hate his proclivity to run off players, having been exposed to Crean's shtick since his days at or intrastate rival Marquette. His hair sucks, his tan sucks, his tweets suck and he can't stop name dropping his more famous coaching relatives, the Harbaughs.
On the surface, this looks like a typical Wisconsin squad that controls the tempo, plays a tough-minded defense and generally frustrates opponents into making mistakes. What's different about this year's squad compared to previous editions and what is a realistic expectation of how they'll fare in the Dance?
Expectations are shifting of late. Rumors of Wisconsin's demise were greatly exaggerated, but not unwarranted. Now that the point guard play has improved a little and people other than Evans are actually trying to score, the Badgers have proven the win over Indiana was not a fluke. They are just too limited offensively. Regardless, people now are hoping more for the status quo (top 4 conference finish, a win or two in the NCAAs) rather than sweating out Selection Sunday.
At this point in the season, who is your B1G MVP and why? Who do you slot 2nd and 3rd? 
Gotta go with Trey Burke — because nights like Tuesday make you realize his supporting cast is merely good, not great. Just a very talented kid who's stepped his game up.
I'd group Cody Zeller and Vic Oladipo together after Burke. Hard to separate them and Indiana is living up to the hype for the most part.
Finally, how do you see tomorrow's game playing out? Who wins and why?
I'm so disgusted by the Badgers' performance down the stretch of the Minnesota game that I could see them losing at home to a very good OSU team in a hangover game. I think Wisconsin will get to the line a little more than last time, but simply put, not enough guys are playing well right now. Sadly I see the pendulum swinging back against Wisconsin in this one, before finally surprising everyone one last time (at Michigan State?) once they've been eliminated from title contention.