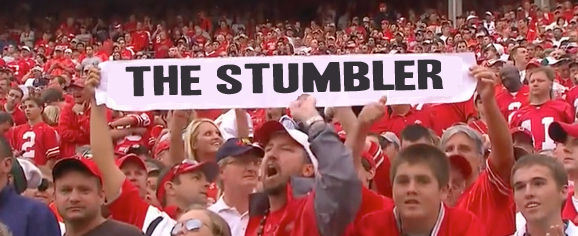 The Item: The Beautiful Monster
We all go a little mad sometimes and usually "sometimes" is mid-February. We've been without college football for over a month – enough to take the jelly out of anyone's donut. Couple that with the fact Buckeyes fans have been sans OSU football for nearly three months and it's a wonder half of Columbus hasn't been committed.
During these bouts of derangement it's normal for your mind to wander. In fact, it might stray so far you begin to ponder how you could freakishly piece together the perfect Scarlet and Gray football player using only the parts of great Buckeyes as your guide. Anyone? No one? Fair enough.
Either way, that's exactly what Chesapeake Energy did with this "for sale" game poster picturing the "Ultimate Buckeye". Using the marvels of modern science, Chesapeake mashed together characteristics and traits of legendary Buckeyes to make an unstoppable Scarlet and Gray force.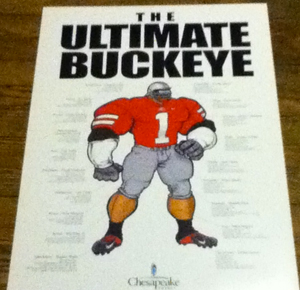 The poster breaks down each trait in the following manner: Arm – Troy Smith, Passion – Chris Spielman, Vision – A.J. Hawk, etc. Using the World Wide Web as my primary source (which you should ALWAYS DO), I was able to validate each and every claim made on this poster. So without further delay I give you...
The Clips (and other things): Proof is in the Pudding
You can't go making a Frankenstein if you don't fully understand the pieces you're utilizing.
So let's take closer look.
Intelligence – Craig Krenzel
A major in molecular genetics, a GPA of 3.75 and he could do this:
Vision – A.J. Hawk
Right place, right time. Every time.
Passion – Chris Spielman
Biggest? No. Most Athletic? No. Would I want him on my team? Yup.
Determination – Cameron Heyward
Show me a QB that needs to be sacked and I'll show you Cameron Heyward.
Arm – Troy Smith
Making a 50+ yard TD throw look easy since 2006.
Leadership – Woody Hayes
Nothing much needs to be said here. Watch this and try not to cry.
Focus – Terry Glenn
A prime-time talent. Bonus points for humiliating Regis Philbin.
Tenacity – James Laurinaitis
His nickname was Little Animal. 'Nuff said. 
Heart – Archie Griffin
All in a day's work for college football's only two-time Heisman Trophy winner.
Wallop – Jack Tatum 
All you need to know: during his tenure, Jim Tressel named the biggest hit of the week the Jack Tatum hit of the week.
Versatility – Howard Hopalong Cassady
He can run, he can throw and my, oh my does he look dapper in a suit.
Strength – Orlando Pace 
The man was known for overpowering defenders to the point of flattening them on their backs. Strength personified. 
Leg – Mike Nugent
He was your favorite kicker for a reason. With him OSU was always in field goal range.
Elusiveness – Eddie George
They thought they had Eddie in the backfield before they knew he was in the end zone.
Toughness – Randy Gradishar
If a picture like this exists of you anywhere, the number of people who will mess with you drops to zero.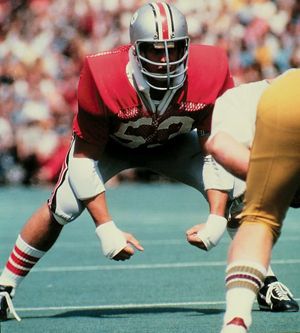 Athleticism – Cris Carter
Cris Carter can do this. You can't. ATHLETE.
Power – Nick Mangold 
His sister, Holley, is an Olympic powerlifter and he can grow facial hair like this. End of story.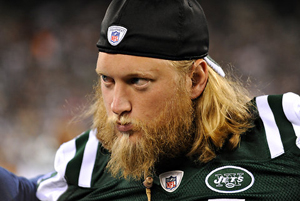 Speed – Ted Ginn Jr. 
Watch all of this, watch some of this, but just don't blink.
Quickness – Beanie Wells
The poster must have been referring to his ability to quickly overpower an entire human with a single arm.
Well there you have it. The Buckeye Frankenstein has been assembled. What a thing of beauty.
Thanks for stumbling in. Let's do this again sometime.