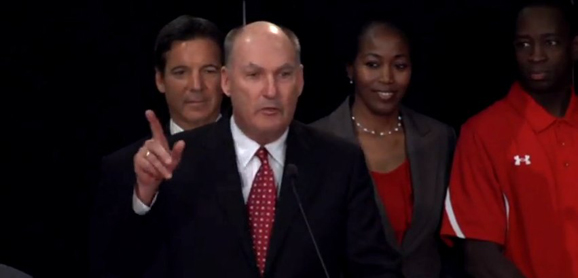 Urban Meyer went to Chicago on Monday with a wish list in hand. The NCAA's new recruiting rules were "bad stuff," according to the Ohio State head coach, and he was in favor of more night games to boost the game-day atmosphere. 
Apparently Commissioner Jim Delany and the rest of the conference's head coaches and athletic directors were in agreement, because Meyer's proposals – and more – were lauded and, in some cases, encouraged. At the conference's winter meetings between football coaches and athletic directors, a consensus was reached and the NCAA's new rules allowing almost unlimited contact and printed materials was met with much trepidation.   
In a statement released by the conference, the July 1 date, in which some of the rules would go into effect, was questioned.
"While we applaud the work that has been done to date," the statement read, "we are very concerned that the timeline proposed for implementation of the proposals does not allow sufficient time for the Football Recruiting Subcommittee of the NCAA Leadership Council to thoughtfully consider the impact of the proposals."
The lack of a dead period in contacting high school athletes and the virtual unregulated nature of sending mail struck a chord with the coaches when the subject was brought up last week on National Signing Day. The NCAA passed the rules at their annual convention in January.
From the outset, there were concerns. Most of the questions centered on the have-nots and how effective they would be in a deregulated world. But the coaches at Ohio State, Michigan and Nebraska, three of the deepest blue hued programs when it comes to blue bloods, were outspoken critics of the move.
"For the high school coaches, I think it's a big-time mistake," Michigan head coach Brady Hoke said. "My philosophy on life is, kids need to be kids. I don't think the rules are helping."
Said Nebraska's Bo Pelini: "First and foremost, it is going to affect the kids in high school. They are going to be concentrating on things they shouldn't be concentrating on. That is academics, being the best football player they can be, that's developing as a young man and enjoying his high school career. The more time a kid is sitting on his phone texting and on the telephone and all the other things, that is doing the kids, the high schools and high school coaches a disservice."
The no-holds-barred comments were somewhat unexpected due to the advantage premier programs would have over the lesser guys. The benefits for the Ohio States, Michigans and Nebraskas of the world are overwhelming.
"For the high school coaches, I think it's a big-time mistake. My philosophy on life is, kids need to be kids. I don't think the rules are helping."
Not only do they have bloated recruiting staffs, the financial resources are unlimited. But there was Meyer last Wednesday with the most impassioned critique of anyone.
"I'm putting together a personal letter to all the coaches in America," he said, voice raised. "I disagree with most of (the new rules). I would imagine not many of (the administrators) were recruited who wrote those (rules). That's my question, who comes up with that? Have they actually got in a car and went and recruited sophomores in high school and said, 'Think about this for a second, unlimited mailings and you can mail them whenever you want.' Just take a deep breath. Could you imagine what's going to be rolling into kids' driveways? Fatheads and magnets. It's nonsense.
"I'm not a big fan of deregulation. I'm a big fan of firm, harsh penalties for people who break rules, not saying, 'Just go, we can't follow all this stuff so have at it.' I don't agree with that at all."
It's not like Meyer needs an unlevel playing field to attract top-tier recruits to Columbus. For six years in Gainesville, a revolving door or four- and five-star recruits went in and came out of the Florida program. It's déjà vu all over again at Ohio State.
"Every day, we spend part of the day on recruiting," Penn State head coach Bill O'Brien said. "How are we going to handle unlimited text messaging, unlimited visits to schools, whatever it may be? We're never going to join the ranks of the Wild, Wild West, I can promise you that."
Ironically, the NCAA established the new rules to help simplify its complex rulebook. But the only thing that's happened is more confusion and anger.
"We have serious concerns whether these proposals, as currently written, are in the best interest of high school student-athletes, their families and their coaches," the Big Ten said. "We are also concerned about the adverse effect they would have on college coaches, administrators and university resources.
"We look forward to working with the NCAA toward improving the game, the recruiting process and the overall college football experience for all student-athletes."
Another important aspect of recruiting is game-day visits. Prospective players get immersed into the campus culture and atmosphere, which often plays a big part in their final decisions.
The Big Ten and SEC are far and away the best two conferences when it comes to campus settings. Both leagues are home to beautiful campuses, rabid fan bases and oversized venues. It's been tradition in the North to play at noon and 3:30, but night games are becoming the preferred timeslot for coaches, players and fans. And that's when the SEC often showcases itself.
It became one of Meyer's favorite aspects of life at Florida. It benefitted current and future players alike. The fans made playing in the Swamp nearly impossible for opponents, while recruits left wide-eyed and wanting more.
"The night atmosphere is much better," said Meyer, last week on his call-in show. "Nebraska was a magical feeling (last season). We want more energy in the stadium because you're competing. Some people say, 'That's not the way we've done it.' That's fine. Maybe we should consider that because we have to have better recruiting classes in this conference and get going. That's just one man's opinion."
Meyer said he brought the subject up to athletic director Gene Smith and Ohio State president E. Gordon Gee. Neither carried huge objections. The Big Ten shared that opinion as well.
On Monday, the league gave the OK for more night games and even said they wouldn't object to playing under the lights in November. Delany told ESPN.com that Ohio State, Penn State and Nebraska were the schools that showed the most interest in primetime matchups.
"November is a good option. Historically, we've been resistant to that for weather reasons and our kids getting home so late at night or early in the morning. We're more open to it now."
"November is a good option," Smith said. "Historically, we've been resistant to that for weather reasons and our kids getting home so late at night or early in the morning. We're more open to it now. One of the things we have to look at is the historical temperatures in November, what they look like, and we can make an informed decision on that point. I'm open to it."
There have been 12 night games in Ohio Stadium history. The first didn't come until 1985, but the past five seasons have featured one each year. The Buckeyes are 9-3 all-time under the Musco lights at the Horseshoe. The likely candidate for the 2013 season in Wisconsin.
In the future, more conference night games make sense because the Big Ten also announced it will expand its conference schedule – whether it's to nine or 10 games remains a mystery.
During discussions about the league's schedule when Maryland and Rutgers enter for the 2014 season, an eight-game slate wasn't even on the table, according to Delany. The change, something in the works for over a year, won't be put in place until the 2016 season. If a nine-game schedule is used, teams will only have room for three non-conference games each season, while a 10-game schedule would mean just two out-of-conference games.
The imbalance could also affect the number of home games, a point of concern for both Michigan and Ohio State.
"It is exceedingly important that (Michigan and Ohio State) play a minimum of seven home games," Michigan AD Dave Brandon recently told Eleven Warriors. "Both of our business models are driven by that. If we were to get into a circumstance where we were playing six home games that would be very problematic."
According to Delany, the affected parties who have only six home games could be receive some sort of financial assistance. Regardless of whether it's a nine- or 10-game schedule, the conference season will get a considerable boost in the number of overall games. That means an even richer TV contract for the schools to revel in.
"If you go with 10 and you can't guarantee people seven home games, how do we financially make people whole?" Smith said. "Then how often does that occur? That's one of my challenges for Ohio State, not just the athletic department institutional revenue but the economic impact in our community. That's a huge discussion."
Teams have been told not to schedule any future games, but Ohio State's non-conference schedule already runs out to 2023. Future series with Tennessee and Georgia were already scrapped after the Big Ten and Pac-12 announced a plan to play games against one another in the coming years, but that venture too was axed. Last fall, the Buckeyes announced future home-and-home dates with Oregon, Texas, TCU and Boston College. Smith, however, said those games are not at risk of being removed or altered.
"We're going to hold onto those," Smith said. "Those are great experiences for our kids. We're a national program. It's something I don't see us changing."
The final decision on how many conference games will be played is expected to come in March when ADs meet at the Big Ten Tournament. Another matter on the docket in the spring is divisional alignment.
When the infamous Leaders and Legends Divisions were originally announced, not only were the names mocked, so was the makeup. The Big Ten used competitive balance as the No. 1 factor in determining which teams would be in which division.
That theory has been retired. A more traditional East-West alignment is likely to be used once the conference gains Maryland and Rutgers, pushing it to 14 teams. There are eight schools in the Eastern time zone and six in the Central time zone, so one eastern school must crossover.
But one thing is almost certain – Ohio State and Michigan will be in the same division.
Meyer probably wanted that, too.