The recruiting class of 2013 may go down as the best in Ohio State history, but the offensive line was the one area the Buckeyes probably could have improved upon if you want to nitpick the group.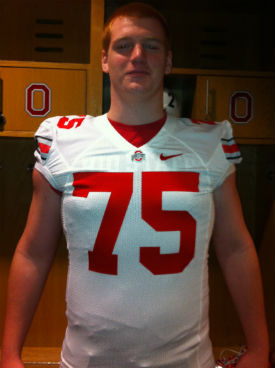 OT Evan Lisle and OG Tim Gardner are outstanding prospects, but with four of five starters on the line set to depart after the upcoming season, more prospects at the position were needed and the staff struck out on a number of talented players.
With those circumstances in mind, it didn't take long for Urban Meyer to go after offensive linemen in his recruiting class of 2014. Cleveland Glenville OG Marcelys Jones jumped on board to be number one and just this past weekend, Lancaster OT Kyle Trout became a future pupil of Ed Warinner's as well.
At 6-6/290, Trout has excellent size that measures up with his ranking as the 12th-best offensive tackle in the country, according to the 247 Composite. It is his athleticism and how well he moves on his feet, though, that has the coaches excited that they may have landed their left tackle of the future this past weekend.
We caught up with Kyle to hear his feelings on his commitment to Ohio State, why he decided to pull the trigger now, what he hopes to accomplish when he gets to Columbus, and more.
Join us after the jump to hear about the third member of the class of 2014 to verbally commit to Ohio State, Kyle Trout.
You committed to Ohio State this past weekend. How does it feel to be a Buckeye?
Once I committed I felt like nothing had changed. I am still just a kid from Lancaster, Ohio, who plays football and have been blessed to make it to the next level. I know I still have a lot of work to do, because while I may stand out at my high school, I'm entering a new pool of players, all like myself, who were recruited by great college football programs and will all be fighting to be the best at that level. I'm just going to keep working hard and training to make sure I'm ready for Ohio State.
You were offered on January 26. Why did you decide now was the time to commit to OSU?
When I first got my offer I was so relieved and it was a really big thing to happen to me. That Sunday night I almost called the coaches to commit, but got scared when I picked up the phone and decided to take some time to weigh the pros and cons of making that decision. Last Wednesday I almost picked up the phone and committed again, but decided that I wanted to be a man about it and let them know in person.
While weighing the pros and cons over the last two weeks I just realized there was no reason not to commit. It was close to home, I had a former teammate there already (Luke Roberts), they have Athletes in Action on campus, they went 12-0 last year and I know they're going to keep winning. It's something I always dreamed about, it's a great education, and they have Coach Warinner who just won an award as the best offensive line coach in the country, so there's nobody better to help me succeed at the next level.
I thought, 'why not?' and after praying on it I knew Ohio State was where I needed to be.
How did the coaches react when you committed?
Coach Meyer was pumped and gave me a high five, but was so excited that he brought me in for a hug. Coach Warinner was really excited as well and afterwards I told them both I wanted to help them get the best recruiting class in the country for 2014. When I said that they were really happy and pulled me back into their office to talk even more.
You say you want to help the Buckeyes get the best 2014 recruiting class. Have you spoke to the other commits yet or any other prospects?
I followed all of the other 2014 commits on Twitter and we exchanged numbers and have been talking. I'm going to talk to whatever other players I can to try and help bring them to Ohio State.
What did the coaches say to you about getting prepared to come to Ohio State?
Physically they don't want me to gain any more weight, but they want me to get stronger. They want me to be able to bench press 225 pounds 15 or more times before I get to campus and gave me other drills and exercises to build up my strength.
They also gave my coach a list of academic, leadership, and football goals for me to work towards over the next year.
I know enrolling early is a possibility. Is that something you're planning on doing?
Luke Roberts was able to enroll early last year, but that was when they were on quarters. I'm currently working on trying to make sure that I have everything approved to be able to graduate early from Lancaster and enroll early for second semester at Ohio State next year.
What will it be like playing with Luke again?
It's going to be awesome. He's a great kid and a hard worker. He's going to push me and I'm going to push him to get better as well. Our families are friends and so are we so it's really great. Knowing an upperclassman like that to give me advice and let me know what to expect will definitely give me a competitive edge.
What are your goals for your senior season? What are your goals for Ohio State?
For my senior season I just want to grab my team and try to produce some results. We were 5-5 and 3-7 the last two seasons and while we have had good leaders, we haven't had both vocal leaders and those who lead by example. I feel I can do both and so can others on our team so I am going to try and lead us to make the playoffs and win the OCC. It's more of a long shot, but I've always wanted to win a state title as well.
For Ohio State, I want to achieve my goal of making the NFL one day and also play on a successful college team. I am fed up with losing after dealing with it so much in junior high school and now in high school, so winning is a big thing for me.
HIGHLIGHTS: